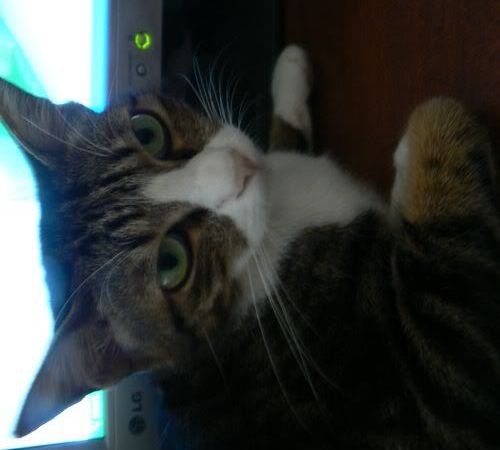 I know D from
The Hidden Paw
has asked for pixs of kitties in boxes but somehow none of my felines felt like jumping into any box this weekend. I'm house sitting at the moment hence this means, less time spent with them and shock! horror! not sleeping with them. Unlike unruly teenagers itching for their parents to leave the house so they can party, this has had an opposite effect on the kitties. Everyone started voicing their concerns louder than normal - "Meow! Meow! I'm hungry, where have you been the whole night?". Or in Ally Cat's case, "I miss you a lot, can I watch while you type on the computer?" which is something she never used to do.
While the cats at the house are miserable, the stray cats around the house I am babysitting are ecstatic since it means regular feeds of dry kitty food for them. It amazes me how they recognise which house I come from and faithfully turn up at the doorstep when I am around. I guess feline memories are long and winding especially when it comes to who feeds them.
Head over to
The Hidden Paw
for cute kitties in boxes from all over the world.