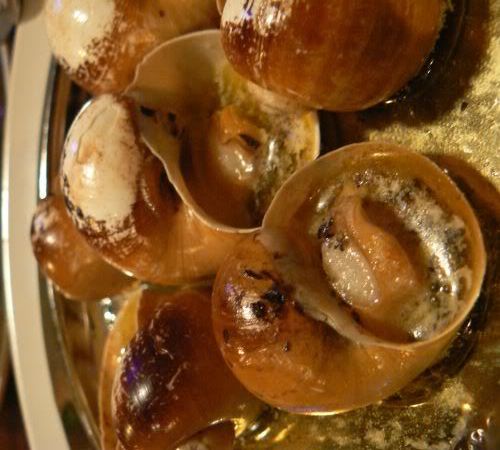 Dining around Damansara Perdana is a tricky affair especially at night as there does not seem to be a crowd around the place. Most of the restaurants there are either empty or filled with at least one or two tables except May Xichuan which was packed with people. Kinda difficult to gauge whether food is good or bad at this place and one wonders how restaurants survive here with such low customer turnover.
We decided to give Eagle's Nest Steakhouse a try since it came highly recommended by the
Fried Chillies lot
even though it was completely empty when we walked in. Originally from Langkawi, the Eagle's Nest's menu is mainly steaks but we did spy a lamb rack and pastas too.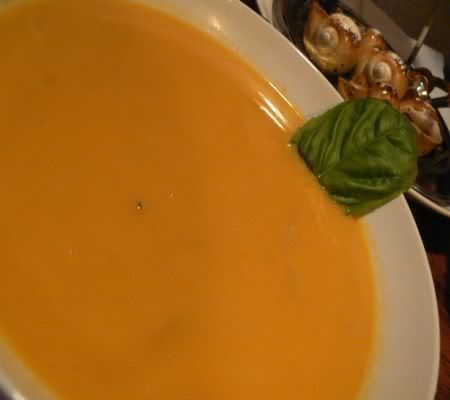 We were both extremely hungry hence we ordered a huge meal. First off were my escargots with garlic and herbs butter (RM16.90+). This was interesting since they served fresh escargots that are lighter coloured versus the canned ones. It's a bit tougher than the canned ones so this is definitely an acquired taste. What was also interesting was they gave me escargots tong to hold the shell but a lobster/crab fork instead of an escargots fork? It was kinda difficult for me to move my escargots around.
Splashie Boy's pumpkin cream soup with seafood (RM10.90+) was really nice. Not too creamy but still rich enough and what a good idea to add seafood like prawns, fish and squid into the soup as it complemented it really well.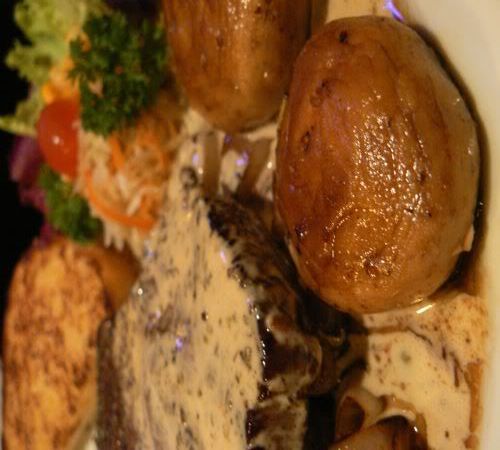 We went for the steaks which are from New Zealand and the portions are quite huge. First was Splashie Boy's Steak Americano (RM49.90+) which came highly recommended by the Fried Chillies people. It was a tenderloin that has been butterflied hence looked huge. Served with two brown button mushrooms, fried onions and bearnaise sauce. The sides were garlic bread and salad. They make their own garlic bread on thickly sliced bread that remind me a bit of the Bengali Bread we use for kaya toast. Thumbs up for the tender beef tenderloin which Splashie Boy thoroughly enjoyed. The only bummer about this dish was I felt the bearnaise sauce was utterly tasteless.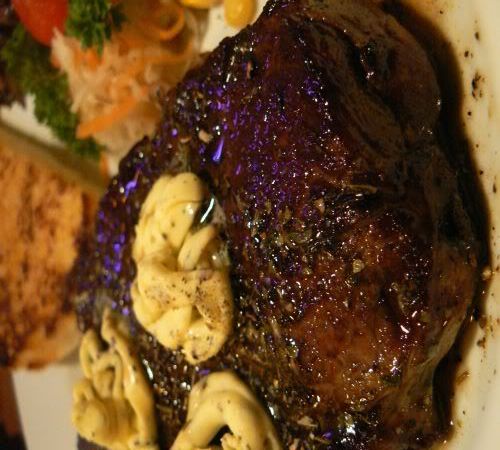 I had the Rib Eye with Herb Butter (RM37.90+) which was not bad but of course not as fantastic as the tenderloin because the cut is different. I like how they cook their steaks here as they grill it on extremely high heat to create a nice crust outside (kinda like how I make it at home) while leaving the inside still juicy. Although they get their steaks right, I felt their herb butter to be also tasteless.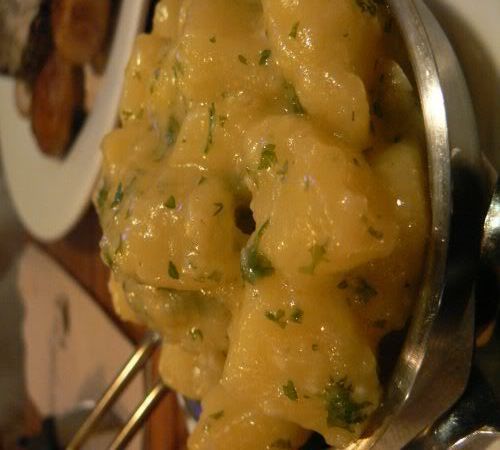 As there was no potatoes served with the meal, we ordered a side order of garlic butter potatoes (RM4+). We didn't expect the portions to be huge hence this was kinda wasted.
Overall, we thought the food although the steaks were good could have been better if their sauces were not so watered down. Even their herb butter seemed to lack any taste of herbs after it melted on top of my steak. Comparisons were made with La Suisse since it's a similar set up and pricing and we felt La Suisse would have been a better choice as their sauces are richer with flavours. Another hitch to their restaurant is they are switching credit card companies hence it's only cash payment here. Kinda difficult to bring lots of people to eat here if you have to fork out wads of cash which is extremely dangerous to lug around nowadays with our crime rates. We did peek at their set lunches which look reasonable at RM15.90+ but note there were no steaks served in their sets. That's sad as I think if they added either a minute steak or steak diane to their set and if it impresses people, they will return to eat the rib eye or a bigger steak.
The Eagle's Nest Steakhouse
Ground Floor, 1-1, Jalan PJU 8/5D
Perdana Business Centre
Bandar Damansara Perdana
Petaling Jaya
*Disclaimer: The opinions expressed here is entirely based on my personal tastebuds and may vary for others. The reviewer also declares that she has not received any monetary or non-monetary compensation from the restaurant for writing this review.

Tagged with:
Steaks
+
Escargots