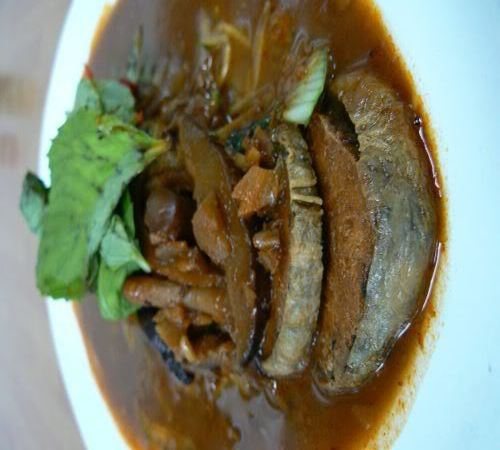 When it comes to vegetarian food especially in Malaysia, I'm not a fan since I hate eating
wheat gluten
that is used to re-create the mock meat in Chinese vegetarian dishes. However, a recent trip to this vegetarian restaurant in Pudu did have me reassesing my previous opinion as their food items were delectable and the ingredients including the gluten used tasted freshly made. This particular restaurant is extremely popular among the Buddhists who follow a vegetarian diet on the first and fifteenth days of the Chinese lunar calendar.
Their signature dish is the assam fish (fish cooked in tamarind) whereby gluten is used to imitate the fish meat. What really stands out is their assam gravy which is fragrant and tangy. I'm sorely tempted to revisit this place for a takeaway and add noodles plus lots of shredded cucumber and pineapple to recreate my favourite assam laksa dish.
Besides gluten, different varieties of mushrooms are mostly used in vegetarian cuisine. I'm totally fine with that since I am a mushroom lover. Usually a mix of canned and fresh mushrooms are used which is braised to give it flavour.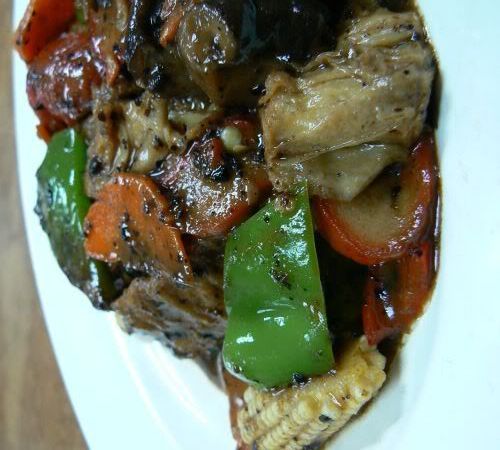 This particular dish uses a mix of fresh vegetables such as sweet corn, capsicum and carrots which is then stir fried in a tasty black bean sauce with mock char siu slices made from gluten and bean curd puffs.


Most times, vegetarian food can be quite oily as it involves a lot of deep frying especially the raw wheat gluten. This particular dish may not have gluten in it but it's still quite unhealthy as it's deep fried. However it tasted really good since it has all my favourite ingredients: seaweed, enoki mushrooms and shredded carrot. Shaped like a meat patty, this is eaten with a plain steamed bun known as mantou.

Besides the cooked items, the restaurant also sells vegetarian items and caters for Buddhist events at the temple.

Restoran Vegetarian Yue Yee Chai
89, Jalan Changkat Thambi Dollah
Off Jalan Pudu
55100 Kuala Lumpur

Tel No: 03 - 2148 4681

(Open from 11.00 am to 2.30 pm for lunch and 5.30 pm to 9.30 pm for dinner. On the first and fifteenth day of the Chinese lunar calendar, they are opened from 8.00 am to 9.00 pm. Closed on the second day and sixteenth day of the Chinese lunar calendar.)