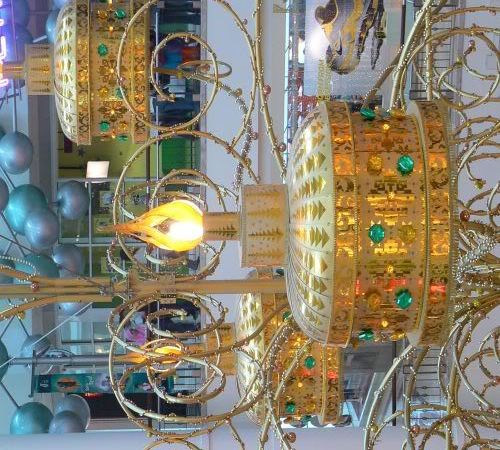 Last weekend, I finally managed to sneak into the mall to do some shopping and I was amazed at this year's Deepavali and Raya decorations at Suria KLCC. To celebrate the joint occasion, they had combined the Deepavali jeweled oil lights with ketupat lights which hung from the middle of the mall.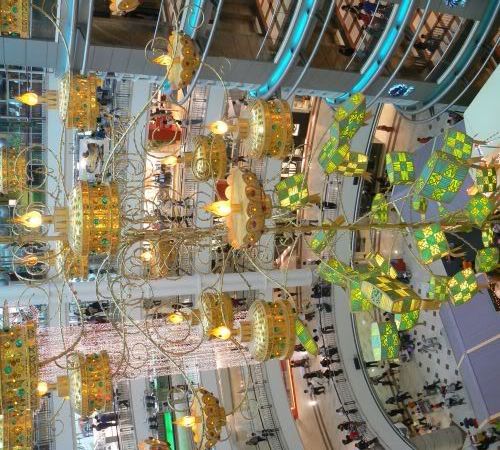 At the foyer, they have recreated a Malay and Indian street with ketupat weaving, Malay and Indian cookie making, jasmine flower garland making and etc. There are also musical performances on traditional Malay instruments like the keroncong and angklung plus Indian classical music to get everyone in the festive mood.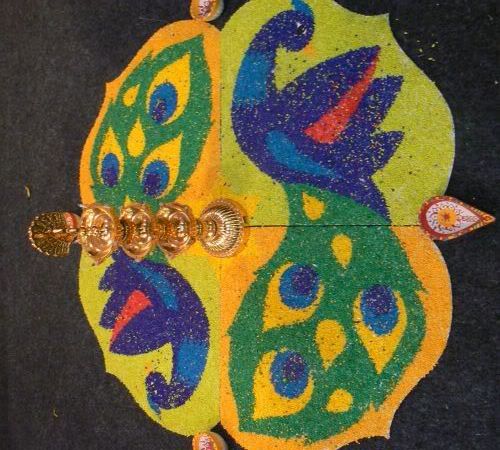 I didn't take any pictures of the stalls because most of the people manning them were taking a break when we walked past. I did manage to snap a picture of the kolam/rangoli they made from coloured rice grains. This is essential for Deepavali and it's usually found in foyers of shopping complexes and office buildings. You can actually recreate this at home as they sell these kits with the coloured rice at shops in Brickfields. They all have different patterns and this one features two peacocks.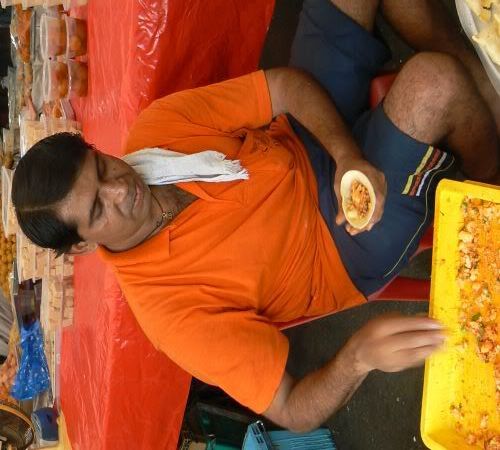 Braving the hazy skies, I made my annual walkabout around Brickfields. Like last year, huge tents have been placed at the empty area between KL Sentral train station and Jalan Tun Sambanthan. If you're travelling from KL Sentral to the KL Monorail, there is no way you can miss these stalls, since you need to pass by them to switch stations. This year, there are four sweet stalls around hence I get to focus on the food rather than the decorations.
This particular stall has prime location since it's the first stall you see when you walk over from the KL Sentral train station. It also has a lot more savoury items which they were preparing on site.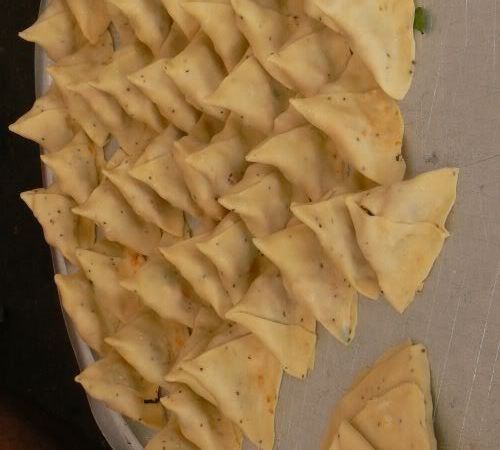 I managed to capture pictures of this man making samosas at the back of the stall - folding the skins, inserting the curried potato filling before shaping it to triangular shapes.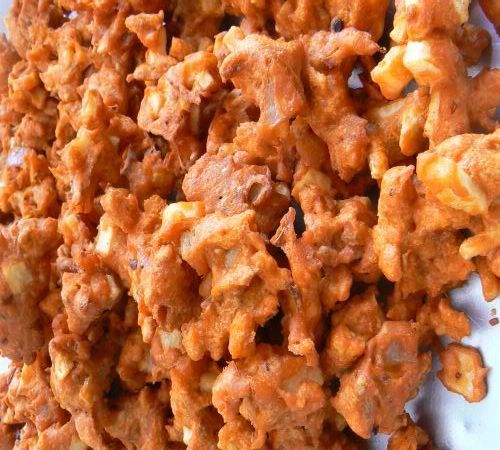 Another popular item which the stalls were selling were these savoury snacks that were deep fried on the spot.


Deepavali won't be the same without Muruku and all those crunchy stuff when you're catching up with old friends. In fact, we have two big bagfuls of Muruku for the festive season at home too. This particular stall is located at Jalan Tun Sambanthan. Since there are a few muruku stalls, do remember to shop around.




I like how some stalls will make their sweets at their premises. This gives a chance for the tourists and people like me to see the whole process and it confirms also how fresh the sweets are. These two fellas at the Moga Punjab Caterers stall were making the sweet jalebi. First, he will pipe the batter that is made from a mixture of plain flour, gram flour and water in swirls into the hot ghee. Once the fritter is crispy, it is then taken out from the hot oil and drained.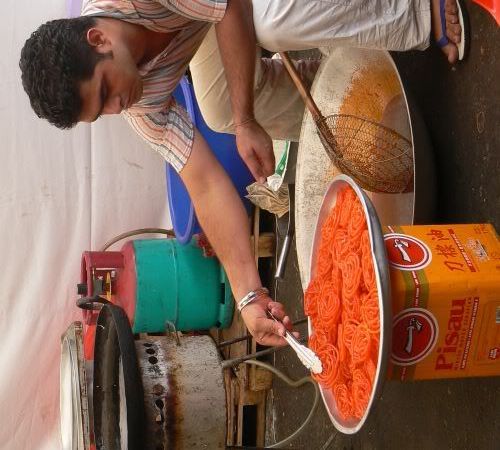 Subsequently, the deep fried fritter is then dipped in the tangerine orange coloured syrup. It's slowly drained and stacked up on a metal platter all ready for customers to pack back some for the festivities.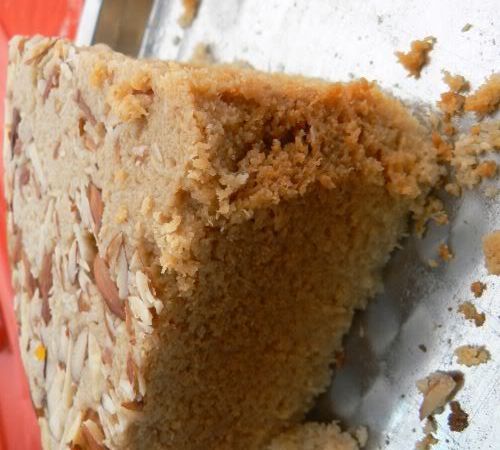 This seems to be this year's favourite as I saw so many stalls selling this Milk Cake which is made from full fat buffalo milk, brown sugar, and topped with flaked almonds. I bought some to try out - 100grams for RM5 and it was deliciously rich and flaky.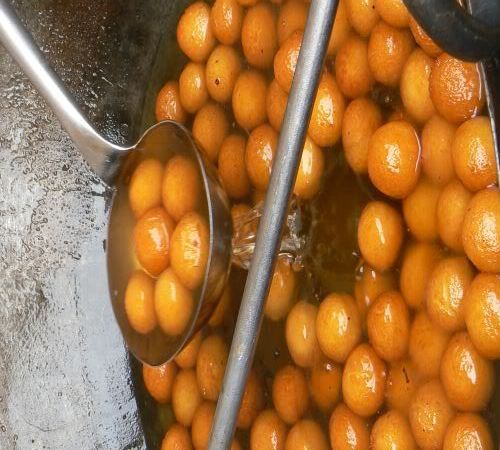 This is the ever popular Gulab Jamun which is deep fried balls of khoya (reduced milk) that is soaked in a sweet syrup. This stall was preparing the Gulab Jamun in a wok and scooping it slowly in a container to be sold at their stall.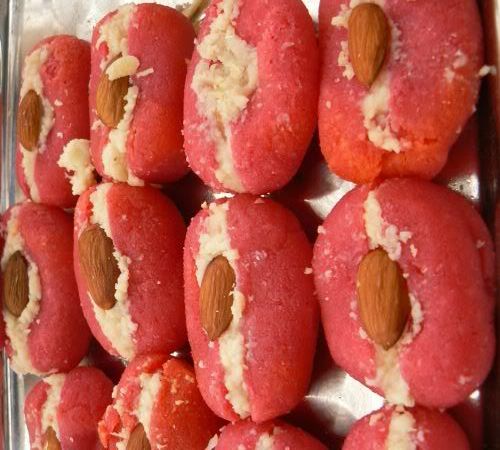 Something new this year, this sweet called Cham Cham (I think! as the stall owner's accent was quite strong). It has a stuffing of cream cheese and an almond on top of it. They come in various rainbow colours - barbie doll pink, sunshine yellow, apple green and rich brown. It's also extremely rich as the outside is soaked in syrup. Very sinful but yummy if taken in small portions.




Sweets like these laddus made from gram flour and spices are a must have during the Deepavali occasion as it's believed if you serve sweet things during the festivities, this symbolises a sweet and happy year ahead for you.


Like fashion, there are new sweets every year and this time round, I thought these multicoloured palgovas at the Punjabi Sweets and Restaurant stall look really pretty.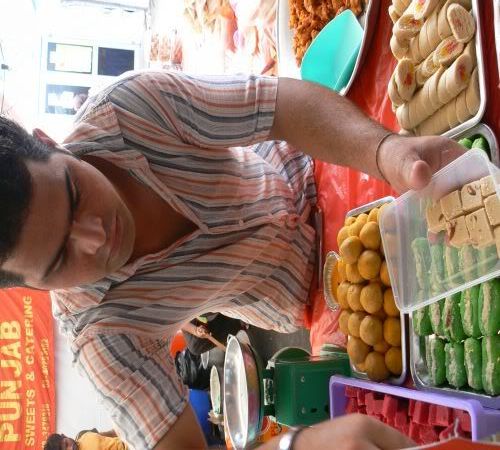 People were going around trying out sweets and buying them like these almond studded palgovas.


Besides the sweets made from buffalo milk, you can also get bright pink and green coconut candy which is made from evaporated milk, condensed milk and grated coconut. Sometimes different flavours are added to the coconut candy like chocolate.




One of my favourites, black Gulab Jamun with a coloured filling. I'm not too sure how they make it until it's black in colour but I find them not as sweet compared to Gulab Jamun.

Hope you enjoy this year's Brickfields coverage and for more Indian sweets and decorations, do check out last year's posts on Klang's Little India and Brickfields bazaar. I have also added the post I also did on sweets I found at Lotus Restaurant along Jalan Gasing which has detailed pictures and names of the various sweets.
Concourse Level
Suria KLCC

KL Sentral Deepavali Bazaar and stalls
At the area between KL Sentral and Jalan Tun Sambanthan. More stalls available along Jalan Tun Sambanthan which sell various garlands, decorative items and clothes for the festive occasion.

Tagged with: Malaysian Food + Indian Sweets + Deepavali