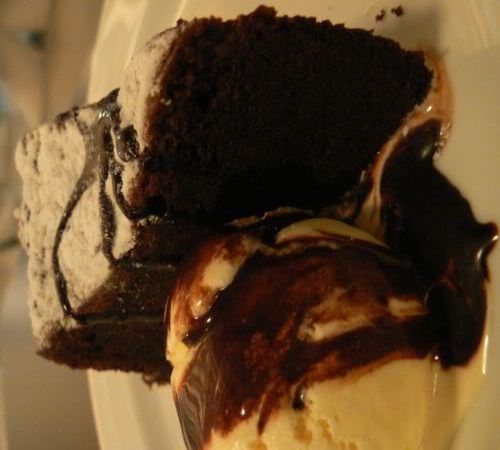 Yesterday, we indulged in some wicked Chocolate Steam Pudding with Vanilla Ice Cream (RM10++) to celebrate good news we received. This is currently my favourite indulgence as the steam pudding is not too rich but still chocolately enough to make it feel sinful.
They have a wide selection of cakes and desserts here so do take your pick from: apple pie, banana cake, banoffee pie, black and white chocolate, blueberry cheesecake, bread and butter pudding, carrot cake, cheese cake, chocolate banana mascarpone, chocolate berries meringue, chocolate bittersweet, chocolate brownies, chocolate cinnamon, chocolate moist, chocolate mousse, chocolate silk, chocolate walnut, italian cream cake, mango cream pie, mixed fruit meringue, orange and almond, pavlova, peach and banana crumbe, pear and ginger upside down pudding, pecan pie, tiramisu, zucotto dome and etc. Note that not all desserts are served at one time hence it's always advisable to call them ahead to check what selections they have available for the day.
Besides desserts, the main meals are great too especially the Sarawak Laksa, Mee Siam, Chicken Rice and pastas which are old favourites whenever we visit the bistro.
*Disclaimer: The opinions expressed here is entirely based on my personal tastebuds and may vary for others. The reviewer also declares that she has not received any monetary or non-monetary compensation from the restaurant for writing this review.