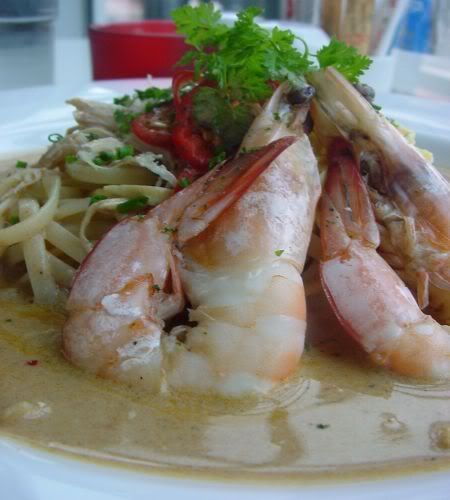 Last night, I did some digging through my photo archives and pulled out this picture I took long long ago. It's so long ago that this was from my old Sony camera before it was cruelly snatched away from me (Sniff!).

This quiet little cafe was discovered long ago as one of my friends went for a party there. If it wasn't for her recommendation, I doubt I would have found it since it's at the quieter side of Mont Kiara where the new apartments like Bayu, Aman, Astana and Damai are located. Since these apartments are kinda far away from the Shoplex area which houses the Coffee Bean and Tea Leaf, they are trying to create an area there for residents to grab their daily items.

The food here is pretty good and the menu has mainly western items such as Lamb Shank which was very nice and Lasagna plus pastas. The few times I ate there, most of their patrons were Japanese who stayed around the area. Besides the tender Lamb Shank, I really love their Sarawak Laksa. It's an interesting intepretation of the classic which will probably have those who love the original howling in protest. Instead of the usual curry broth it is served in, this is served like a pasta (linguine) with a creamy sauce flavoured with the laksa herbs. It's pretty mild and not too creamy. They also add the must haves in any Sarawak Laksa - the shredded chicken, omelette strips and the tiger prawns.

The last time I ate here, what made it extra special was they also had a promotion of free desserts with your meal. It's no longer available which is quite sad but it was a good way to introduce their cakes which they bake themselves. We liked their carrot cake which comes with cream cheese in the center and is served warm. If you're around the area whether for work or pleasure, do give them a try. They also deliver take out to the nearby apartments.

Tommy's
C-01-01, Aman Walk
Mont Kiara
Jalan Kiara 2

Tel No: 03 - 6203 9761

(They're open for lunch and dinner. To get there, drive down Jalan Kiara, the main road where Plaza Mont Kiara is located. Pass the shoplex which is where Coffee Bean is located, take the third right turning where Mont Kiara Bayu is located, the Aman Walk is located on your left hand side. You can park at Mont Kiara Bayu's visitor car park and walk up to this place. It's right above Kiara Supermarket.)
*Disclaimer: The opinions expressed here is entirely based on my personal tastebuds and may vary for others. The reviewer also declares that she has not received any monetary or non-monetary compensation from the restaurant for writing this review.

Tagged with:
Malaysian Food
+
Sarawak Laksa