Meow everyone,


Hope everything is A-ok with all of you. I thought this week I'll show you pictures of these two naughty kitties at the other house. One of the kittens came back to us as no one wanted the poor fella. He seems to be okay with it and has turned out to be a companion for the ginger kitten we call Gingy or G for short.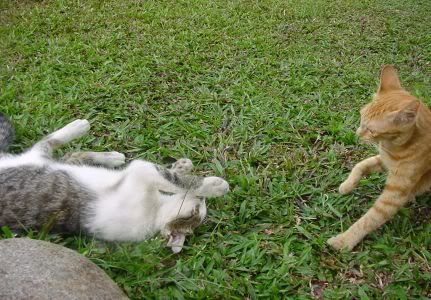 Their daily occupation is to chase each other round and round the garden a few times. Since the garden is pretty big, they can occupy the whole day doing just that.




After chasing each other, they'll definitely clash with each other and you'll see fur and paws flying around. The best part is despite all the play fighting, they do love each other as Mum has caught them cleaning each other's heads during quiet moments.




Oh, another thing I wish to gripe about - I am so annoyed with the people who live around me! They just disturbed my peaceful night with noisy, big banging fireworks that went on for a while which I totally don't appreciate. Ain't it bad enough I have to endure those noisy clang clang sound of the lion dances? I'm glad Chinese New Year will be over soon as I honestly hate these loud fireworks and lion dances.

Do check Auntie Clare at eat stuff this weekend. She has a special guest, Ruby who looks a bit like my mummy who has a neat trick with her paws. See you all next week.