It has been quite a long time since I have been to Crystal Jade Lai Mian Xiao Long Bao (read my
May 2005 review
). Somehow, bloggers haven't raved about it as much as Dragon-i even though I reckon the food here is much better. It's probably the location of the place as more people tend to visit Mid Valley Megamall and 1 Utama Shopping Centre. I am happy to report that the food is still just as good at this place especially the Xiao Long Baos(RM7++) - THE essential order at this place.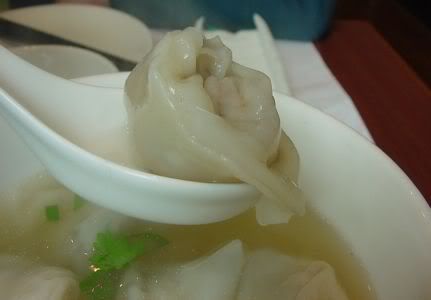 Although we had one order of dumplings already, we felt like eating lots of them hence we also ordered the wantans(RM8++) which was very nice. One thing I prefer at Crystal Jade are their plain noodles and dumplings come with a tasty broth.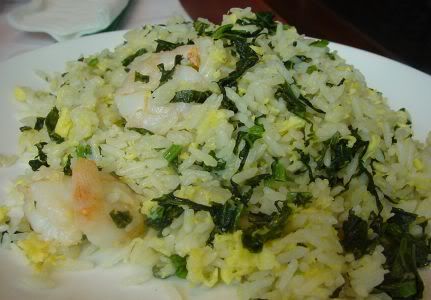 We decided to be different and ordered fried rice (RM18++) as it looked good on the menu. Well, we weren't wrong as it was really yummy with fluffy rice grains mixed with bits of egg, pickled vegetables and crunchy prawns. Unlike the usual fried rice, this one felt like a lighter version especially with the pickled vegetables.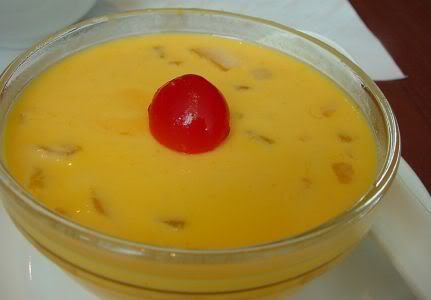 This time round, we tried the mango pudding(RM6++) which was pretty tasty but came in a lurid yellow that screamed artificial food addictives and colouring. Eaten with a dash of evaporated milk, this was an indulgence we tucked in quickly while waiting for the souffle egg white balls to be fried.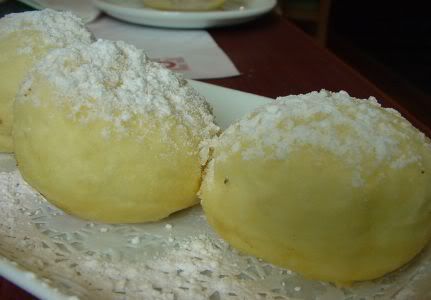 I love these little deep fried souffle egg white balls(RM8++). Eat them with the icing sugar or else they can be tasteless. Some people have expressed their dissapointment of the lack of red bean and banana filling inside it but I reckon that if you overfill the insides, it won't puff up like this.
Crystal Jade La Mian Xiao Long Bao

Tel No: 03 - 2148 2338
(Non-Halal)
*Disclaimer: The opinions expressed here is entirely based on my personal tastebuds and may vary for others. The reviewer also declares that she has not received any monetary or non-monetary compensation from the restaurant for writing this review.

Tagged with:
Crystal Jade
+
Xiao Long Bao