I thought I'll share with all of you what we usually do for Chinese New Year. Nothing special as nowadays my family don't stay in town during the celebrations since everyone hightails to Singapore instead.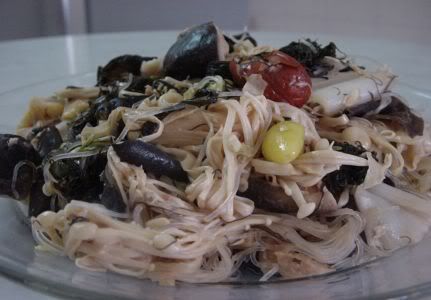 For as long as I remember, my mother will cook a Lor Hon Chai dish in the early morning which we will eat breakfast with rice. Sadly this tradition is now abandoned since she usually spends her New Year in Singapore but this year, I decided I will continue the tradition by cooking my own version. Similar to the one I made a few months back, this Lor Hon Chai has my favourite stuff inside it: dried lily bulbs, wood ear fungus, Chinese dried mushrooms, canned enokitake mushrooms, gingko nuts, red dates, glass noodles, fatt choy vegetables (also known as prosperity vegetables), tofu puffs, beancurd sheets, nam yee beancurd (preserved bean curd) and Chinese long cabbage. It wasn't as fantastic as my mother's but pretty good I thought.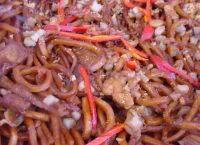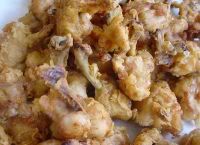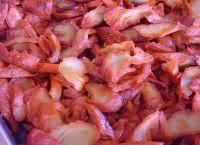 Top Left: Hokkien Noodles, Top Right: Boxing Chicken
Bottom Left: Sweet and Sour Fish, Bottom Right: Mock Char Siew

The first day of Chinese New Year is always reserved for visiting family members. When I was a kid, I remember visiting all my aunties and uncles (there were a lot of them) as my father was one of the youngest. Nowadays, rather than driving around to each other's house, we usually gather at one relative's house to eat, drink and meet up. This year, my cousin was hosting at his house and we had lots to eat. Besides the selection above, there was chicken curry to be eaten with nasi impit (or compressed rice), fried mee hoon, achar and etc.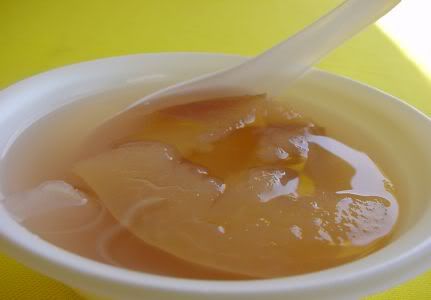 My cousin's wife made this really nice tong sui from red apples and winter melon. You can't really see it but it had a rose pink tinge to it from the red apples. Very nice and refreshing especially in the hot weather we always experience during Chinese New Year.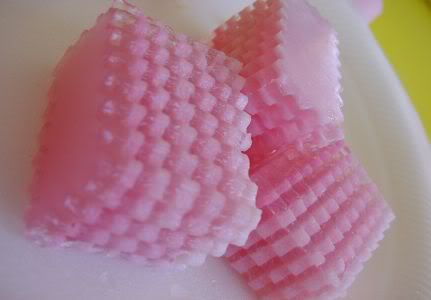 My auntie is the expert in making agar-agar - she makes them in different shapes plus colours. See how pretty the layers are in this coconut agar-agar.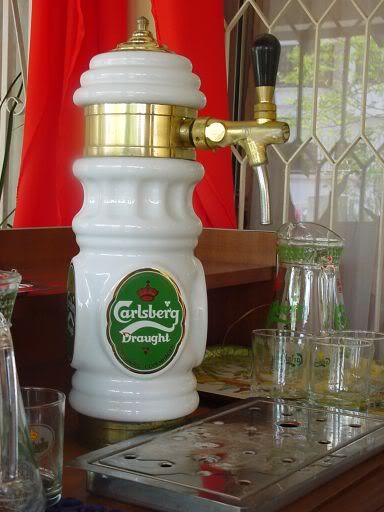 To cool off during the hot day, how about a pint of beer on tap? Everyone was trying this out to see who could get the beer with the least foam on top.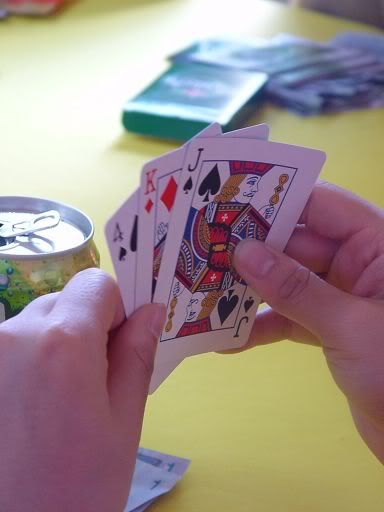 So what do you do after all the feasting is done? Gambling with cards of course! During Chinese New Year everyone gambles, maybe because they believe they will be super lucky during this season. Some even claim if you deck yourself with red underwear, you will extremely prosperous. Besides card games, families also sit down to play mahjong.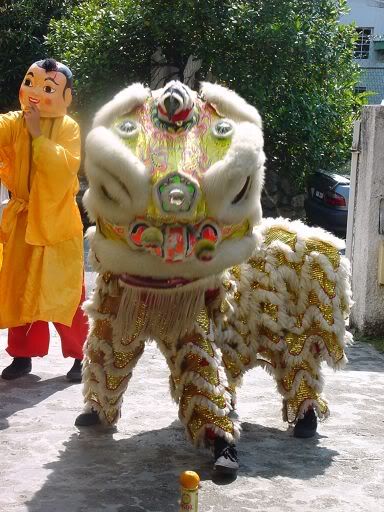 Another Chinese New Year essential is the
lion dance
and you get visiting troupes that will visit your house or office to help you celebrate the New Year. The Chinese believe the lion will bring luck and ward off any evil. Usually the lion is accompanied by a comical monk who helps direct him to do his tasks especially when the lion is playful.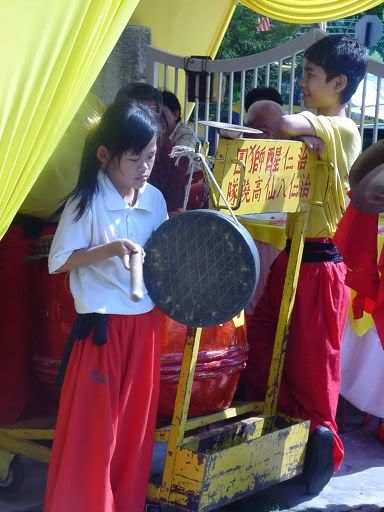 The lion will be accompanied by music from the gong, clanging cymbals and the Chinese drum known as Tagu. This troupe is full of youngsters including this little girl who is helping out with the music.


During the dance, the lion performs many tasks. If you lay our mandarin oranges and pomelos for him, he will help peel them for you which can be presented to you for good luck. The lion was slightly tipsy after it drank a can of beer so he was rolling around the floor.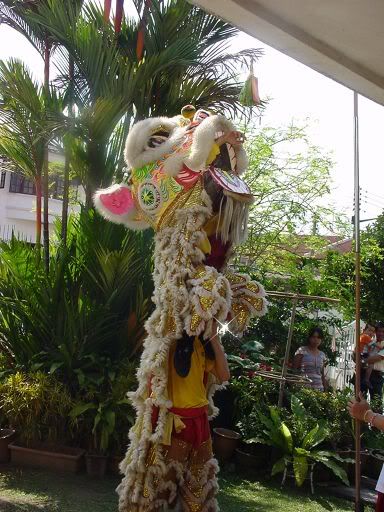 What is important to the lion is this hanging lettuce with a big ang pow packet tied next to it which is known as Choy Cheng which means vegetable. The ang pow known as Lay See is always tied with the vegetable on a high pole. The lion dancers will pounce on the Choy Cheng to remove the angpow (bad luck to drop it) and then tear the lettuce to toss it all over the place as it symbolises prosperity being spread around. Once he is done, it's time for the lion to go home which he does with a happy dance since he has been paid. Different dance troupes have variations to their routines so do try and catch them during the fifteen days of the Chinese New Year.
Tagged with:
Chinese New Year