Almost everyday, on the way home, I will drive past Seapark. I spied this place from the traffic light which is near the famous Sunrise Duck rice as their side sign stood out among all the other older businesses along the same row of the Kentucky Fried Chicken. Curious about it, I decided to try it after checking out if others were eating at this place too. Everytime I drove past it, there was a pretty decent crowd eating in the restaurant hence I figured the food must have passed the Sea Park standard.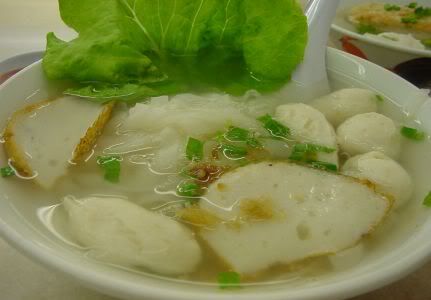 The place is super clean and full of marble tables and chairs. They serve all things to do with fish paste: fishballs, fishcake, fish noodles and yong tau foo stuffed with fish paste. There is a big sign proclaiming their freshness and their fish paste has no preservatives. It's great that they are doing this as more and more people are getting health conscious.

I ordered a standard order of kuay teow noodles (RM4.50) that came with fish paste and slices of fishcake. You can also order a variety of different mees: yellow mee, mee hoon, glass noodles. There is even noodles made from fish paste which is pretty rare in places going for RM5. I liked the kuay teow noodles as it was very smooth. The soup they served was also devoid of oil and tasted "ching" (Cantonese for clear and healthy).



You can select your order of yong tau foo from the counter and they have tau foo, bittergourd, lady fingers (okra), brinjal, chilli and etc which are priced at RM0.80 each. There is also the fried yong tau foo variety with fried wantan and bean curd. If you notice from my photo, they use a different variety of bittergourd which is not bright green like the usual ones you get from the market. This variety is less bitter.




I love fishcake (RM4.00) hence I ordered one and it was nice and springy. Tastes a bit like what my aunt makes for us to eat at home. Overall, I liked the food as it's very healthy tasting. However be warned, it may not be for you if you like oily food, lots of MSG and strong flavours as the food here is devoid of all that. This place also sells their fish paste products which you can take home to cook your meals with.

Tang House of Fishball
No. 12, Jalan 21/19
Sea Park
46300 Petaling Jaya

Tel No: 03 - 7876 5461
(Same row as the Kentucky Fried Chicken and opposite the old Ruby Cinema)

*Disclaimer: The opinions expressed here is entirely based on my personal tastebuds and may vary for others. The reviewer also declares that she has not received any monetary or non-monetary compensation from the restaurant for writing this review.
Tagged with:
Malaysian Food
+
Fish ball