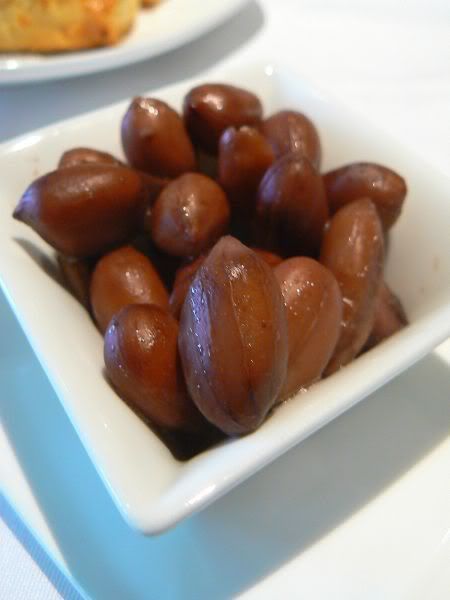 Braised Peanuts

When it comes to Crystal Jade's restaurants, my whole family are great fans. They regularly dine at the Singapore and China outlets till they have their favourites. Recently, with the opening of the two new malls, The Gardens and Pavilion, Crystal Jade has been expanding. To add to their existing outlets - Crystal Jade Lai Mian at Lot 10 and C-Jade Express in Mid Valley Megamall, they now have Crystal Jade Kitchen and C Jade Meal Cube at Pavilion and Crystal Jade Restaurant at the Gardens.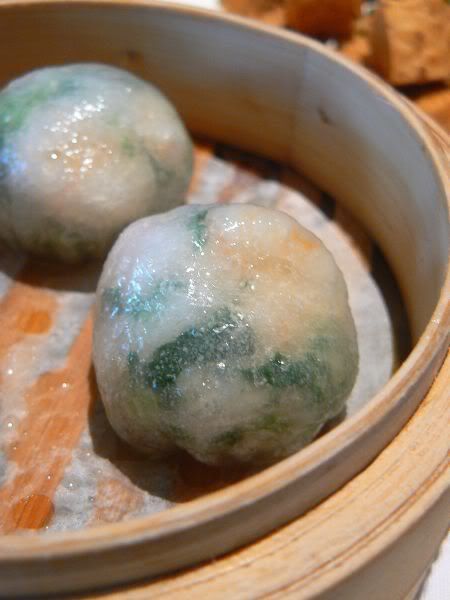 Steamed Spinach with Garlic Dumpling (RM7++)

Each new outlet has slight variations - the Crystal Jade Meal Cube is said to serve Western food while the Crystal Jade Kitchen serves dim sum, noodles and porridge. For the Gardens, the Crystal Jade Restaurant is quite posh with dark grey slate walls, aquariums full of live seafood and a row of tiny red terracotta warriors in glass cases.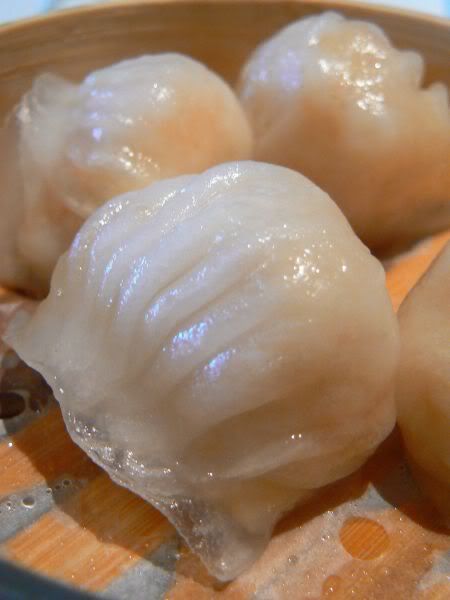 Steamed Ha Kau (RM8++)

Since we were at the Gardens last weekend for some shopping, we dropped by for lunch. My mother who is the regular at Crystal Jade did the ordering of old favourites. I just attacked the plate of braised peanuts on the table. First to arrive on the table was the Char Siu Sou or BBQ Pork Pastry. My mother panicked when she saw the plate as it didn't look anything like her usual fare in Singapore with the sprinkling of pork floss. After checking with the waiter, it turns out that this was how they served it in Kuala Lumpur. Tastewise, it wasn't the same as Singapore according to my mother, the expert as the char siu filling was quite lacking in taste. I loved the flaky pastry which had a lovely melt in the mouth texture.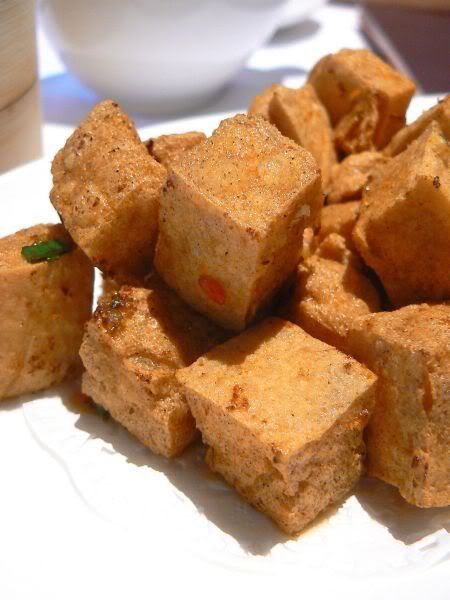 Deep Fried Beancurd with Salted Egg Yolk, Salt and Pepper (RM9.80++)
We fared better with the steamed version. Soft and fluffy, I really liked the char siu bao and this time the filling was so much better. My mother gave her thumbs up to this version.



BBQ Pork Pastry (RM7.50++)

We also had the Steamed Spinach and Garlic dumpling which was covered with a translucent skin. Inside it was a prawn mixed with spinach. I thought the taste was quite bland.



Steamed BBQ Pork Bun (RM7++)

We also tried the classic Ha Kau - steamed prawn dumpling. I quite liked the thin skin which didn't stick to my teeth like the other places I had tried before. The dumpling was also filled with other items like ginger shreds to give it more flavour.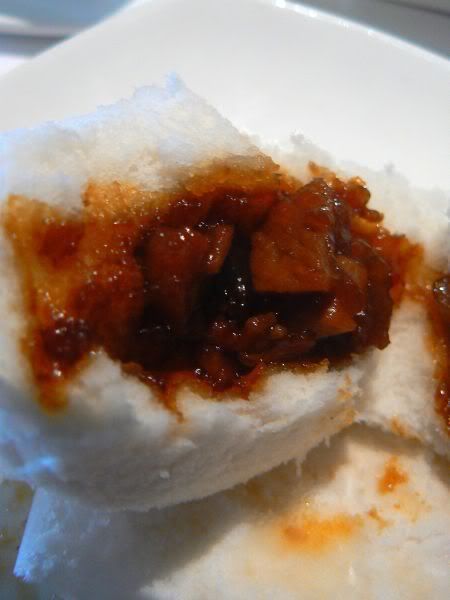 Steamed BBQ Pork Bun revealed
Aside from dim sum items (ranging from RM6.50 to RM13), they also had entrees like the deep fried diced bean curd. I quite liked the tiny cubes which had a soft centre and a crispy exterior. However it didn't have any taste of salted egg yolk, salt and pepper which is what it is said to be fried in.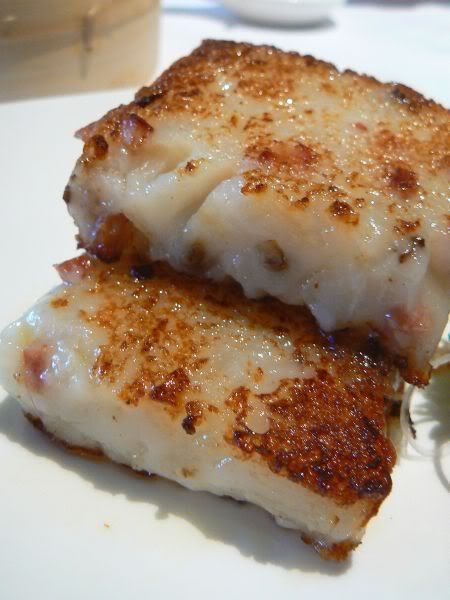 Panfried Carrot Cake (RM7++)

I really liked the pan fried carrot cake which came filled with bits of Chinese ham.Very soft and full of oomph from the flavours of the ham. Only complaint was the carrot cake was a tad too oily.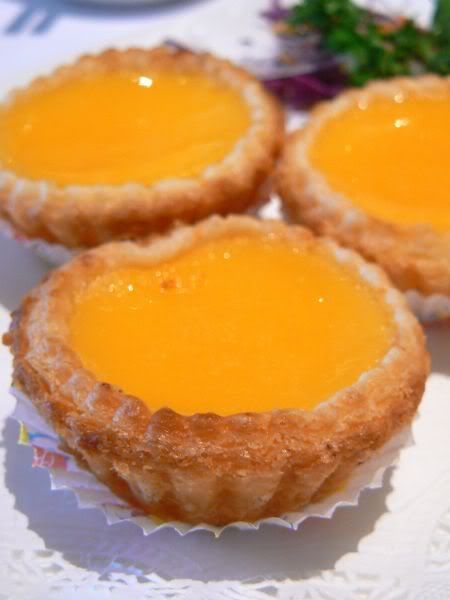 Baked Egg Tart (RM6.50++)

Last but not least, we had dessert. It was a choice between glutinous rice ball with black sesame paste and egg tarts. I liked the flaky crust of the egg tart but somehow the egg custard within wasn't cooked enough. We suspect it would be cooked till a wobbly perfection if they had taken it out from the oven a bit earlier and let it cool down. The bright yellow of the egg custard also was daunting and seemed to signify lots of artificial flavourings.
Overall, I would say the food has some hits and misses. Wouldn't mind returning to try the other menu items like their cooked food (seafood), claypot rice and stone pot rice. They also have congee, noodles and lai mian at this outlet.

Crystal Jade Restaurant
Lot T 210
3rd Floor
The Gardens
Mid Valley City
Kuala Lumpur

Tel No: 03 - 2283 3129

(Non Halal. Located at the corner, at the third floor.)

*Disclaimer: The opinions expressed here is entirely based on my personal tastebuds and may vary for others. The reviewer also declares that she has not received any monetary or non-monetary compensation from the restaurant for writing this review.

Tagged with: Dim Sum+ Chinese Food