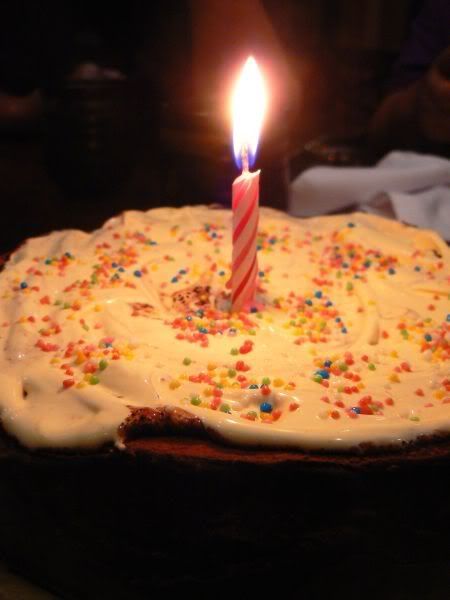 Brandy Chocolate Truffle Cake

Hear ye! Hear ye! The first meeting of the Japanese Friends Kawan Association (JFKA) is called to order. Topmost on the agenda was great Japanese food which we found at Ninja Jones. It was a momentous gathering when great appetites get together. Not only did we get things in order with the association, we also celebrated Precious Pea's birthday.



Garlic Fried Rice (RM12++)
Feeling tired after jamming my foot on the accelerator and brakes since it was the eternal jam on the Federal Highway, I left it to the president of JFKA, the honourable Madam Lyrical Lemongrass to order loads of food to feed our grumbling tummies. The manager was a real sweetie as he guided us through the menu with recommendations on house specialties.



Yamakake Cha Soba (RM22++)

I reckon nowadays I get so tired my picture taking skills has detiorated tremendously. Takes me longer to get a perfect shot and I will get days or nights when out of all my snaps, one will be blurry. Once we ordered, food started arriving quickly on our table.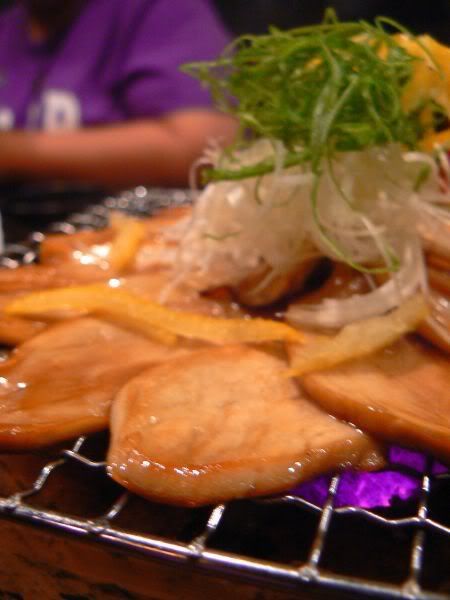 Eringi Ninniku Shoyu Grill (RM15++)

As usual, when Floggers get together, food tends to get cold since each dish goes through the "food paparazzi" with all sorts of cameras zooming on the food. We almost had a mishap with the Eriningi Grill as the mushrooms started to burn slightly. Luckily we rescued them from the fire and everything was still good. Thumbs up to the juicy mushrooms!



Kobe Beef (RM195++)

Since it was a dual celebration, we went for the jugular - the Kobe Beef which costed a whopping RM195++. Didn't feel so painful since we ended up sharing the bill and it was very worth it since it was excellent - the melt in the mouth and juicy texture.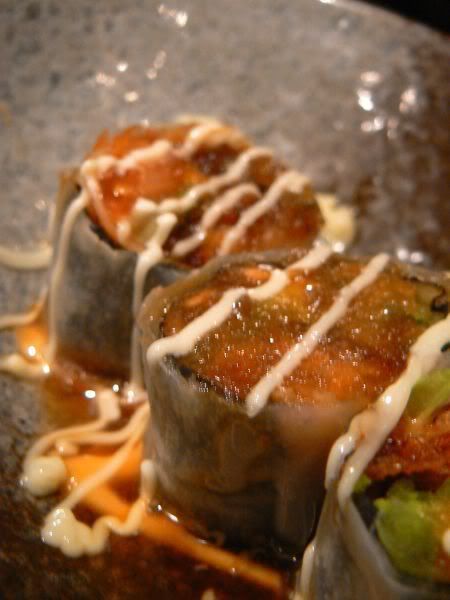 Avocado and Soft Shell Crab Namaharu (RM22++)

Maki orders were made with the consultation of Head of Maki, Paprika. She deemed the two varieties we ordered good stuff. The Avocado and Soft Shell Crab Namaharu was interesting with its soft texture and slightly tangy sauce.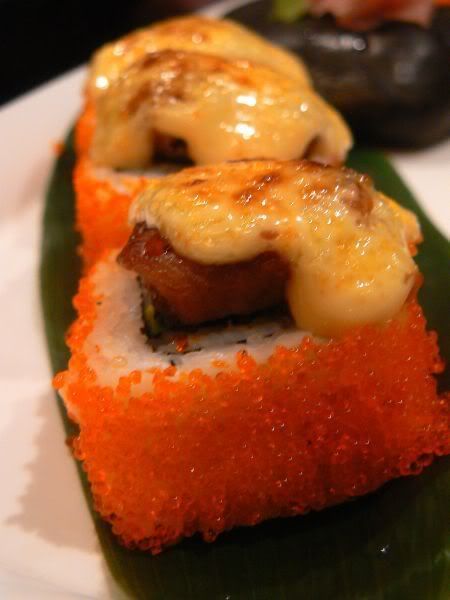 Volcano Roll (RM30++)

The Volcano Roll which was recommended was such delicious stuff that even the non-fish eater aka WMW enjoyed it. We kinda suspect she likes the cheese topping the unagi that masked any fishy smells which she hates.



Seafood Papaya Moto-Yaki (RM36++)

Similar to the Honeydew Moto Yaki version I had at Yuzu, their sister company, this dish was served on top of a halve of papaya. Although the creamy sauce was yummy I think I prefer the honeydew version more.



Nikujaga Croquette (RM12++)

Aside from traditional Japanese food, Ninja Jones also serves a variety known as "Jones Cuisine" which is basically Yoshouku or Western food given a Japanese twist. Here the traditional Nikujaga - the homey beef stew with potatoes get re-invented as a potato croquette. I thought this was pretty average tasting.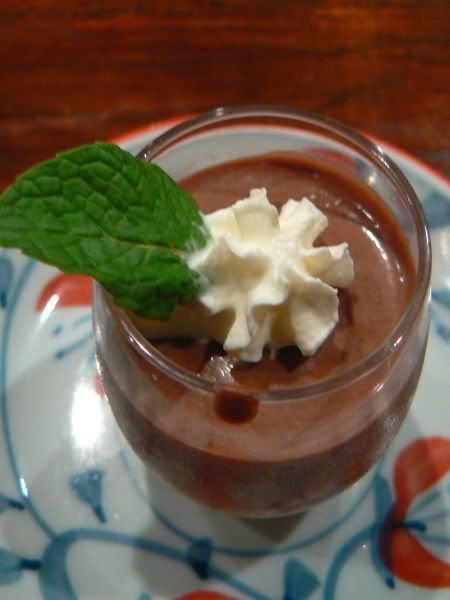 Chocolate Mousse

To share, we also ordered tummy fillers like Garlic Fried Rice and Cold Cha Soba Noodles. I thought the Garlic Fried Rice was pretty good. Also loved the cold taste of the green noodles dipped in soy sauce.
To end the occasion, we had complimentary Chocolate Mousse and the celebration cake - Chocolate Brandy Truffle Cake from Fatboybakes. The people at the restaurant were so innovative as they decorated the cake for us with pure cream and a sprinkling of hundreds and thousands. Good stuff (Hic!) which had our Madam President ranting on about something.....Honestly I was too (Hic!) to bother on what she was going on about. Maybe it was about the next meeting. Whatever it is, I will definitely vote for once a month gatherings to enjoy yummy Japanese food.

Ninja Jones
A-G-5, Ground Floor
Northpoint
Mid Valley City
Kuala Lumpur

Tel No: 03 - 2288 1646
(Pork free.)
*Disclaimer: The opinions expressed here is entirely based on my personal tastebuds and may vary for others. The reviewer also declares that she has not received any monetary or non-monetary compensation from the restaurant for writing this review.

Tagged with: Japanese Food+ Maki