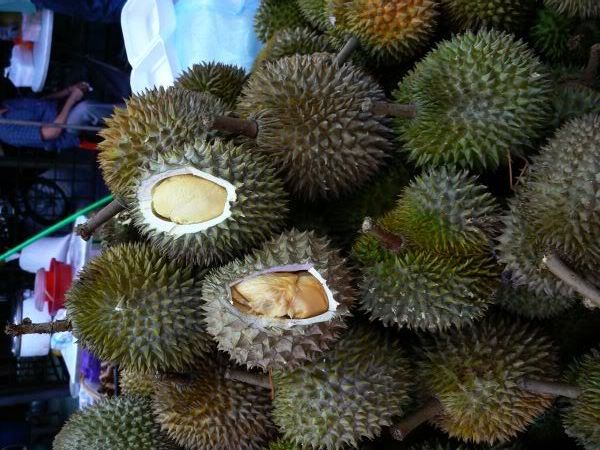 When I found out that the next SHF hosted by
alpineberry
was all about the tropical paradise, I knew I could not miss it for the world. I've been itching to test out a recipe from the new At Home with Amy Beh cookbook - durian pancake. Since the
durian
is revered as the king of fruits, this thorny fruit should be featured especially since it's in season now.
Usually the durian is eaten just on it's own but there are quite a few desserts and savoury dishes which feature the fruits. The durian pancake rose to notoriety when it was first introduced in Mandarian Oriental Hotel's Chinese restaurant, Lai Poh Heen. It became a must order - a light and thin pancake encased with luscious durian cream and whipped cream.
When I first read Amy Beh's recipe for the pancake, I honestly thought they made a typographical error as it only had a small proportion of flour, icing sugar and tapioca flour compared to the eight eggs. Deciding to go ahead since I had made the decision to try it out for SHF, I found out that the recipe was correct. Only rant I have with the cookbook is they don't state the number of servings the recipe makes - kinda difficult to determine if I needed to halve the recipe.


I made slight adjustments here like - sieving the batter and beaten egg mixture to remove any unbeaten egg whites. For my version, I didn't use any whipped cream since I felt it was rich enough on it's own. Like all new recipes, this one needs perfecting as I couldn't get my pancakes to be wafer thin like the restaurant's version. Sigh! Now I know why I should pay RM5 for each small pancake as the person making it is the real expert. Although mine was not perfect, it still tasted pretty good. You need to eat them slowly as they're so rich. Unfortunately Splashie Boy refused to come near it since he absolutely hates durians.




Durian Pancakes (Adapted from At Home with Amy Beh 3)

Pancake skin/wrapper

30 grams icing sugar (6 teaspoons)
30 grams tapioca flour (6 teaspoons)
15 grams plain flour (3 teaspoons)
15 grams melted butter (3 teaspoons)
8 eggs, beaten
190 gram (190 ml) water
Filling

100 grams UHT cream, whipped
200 grams durian flesh, pounded

To make the pancake wrapper: sift the icing sugar, tapioca flour and plain flour into a mixing bowl. Melt the butter and cool it down before mixing it in the dry ingredients. Beat the eggs and sieve it into the mixture. Add the water and mix everything together till smooth. Heat up a 15-16 cm non stick frying pan. Pour the batter. Swirl the pan around until it is evenly coated and pour back any excess. Remember the pan has to be hot or else the batter will not stick. Note that no oil is needed as melted butter has been added already. Shallow fry over low heat until cooked. When sides of the pancake curl up slight, flip the pancake on to a big plate. It should be wafer thin for the pancakes to taste nice. The batter makes about 20 wrappers.

Spread out the wrapper on a working surface and spoon one tablespoon of the whipped cream and 1/2 tablespoon durian paste on the edge of each wrapper. Wrap into a mini sized parcel. Chill in the refrigerator until cool. Remove and serve immediately.

Tagged with: Durian Pancake + SHF + Sugar High Friday