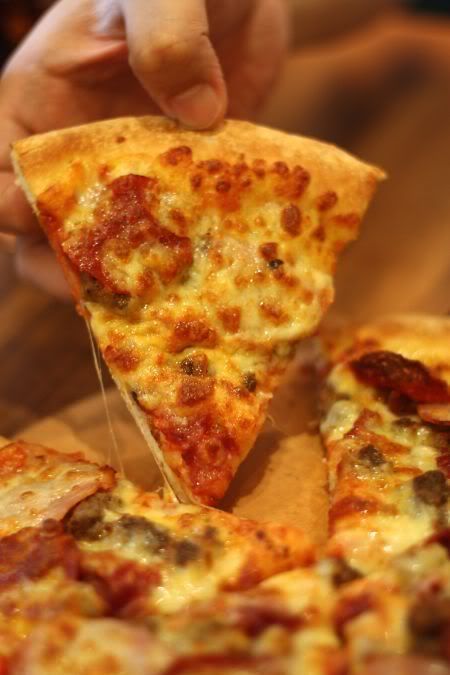 pizza mania...fresh pizza dough and mozzarella cheese

Mention fast food and Splashie Boy's ears will prick up. He's the fast food freak among both of us and won't hesitate to eat it the whole week, if he had a choice. Thus, when it came to deciding where to eat last weekend, he picked Papa John's, the pizza place he has been dying to try out. Another of Berjaya's new franchises (they also have Wendy's), currently the only outlet opened is in Berjaya Times Square. Next should be IOI Puchong.

I was sceptical at first but hold on, the outlet was packed to the brim with people that afternoon! Kinda gave me hope, as honestly I wasn't impressed when I saw the menu. I was keen to go all out for unusual i.e the Texas Heat, which sounded very promising with jalapeno peppers, green peppers or capsicums and beef bits. However, Splashie Boy wanted the Super Pizza, hence we compromised and went for the All the Meats.


my fav peppers - tangy and yummy

While waiting, I was busy reading on Papa John's. Their tagline, "better ingredients, better pizza" is said to be due to them using fresh dough and unlike the boring run of the mill pizzas, here they serve these green pepperonici peppers and a garlic sauce dip with the thick crust pizzas.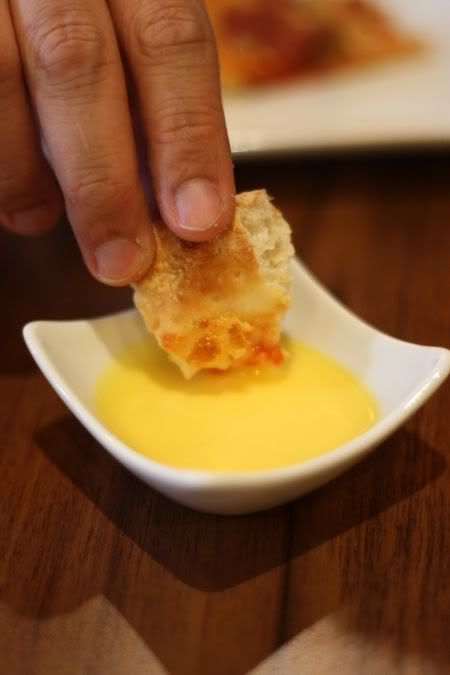 don't throw away the crust, use it to dip into the garlicky butter sauce - warning though, it is very high in fats and cholestrol!

I loved the not very spicy but tangy peppers, wish they gave more as they were kinda addictive. You dip the crust in the garlicky butter sauce or drizzle it over your pizza. Drizzling doesn't seem to work as it clashes with the flavours but the crust dip thing works fine for me.

Surprisingly, the pizza is actually very good stuff (definitely beats yucky Pizza Hut hands down!) and tasty. Not as fantastic compared to Italian made pizzas but definitely one of the better fast food pizzas I have eaten. We also ordered a pasta dish (they have pastas, baked pastas and even baked rice dishes) - the Beef Balls Bolognaise. The sauce tasted quite good - no sour tomato taste and filled with lots of minced meat and diced carrots. Meatballs was also tender and not dried out. Only bummer was the pasta was way over cooked and too soft. Guess someone got overzealous in boiling the pasta away!




Overall, dining here was pretty good for a fast food joint. We enjoyed the little extra and different touches and won't mind returning (my fav are those peppers!). However, since it is only one outlet, I wonder whether the standard & quality will be affected after more outlets open. Guess we will have to see. If you are in the neighbourhood, do drop by for a quick slice of pizza. On another note, remember those rumours about Berjaya getting the Krispy Kreme franchise, seems it is confirmed per what I read in
their website.
Expect to see glazed doughnuts (estimated to be 20 outlets to open) in the Klang Valley soon.....

Papa John's Pizza
Ground Floor Lot G 07-08
Berjaya Times Square
No.1 Jalan Imbi,
55100 Kuala Lumpur

Tel: 03-2141 7272

(Halal. Open daily from 10am to 10pm. Can't miss it from the entrance, as it is in the front part of the mall. Also does delivery. For more information, see their
local website.
)

Other reviews:

*Disclaimer: The opinions expressed here is entirely based on my personal tastebuds and may vary for others. This review is time sensitive; changes may occur to the place later on that can affect this opinion. The reviewer also declares that she has not received any monetary or non-monetary compensation from this place for writing the review.
Tagged with: Pizza + Berjaya Times Square