aromatic duck (heong soo arp) pancakes - the bones are also very delectable

Time to clear that huge backlog of blog posts I have. Better do them now, or else knowing me I will forget what the food tasted like. I'll start with the very memorable ones. My friends have been asking me to try this place for the longest time ever so recently I finally got a chance. Plus I was drooling from the descriptions in
Malaysian Insider.
Some may say this place can be pricey but I honestly think it is worth every sen you pay for it, as it is top-notch.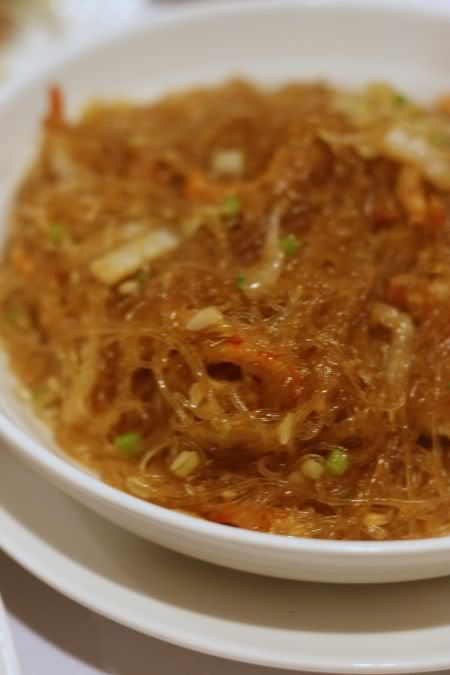 aromatic and simple fried tung fun with dried prawns

We went a little crazy that night with our selections as my friend wanted to share her favourites with us. I doggybagged the food for my mother who really loved the food too! Always a good indication if it can excite my mother's palate who loves her Chinese food. The aromatic duck pancakes were delicious stuff even though I only managed to eat a little and the bones were even better - so crunchy that I had to resist eating it all up. The fresh prawns with a creamy Chinese wine sauce was also good - we asked for a small one since we knew it will be impossible to finish. I enjoyed the vegetarian sweet and sour pork - made with beancurd sheets and it was so good with their fluffy fried rice with egg white.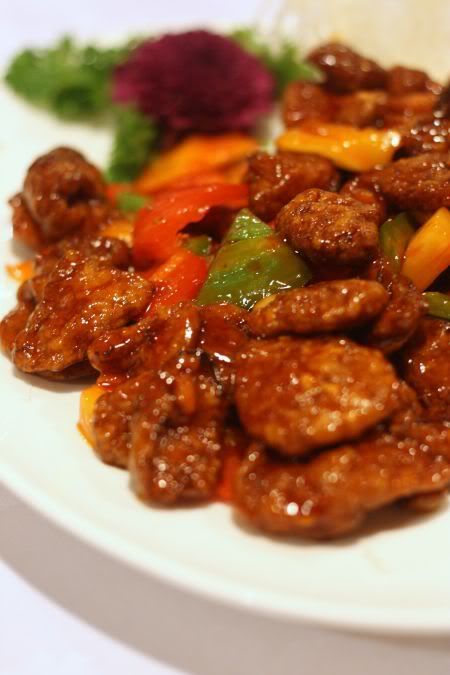 vegetarian sweet and sour "pork" that was so good with fried rice
I was a little sceptical about the tomato noodles hence my friend also ordered the fried tung fun for me. The tung fun was simply fried with large dried prawns (har kau) and it was so aromatic that I have been hankering for it since. The verdict on the tomato noodles - it was also very good. A little tangy from the vinegar so the balance is not there but nevertheless since very good stuff. It reminded me of these tomato noodles from Sarawak but somehow this version is even better. And it did taste better the next day as the flavours seep it.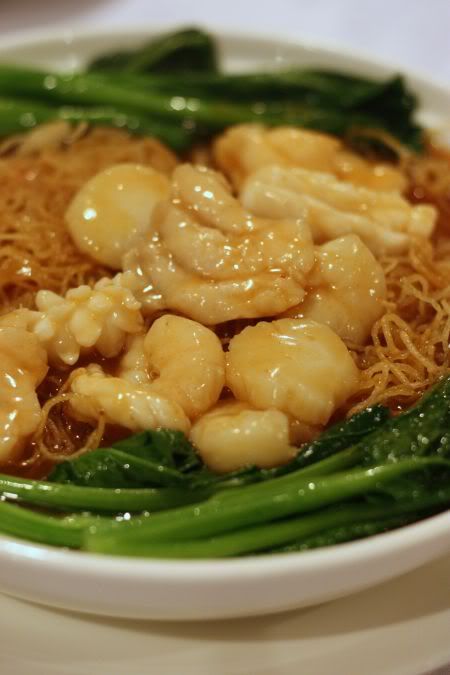 the unusual but delish tomato noodles that tastes even better the next day

I wanted to try out their steamed fish since it is a favourite of mine especially the bamboo fish (ikan bodoh in Malay and soon hock in Chinese) - really good, steamed perfectly and it even had the decadent fish liver. Yums especially with the sauce drizzled over rice. We also had the obligatory vegetable - jade green and crunchy kailan.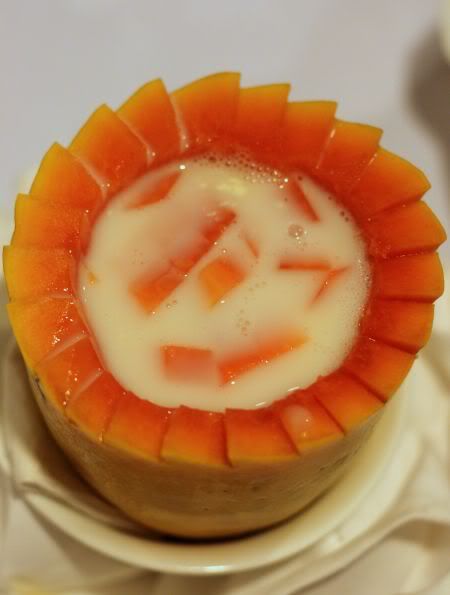 sweet ending - almond milk in papaya

Last but not least, the warm almond milk in a papaya that Malaysian Insider raved about. Very aromatic, not overly sweet with a bit of white fungus, I loved this too especially with the papaya. Overall, I didn't have any complaints about this place and I will definitely return as I want to try the lobster yee meen, I heard so much about. Plus those tomato noodles are addictive, I can imagine me running down town to pack that home and I suspect there won't be any leftovers to savour the next day. For all the pictures, see the Flickr set to drool over.
Restaurant Chef Choi
159, Jalan Ampang
Kuala Lumpur
Tel: 03- 2163 5866

(Non halal. House next to Pelita Restaurant.See website for more details.)
*Disclaimer: The opinions expressed here is entirely based on my personal tastebuds and may vary for others. This review is time sensitive; changes may occur to the place later on that can affect this opinion. The reviewer also declares that she has not received any monetary or non-monetary compensation from this place for writing the review.

Tagged with: Chinese Food + Jalan+Ampang
Other review: