crabbie time again....yums!

Catching with friends over dinner is always more fun especially when the food is awesome. Last Friday (defying all odds that it was an unlucky Friday 13th!), we all made it safely to Robson Heights Seafood, chosen for its highly lickable salted egg yolk crabs. I was first introduced to these luscious crustateans last year by Lyrical Lemongrass who is a regular here.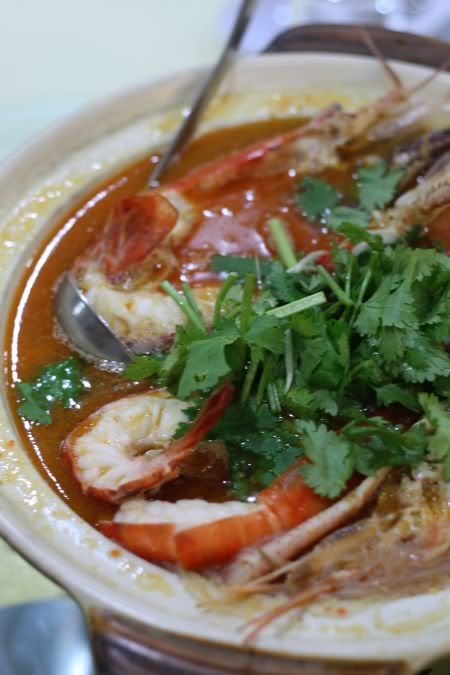 large water prawns + glass noodles = great prawny tasting slurpy soup

Perched on a hill, this place is easy to spot especially if you are chugging down the Federal Highway in one of its infamous traffic jams, where time stands still. Even though it was a Friday night, I made it within 1/2 hour from Shah Alam - a miracle indeed. The specialties of this place is not hard to spot, as the enterprising restaurant has them printed on their wet towel packets. Since I did do some research on this place (after some prompting by Precious Pea, who was hungry at 5pm!), I ordered the pork ribs, which Kampungboycitygal raved about. Also added the interesting sounding fried intestines with dried prawns.
very lickable salted egg yolk encrusted crabs

The pork ribs came in a jiffy (the kitchen is definitely super efficient here!) with meat that was falling off the bones. I felt it was just a tad sweet probably because we ate it on its own vs with rice. The fried intestines was a big dissapointment - not crunchy and lacked much taste even though they did laden it with lots of dried prawns and chopped green cili padi.

We got lucky with the claypot glass noodles with water prawns, which turned out to be the winner of the night. Usually, the norm is to order the black pepper udon and since it wasn't available, this was recommended by the waiter. Filled with large water prawns (3 pieces sliced into 2 for the 6 of us), the soup was rich from the prawn roe making the glass noodles slurpworthy.

The crabs were the finale of the night with us attacking the very lickable salted egg yolk encrusted crabs. While the steamed crabs were large and sweet, it would have been better with more liquid vs egg as the crabmeat was a little dry inside. Nevertheless, it was a wonderful meal especially catching up with everyone. For more on what we demolished that night, see my Flickr set.
Restoran Robson Heights
108, Jalan Permai
Off Jalan Syed Putra
Kuala Lumpur

Tel: 03- 22746216

(Non Halal. Place is parallel to Federal Highway. To get here, go up the Brickfields ramp on the highway, turn right at traffic lights, go straight and take a left at first traffic lights. Go straight, do not turn left back to the highway, you will see the restaurant on your right hand

side.)
*Disclaimer: The opinions expressed here is entirely based on my personal tastebuds and may vary for others. This review is time sensitive; changes may occur to the place later on that can affect this opinion. The reviewer also declares that she has not received any monetary or non-monetary compensation from this place for writing the review.