smoking hot...
When it comes to meals at home, I reckon the easiest meal is just grilling a steak. I recently bought a chargrill cast iron pan from Ikea (that great place, which sells the best deals in town) and have been obssessed with grilling food on it. Initially, I experimented with lamb cutlets and steaks but nowadays I am trying to change to a healthier tone by grilling fish instead. For instance, I just had grilled red snapper and button mushrooms on top of a nice meslun salad last night.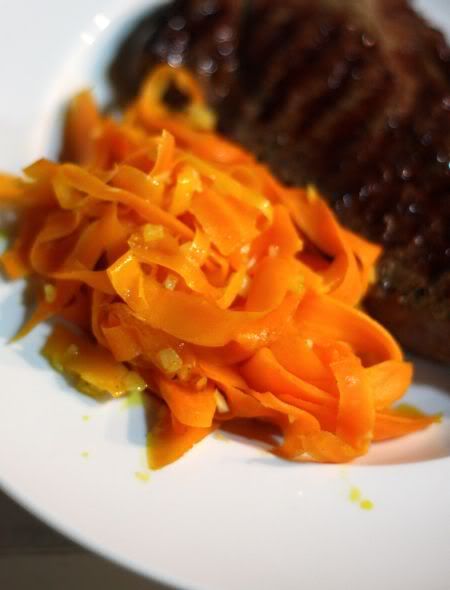 saffron carrot "pasta" for a not so sinful meal

What I love about my chargrill pan - the attractive ridges that appear on my food and how the flavour seems to seal in better. It needs very little oil (just a spritz on top of the meat or fish) and instead the oil drips through the ridges, so the items are free from soaking in the oil.
Back to red meat, that sinful good tasting stuff. We love the OBE beef found at Village Grocer. Somehow, the meat is sweeter and less gamey. My belief for steaks, just spend the monies on a good cut or type and grill it at home instead of wasting monies in a restaurant. Nowadays, we have so many choices; Black Angus beef, wagyu beef (though not always grade 9 so be careful what supermarkets term as wagyu!) and organic beef. A good piece of meat really needs no expensive sauce but just a dash of freshly grinded black pepper and sea salt.
With all that sinful stuff, I like to pair it with vegetables or a salad. This time I discovered the joys of
David Tanis' famous saffron carrots.
I love this simple yet flavourful way to cook carrots from his book, A Platter of Figs. Rather than cut them into "rounds", I like to peel them with a peeler to create a "pasta" effect. Do try the recipe as it is a doodle to make and very good. While saffron is pricey, the flavour is definitely worth it. Just imagine honey and buttery tones with a touch of citrus from the lemon zest - so damn good stuff you suddenly forget it is carrots aka the dreaded vegetable.