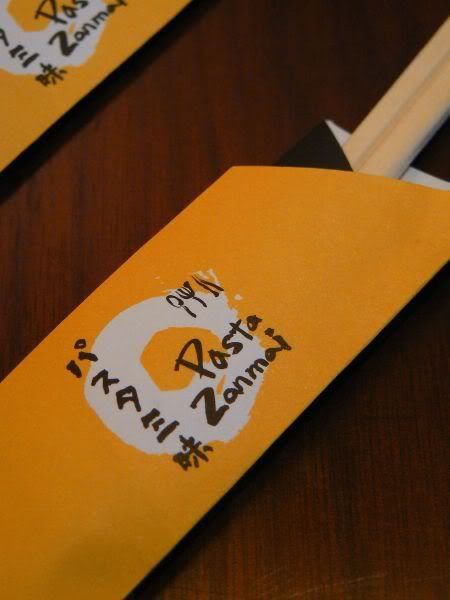 Chopsticks with pasta?

Regular readers of my blog should know I am a great fan of the Rakuzen group of restaurants and Japanese food. Hence, when I heard about their latest venture at 1 Utama Shopping Centre, I knew it would be where I'll be dining on my day off. Instead of sushi, this time round, the place serves pasta, hence the name Pasta Zanmai.



Grind your own black sesame seed

Right opposite Sun Moulin Bakery and next to Carl's Jr on the Promenade side, which connects the old and new wings together, it can be hard to spot this place as it is hidden behind Shojikiya's Japanese foodstuff. The place is quite small with tables and chairs on the side and smaller booths in the middle. The open kitchen is at the back, allowing you to observe the chefs cooking your pasta.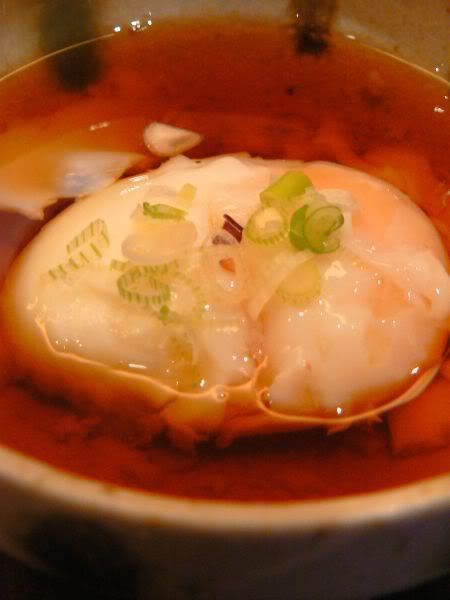 Onsen Tamago (RM3++)
I had met up with an old friend of mine, hence we ordered loads from the menu to sample. Her niece,
Taira
is a great fan of mine who also goes around snapping pictures of her meal, so everyone was very patient and nice, allowing me a few seconds to snap their food.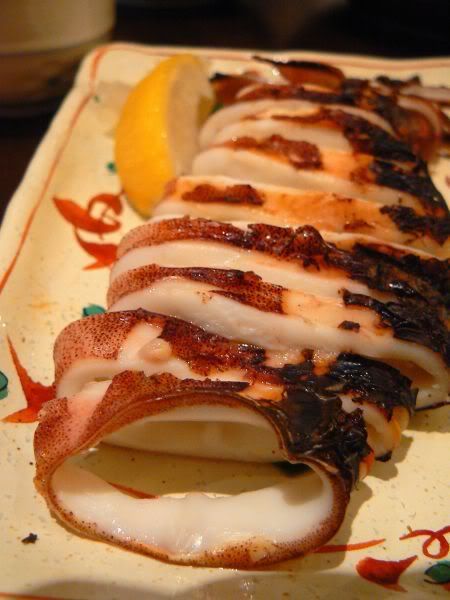 Grilled Sotong (RM15)

For starters, we had Onsen Tamago, an old favourite of mine. I often make this at home whenever I get fresh eggs. Just a simple half boiled egg in dashi broth, this got everyone's thumbs up! Only complaint is this place's air conditioner is very cold, hence food tends to get cold very fast. I did mention this to the restaurant people but they advise it is centrally controlled, thus they can't change the temperature. We also had grilled sotong - didn't think much of it as it was quite dry.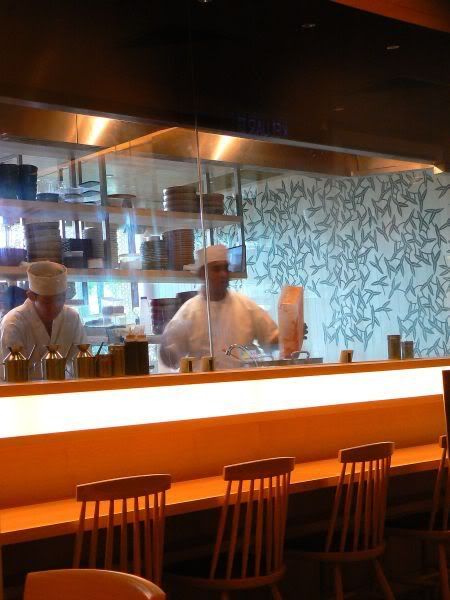 Chefs in action at the open kitchen

Another cute item we get before our meal - a small Japanese mortar and pestle to grind black sesame seeds. Unlike the usual mortar and pestle, this is just a bowl with grooves within. You use the wooden rod to grind the seeds within the grooves. In Japan, monks grind sesame seeds on a daily basis while meditating. Here at Pasta Zanmai, you grind the black sesame seeds and top your pasta with it. It is very aromatic and can be quite addictive especially, if you love the smell of sesame seeds.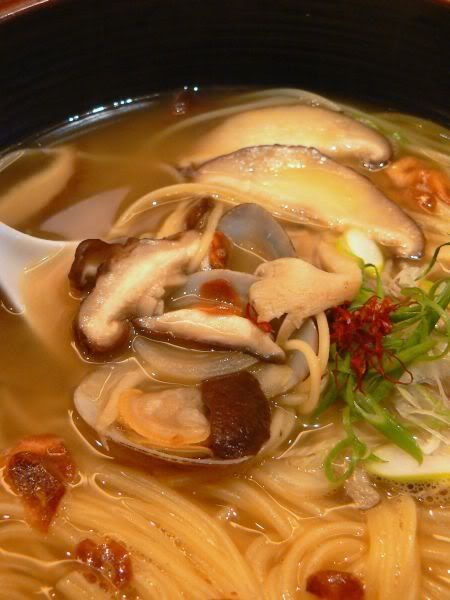 Asari Pasta (Clams Pasta) - RM25++


We had fun choosing the various types of pastas - they have Japanese ones (topped with ikura, served with salmon sashimi), ones with wafu dressing, pastas with squid ink, sesame sauce, fried pasta, pastas with soup or curry sauce, pastas with tomato and cream based sauces. This mix of Japanese and Western food is called Yoshoku in Japan. They also have Omu Rice - fried rice wrapped in an omelette. A Japanese version of the Nasi Pattaya we are more familiar with.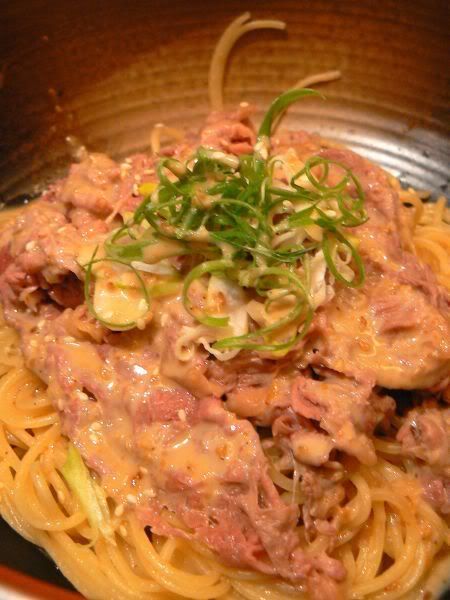 Goma Gyu Shabu (RM25++)

The goma (sesame sauce) versions were very popular with the guys. Splashie Boy had the beef version. Kinda reminds me of Shabu Shabu - beef slices mixed with creamy sesame sauce. Very nice stuff! Definitely the best pasta of that day. My friend's husband, had the Soft Shell Crab version. It was nice too but somehow, I preferred the pairing of the beef slices. According to the waiter, the Kani Avocado version with the sesame sauce, is a popular order.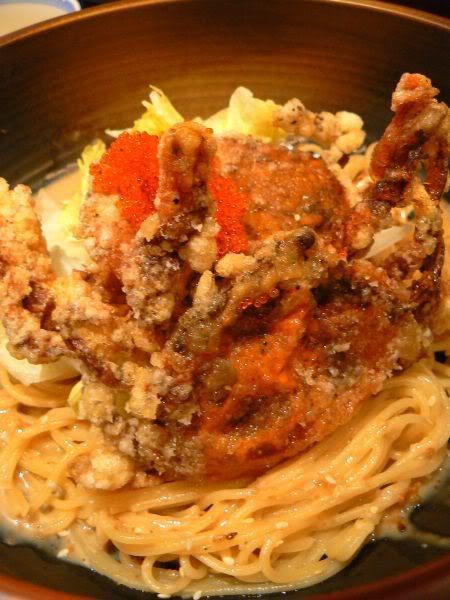 Goma Soft Shell Crab (RM22++)

I ordered clam pasta, which was served with a broth. Reminds me of Spaghetti Vongole, except it was soupy. The soup was sweet and I sprinkled lots of crushed black sesame seeds on top. Seems you can have this with curry sauce but I decided not too. I guess when they mean curry sauce, it is the Japanese version, which tastes mild and sweet.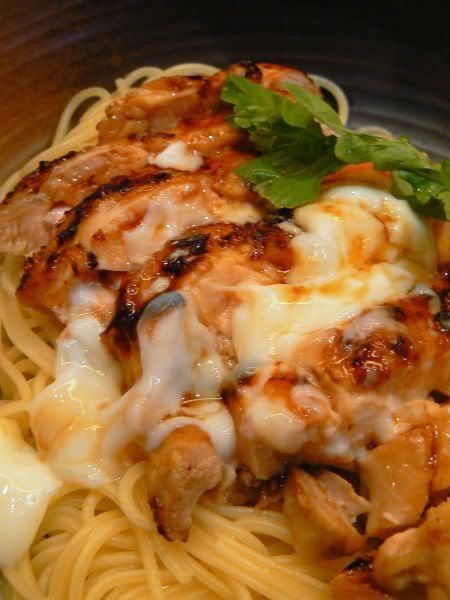 Teriyaki Chicken Onsen Wafu (RM18++)

My friend opted for the simple Teriyaki chicken. Topped with a soft boiled egg, it was nice and light. She enjoyed the bits where the yolk mixed with the pasta.



Black Sesame Ice Cream - part of Sansu Mori (RM12)

Then it was desserts and we went crazy with our orders. I guess loads of people were also ordering as they had run out of a lot of items. They had Green Tea Tiramisu, Green Tea Parfait but unfortunately it was sold out.



Chocolate Ice Cream Wafer - part of Sansu Mori (RM12)

We had the Sansu Mori - a platter of mixed ice creams. One was the black sesame ice cream, which was melted by the time it reached us. Tasted not bad, but not as good as Zipangu per my friend who is a regular there. We all liked the chocolate ice cream, sandwiched between these thin crackers. It had bits of chocolate inside, that melt in your mouth. Green tea ice cream was not bad, but very small portion.



Green Tea Ice Cream with Red Bean - part of Sansu Mori (RM12)

I had the Ichigo Ice - frozen strawberries filled with ice cream. Pretty unique but I thought it was nothing fantastic. The strawberries were quite frozen, hence we had to wait a while to allow it to thaw a bit before biting into one.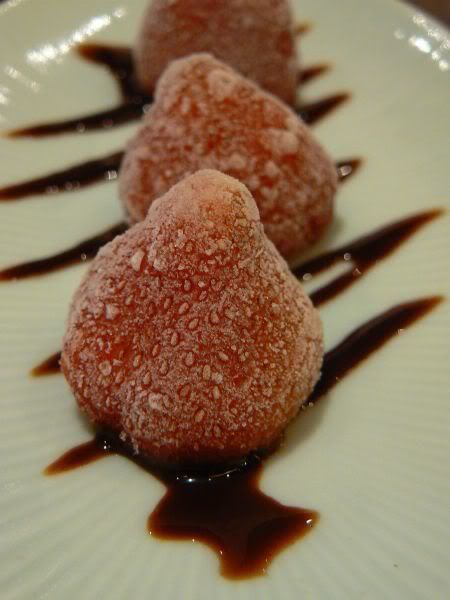 Ichigo Ice (RM8)

As it was a busy time for the restaurant during the festive season, service was quite slow. Seems everyone was ordering desserts at the same time.



Strawberry Parfait (RM15++)

Next was the Strawberry Parfait. I liked the tangy strawberry sauce at the bottom, that complemented the not so sweet strawberry ice cream. They had added cornflakes for extra crunch.



Chocolate Banana Parfait (RM15++)

We had the Chocolate Banana Parfait, which uses the same yummy chocolate ice cream. Yummy stuff with the chopped bananas.
Overall, we enjoyed ourselves a lot. I would definitely return to try the other pasta dishes. One thing we didn't like was the hot green tea was served in a tiny pot. Although it was refillable, this meant we had to keep calling the wait staff to fill it up with hot water for us.

Pasta Zanmai
G210B, Ground Floor Promenade
1 Utama Shopping Centre
Bandar Utama
Petaling Jaya

*Disclaimer: The opinions expressed here is entirely based on my personal tastebuds and may vary for others. The reviewer also declares that she has not received any monetary or non-monetary compensation from the restaurant for writing this review.