Canton-I exterior
Along the Promenade, which connnects the old wing to the new wing of 1 Utama Shopping Centre, a number of new eating places have opened - Pasta Zanmai, Carl's Jr, a vegetarian restaurant and Canton-I.
Canton-I interior
Canton-I is supposedly owned by the highly popular Dragon-I and opened in December 2007. A different menu is served here - noodles, rice, congee, dim sum items (fried, pan fried and steamed) and desserts. Similar to Dragon-I outlets, part of the frontage of the restaurant is the open kitchen. Here at Canton-I, you get to see the barbequed meats and the chefs cooking noodles. A small take away area for pastries is tucked at the side.



Roast pork

I like the way the place is decorated - bold splashes of red in the form of lights in cages with cherry blossom motifs everywhere. The lights remind me a bit of Delicious except they are a different colour and have tassels. Tables and chairs are all white. All along one side of the restaurant is their open kitchen. You can see the chefs cook the noodles, chop the barbequed meats, make chee cheong fun and spoon out the congee. At one side of the restaurant, it is mirrored and has rows of clay teapots as decorations.



Char Siu
However, space is definitely a problem here - hence they put the mirrors to try and make it look bigger. I didn't like how they arrange the table and chairs in the middle and in one row. Makes it so difficult to get in to the tables at the end. I suspect kitchen space is also limited as I spied a chef making wantan and sitting on high stools, which face the open kitchen.



Shrimp Wantan

On to food, we ordered the highly recommended char siu and roast pork - a mixed combo for RM22.80++. The char siu was tender. However, I found it was a bit sweet as they had drizzled the sauce all over it. It was also quite full of fats. The roast pork was served with mustard and a bit of caster sugar. You're suppose to dip the roast pork slices with the spicy mustard and the sugar. I loved the crispy skin but felt the roast pork was a bit too high and full of meat.



Wantan Noodles
My favourite part was their wantan noodles. RM3 for the plain version and served dry, the noodles was springy and a nice bite to it. We loved it so much, we had seconds of the yummy stuff. Only complaint was they added too much sauce in the first bowl but in the second serving, the sauce was just nice.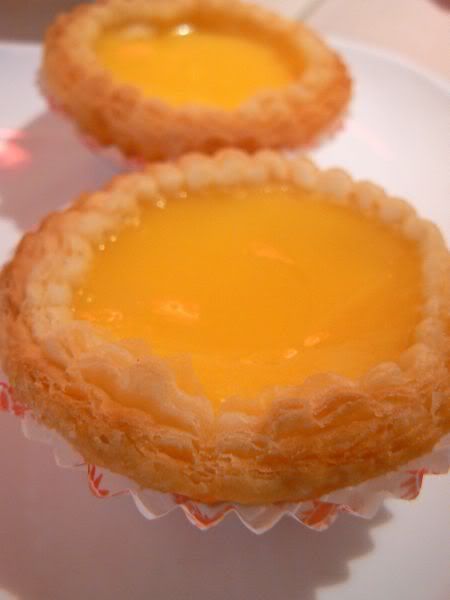 Egg Tarts

We also ordered a bowl of shrimp wantan (RM10.80++) to share. Unlike wantans in the stalls, these were big ones chock full of shrimp and minced meat. In their menu, Canton-I claims wantans were known as "clouds" among the Chinese. Said to be tiny and can be gulped in one go (hence the name - wan tan, i.e. one mouthful), these were the opposite of what was described. I quite liked the wantans as it had lots of ingredients inside it.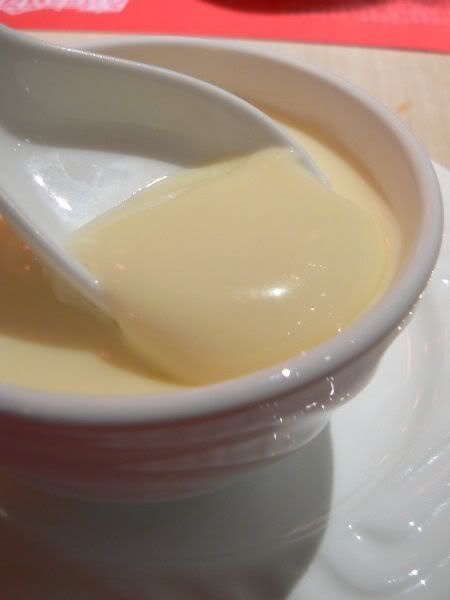 Double Boiled Milk with Ginger
Last but not least, we had desserts. Saw a lot of people ordering the egg tarts (RM3++) hence I ordered a portion. Served in a heart shape plate, I liked the flaky pastry and smooth egg custard. Also spied the popular Hong Kong dessert - double boiled milk with ginger. Smooth like tau foo fah ( soy beancurd), ginger juice is added to hot milk to allow it to curdle. It was nice but a bit too watery.
Overall, I quite liked the food especially the noodles. Saw braised beef noodles, so that will be my next try. Also saw interesting congee with crabs. In the dim sum section, they have cute piggy steamed buns and buns with flowing custard. Even their char siu sou is shaped differently here - in a form like an abalone. If you prefer, you can also pack these items back. Do note items here are not cheap though and they charge you RM1 for a glass of plain water, which is refillable. Don't take their Hong Kong milk tea as it tastes horrible.
Canton-I
G-208, Second Floor
1 Utama Shopping Centre
Bandar Utama
Petaling Jaya

Tel No: 03- 77297888
(Non Halal. Open from 11.00 am to 10 pm from Monday to Friday. Weekends, open from 10.30 am onwards.)
*Disclaimer: The opinions expressed here is entirely based on my personal tastebuds and may vary for others. The reviewer also declares that she has not received any monetary or non-monetary compensation from the restaurant for writing this review.
Tagged with: Malaysian Food + Char Siu
Other reviews: