take your pick from all that lemang in various sizes

I'm back! Had a good break even though it was a super hectic schedule. Been suffering from minor jetlag....hence, no blogging yet until this week. Plus, I haven't been doing anything exciting to blog about too.


cracking that bamboo open...

Keeping with the Raya theme, I thought I'll blog about lemang we had yesterday. Did a quick trip down to Lembah Keramat (not Keramat okay, as I got scolded by Splashie Boy for this wrong statement, since it meant him making a few wrong turns!) on Saturday night after work and managed to get the famous lemang.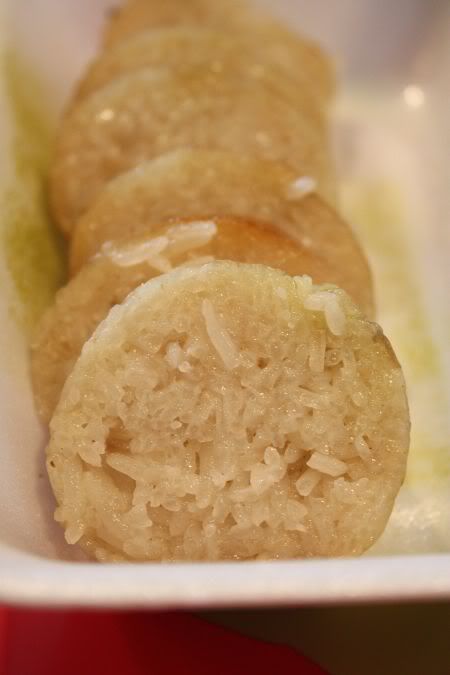 so yummy and delish...one is never enough!

Popularly known as Lemang Pak Ali, even though the card says Lemang Warisan, there is a cute signboard at the house they operate at, proclaiming them to be the "Lord of the Lemang". What makes their lemang special, according to an article I read before, is they use wild banana leaves to wrap the lemang. Usually, you can get kinda dissapointed with lemang - bits of uncooked rice and hard bits within, but this lemang was perfect. Soft and aromatic, everyone couldn't stop eating it for lunch yesterday.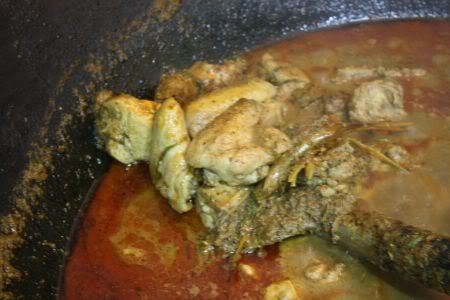 gulai kawah...cooked in a large wok
To accompany the lemang, we had bought a portion of almost black colour rendang tok. Sadly to say, the pictures of it didn't turn out well but the rendang tok was super yummy. A bit spicy from all the pepper used but very tender and delicious, that one still continues to eat even though it burns your tongue. There's also gulai ayam (as seen above cooking in a large kawah aka the wok), serunding, home made cookies and ketupat daun palas at the place.


soft chocolate fudge cake from Lana Cakes, Singapore
My sister had also brought back cake from Singapore - the infamous chocolate fudge cake from Lana Cakes. Seems this place is super popular and it is extremely difficult to get this lady to place an order. This cake reminds me of old-fashioned chocolate cakes - a very light and moist sponge topped with soft chocolate cream. While, the taste of chocolate is not very evident here, the cake is extremely light and comforting, that you can't help eating it until the last crumb is finished.

Lemang Pak Ali (Warisan)
35, Jalan AU 5
Lembah Keramat
(To get here, if you are coming from Ampang on the MRR2, take the left turn at AU4. Follow the road and go straight down. You will pass by the Medan Selera AU5 where
Satay Sri Melaka
is located, an Esso and Petronas station. Go straight and you will see the house all lit up on your right hand side.)

Lana Cakes

Tel: 02-64665315/02-64668940 (Mrs. Violet Kwan)