nasi kerabu with pale blue coloured rice

Ever since I read about this place's existence from A Whiff of Lemongrass and recently, on Fried Chillies, I have been slowly exploring it. Sadly I seem to have a chunk of missing photos I took of a previous visit, just before Ramadan started hence the pictures only cover a recent visit.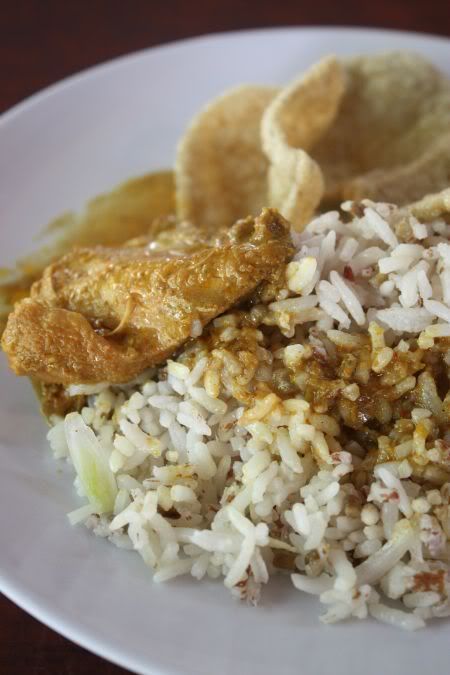 nasi dagang, my other must-have when dining at any Kelantanese place

Popular in Shah Alam for its spread of Kelantan dishes, everything is laid out buffet style (or hidang style in Malay), so help yourself to what you wish to tuck in. Breakfast is the best time to drop by, with all their famous dishes: nasi dagang, nasi kerabu, nasi impit and unusual sweets like pulut pagi and apong.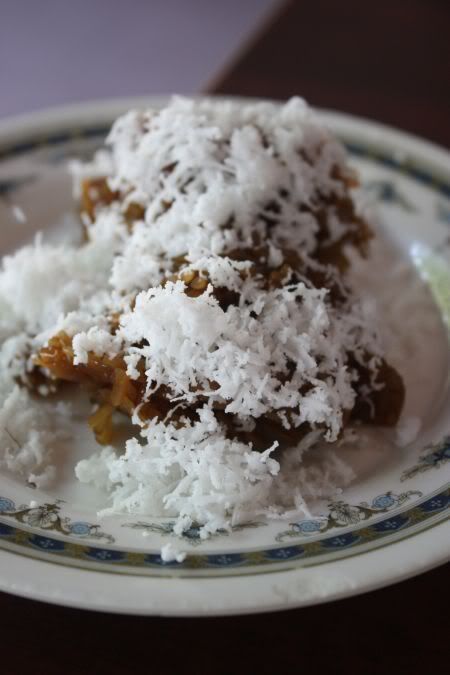 presenting the divine Ms. Pulut Pagi, all dressed up in snow white grated fresh coconut

I'm not much of a fan for their version of nasi dagang as it has a softer texture, kinda akin to normal rice. For my palate, I kinda prefer the chewy type. The nasi kerabu is not bad - I like the natural pale blue colour of my rice, which I can add as much ulam as I like with grinded fish flakes and a sweetish sambal like sauce. While the ulam, was not super fresh, the tasty fish flakes made up for the dish.

I've also tried the laksam, which is pretty good with a satisfying coconut milk creamy sauce. However, one of my absolute favourites here is the little seen dessert known as pulut pagi. Usually glutinous rice is cooked with coconut milk and kept white, this version uses gula melaka syrup to cook the rice. Each grain is enriched with the taste of gula melaka, making every morsel, a delight to savour. You top it with loads of freshly grated coconut to get a satisfying kick start to the morning.

Another unusual dish here is apong that resembles American pancakes, but studded with slightly coarse black pepper granules. You either eat it with grated coconut or curry. No pictures of this, but it is light and delicious.

While the impression I had it is better to eat here early to catch the best, there does not seem to be that many customers here. Weird, as it seems business is quite slow compared to the Johor Briyani restaurant at the back of it. For me at least, this is the nearest place to get my Kelantanese fix especially that wonderful pulut pagi.

Restoran Hatinie
40000 Shah Alam.


Tel: 017-256 2825

(Halal. Open 7.30am to 11pm.)