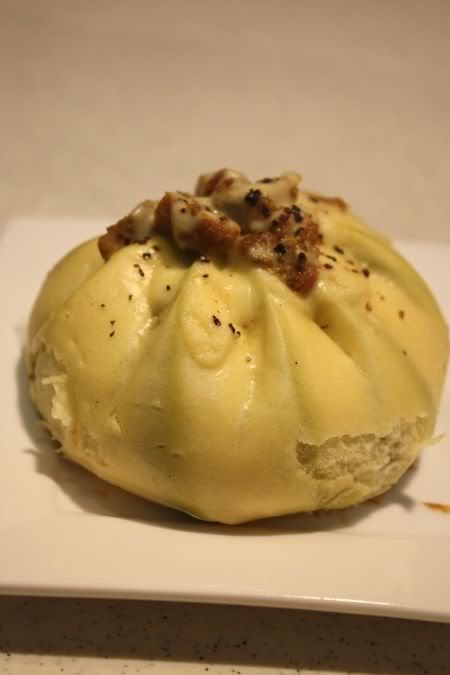 onion chicken baoz that tasted mediocre

Prepare to be pau-ed out, with this post. Last week, I was at Pavilion doing a quick spot of shopping. Seems like ages since I stepped into the place as there was so many new dining places. What did I spy with my little eye? Let's see - I saw an Italian restaurant on the 6th floor serving non-halal food (hmmm, what is it with these porky places that crop up everywhere?), Bosphorous the Turkish place has expanded their outlet to outside (looks like they were serving cakes and I think I spied a Turkish wooden ice cream tubs), Etoile has dissapeared from the level where they hold all those shows and events and been replaced with Coffee Bean & Tea Leaf and I think I spotted Dome from a far away. There are also a couple of new places on the Food Court level, including this Mr. Baoz, right next to Bengawan.


stinky flyaway bonito flakes dust this squid roll

Read about its existence from KampungboyCitygal, hence I decided, it will make a nice take-away dinner. Seems they are super popular in Taiwan - as they proclaimed they have sold millions of baoz in Taiwan! The steamed buns come in boxes of 3, 6 or 12 pieces. I choose the 6 piece box - the Diamond one, which had a mix of savoury and sweet steamed buns.


curry mutton baoz was okay only

When I got home, I was too hungry to heat them up, so I ate them lukewarm with Splashie Boy. Some bits were stuck to the box, hence the slightly "deformed" look of the buns after a quick session of picture-taking.


curry chicken baoz was a little unusual since it was deep-fried versus steamed

I guess I kinda anticipated more, but after tasting each bun, Splashie Boy and I reckoned they were just average. In fact, after a while, it took me some time to try and distinguish each different flavour. Not a very good indication of how it is, only the squid roll stood out for me (as it had these pesky bonito flakes that fell on my black top, after I bit into it) and the deep-fried curry chicken bao as it was salty and crispy.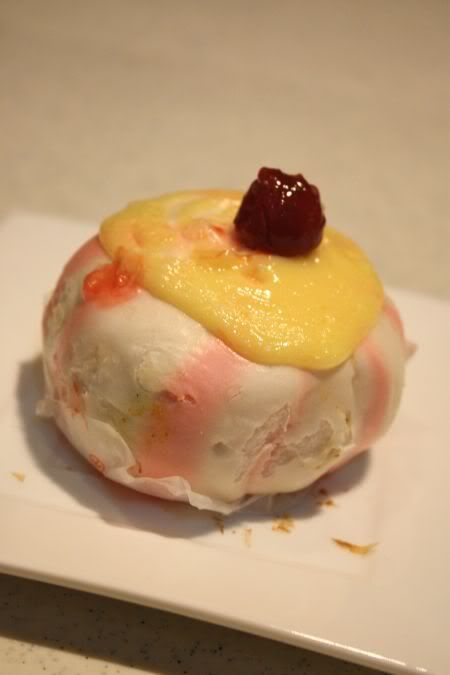 crispy fruit and butter baoz had a pretty generous butter filling

One thing that amazed me was the cats was paying tremendous attention to the buns, something they don't usually do with food. I reckon it was the smelly bonito flakes calling their name. Kits even decided to sniff one out but don't worry, he didn't get to eat it, or else I envision I will have to drive him to that super expensive animal hospital on Jalan Tun Razak for immediate treatment.


Kits was asking if this is nice or not? He must have good taste, as I liked this one the best out of the lot - Snowflake Sesame Baoz

I thought the sweet ones were not too bad with generous fillings. I quite liked the one that Kits sniffed out - the Snowflake Sesame Baoz with the dessicated coconut fillings. Guess it would taste even better if I had stopped to reheat them.

To be honest, these steamed buns just didn't impress me much. Give me an old-fashioned char siu bao or even a lotus paste filled pau instead, as these new fangled buns just don't seem to rock my tastebuds at all.
Mr.Baoz
Level 1, Pavilion
Jalan Bukit Bintang
Kuala Lumpur
Pork free. Outlet is next to Bangsawan and Food Republic. For further details, check their website, http://www.mrbaoz.com.my/ out. Kinda confusing with the local Baoz.

*Disclaimer: The opinions expressed here is entirely based on my personal tastebuds and may vary for others. The reviewer also declares that she has not received any monetary or non-monetary compensation from the restaurant for writing this review.

Tagged with: Steamed Bun