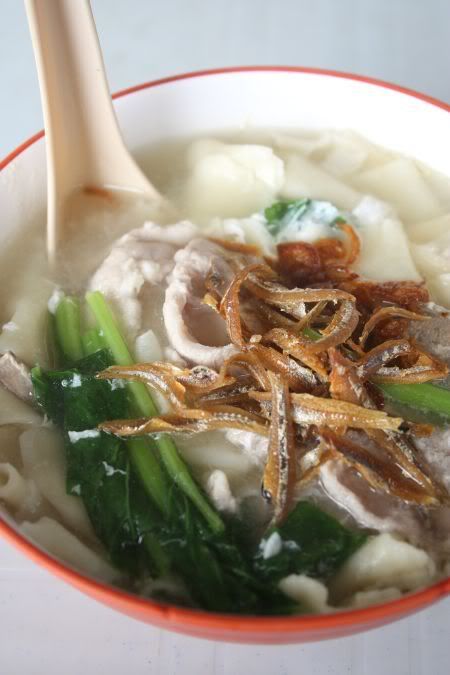 ultra smooth pinched dough pieces to perk up the mid-week

I vaguely remember eating here, once long long ago with my family, when I was younger. Somehow, in those days, Klang seemed so far away for me, but I just realised today, that this is so easy to get to especially with the highways. This place which can be kinda misleading - the faded signboard on top says Sin Hooi Hua but if you drive past, you see Fatty Mee Hoon Kuih written below the larger signboard.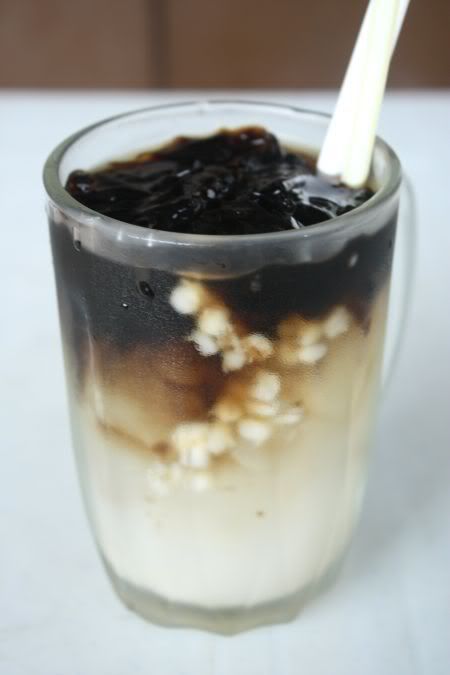 an interesting combo - barley mixed with cincau

Even though, it was a weekday, the intermediate coffeeshop was quite packed. Luckily my order took about 15 minutes. You place your order at the stall, with the option to add a poached egg, additional meat, vegetables, fried ikan bilis and etc.
Unlike pan mee, this is the Hokkien version, where the dough is pinched into rough pieces and dropped straight in the soup broth to cook. What this results in, are irregular pieces of ultra smooth dough pieces that make this simply pleasurable. While the pan mee texture is harder, this type is way silkier and delish.
Each bowl of mee hoon kuih is prepared on the spot, so you can observe the workers flattening pieces of the dough with the palm of their hands and pinching it with their fingers straight into the soup broth. Pork slices, liver, choy sum and fried ikan bilis top the noodles. I loved the fried ikan bilis, which I could see people ordering extra to add on top. Those who love the sourish chili sauce that goes with pan mee, will be slightly dissapointed as here they only serve these noodles with chopped bird eye's chillies. Here the soup is not overly sweet (a good indication of it being natural and not super enhanced), hence no worries about killing yourself with MSG.

Aside from the noodles, this shop also serves an unusual drink - a combo of barley with sliced cincau. Very refreshing even though the cincau's taste tends to overpower the barley. For me, I will definitely revisit as I thoroughly enjoyed my bowl of silky smooth pinched dough pieces.

Fatty Mee Hoon Kuih House
19 Lebuh Bangau
Taman Berkeley
Klang

Open from 10am-11pm daily. Only closed during Chinese festivals.

(Non halal. To get here, use the Federal Highway. After the turn off to Jusco Klang, keep left, if coming from KL, take the first left and you will reach a roundabout. In front of you will be Centro. Take a 3-o clock turn, go straight and continue until you see a shophouse with a restaurant on the left. Take a left and go straight, Fatty Mee Hoon Kuih is on the second row.)
Disclaimer: The opinions expressed here is entirely based on my personal tastebuds and may vary for others. The reviewer also declares that she has not received any monetary or non-monetary compensation from the restaurant for writing this review.
Tagged with: Mee Hoon Kuih + Malaysian Food

Other reviews: