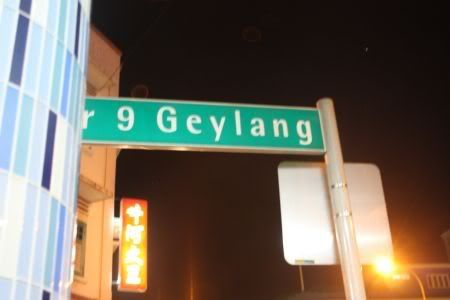 visiting the infamous geylang lorong 9 at 3am in the morning

While I like travelling, one thing I absolutely hate is the time wasted on flights. Especially flights to the USA, where it seems to take forever and ever before I reach my destination. This time round, I did manage to catch loads of movies on the flight though - made up for my lack of movie watching, since I have been busy with work.



the streets were bustling with activity...

Another must-have to combat the dismal flight menus is to try and search for hot food to warm my tummy especially after a long flight. Usually it is a hot bowl of udon or ramen at Narita Airport, but this round I decided to be very adventurous and venture out to the streets of Singapore, very early in the morning. A bit crazy, I know but weirdly enough, I felt kinda safe even though I was right smack in the centre of sin i.e. the red light district of Geylang.



something hot to warm my tummy after a long flight

The porridge at Lorong 9 Geylang, came highly recommended and since I had loads of time to kill, I decided to wander around this area. Not sure what it is about these flesh trade places, but great eating places also seem to converge around the same area (for example Jalan Alor in Kuala Lumpur). I guess you can say, this a one stop place for sinful pleasures....
Food came quickly once I ordered since not many people were around. Portions are not big (quite tiny compared to KL) but tastewise, not bad especially since I was starving. The kungpo sauce was pleasantly fiery, while the frog legs were tender. I liked the thick and smooth porridge served with it and scraped my claypot clean from all its thick brown sauce. Not sure why, but porridge in Singapore always taste better than KL porridge.
After my meal, I did a little walkabout around the area, making sure I avoided the even number roads as that is where the brothels were located (from what I heard!). Saw lots of eating places around the lanes that looked like economy rice places with trays and trays of food laid out to be selected. I wanted to wander more, but decided not to push my luck, so I hailed a cab to get back to the airport, feeling very satisfied from my early brekkie.
Frog Porridge Stall
New Lai Lai Hong Yun Coffeeshop
Lorong 9, Geylang
Singapore
Open: 11.45am to 3.45am
(Non Halal. Stall is located in a coffeeshop which also sells ochien and other items. Opposite it is the fried beef noodles shop.)

Tagged with: Geylang + Frog Porridge