delish and very fresh red snapper fish & oysters noodles (RM15)

One hopes to get back to the groove of daily blogging this coming week. Apologies for last week's hitch since I was busy and a little too tired to blog every night. This week, it is not going to be easier though (shuttling from 2 houses, as I'm house-sitting) but hopefully I get a little better organised (fingers and toes crossed). On to this place, which I has been on my "to-do" list for some time but I never got around until recently, when I was around Kelana Jaya for work. A favourite of
KY Speaks,
this place may not offer the cheapest or the best value of noodles in town (cheapskates, please avoid this!) but it works for me since they serve fresh stuff and a kick-ass sambal belacan I can't get enough of.


the yummy sambal belacan & oyster on a noodle strand

They serve a variety of fish here (red snapper and the large grouper fish known as loong tan) that you can choose to eat with clear soup, tomyam soup and even porridge. Being a little greedy always when I dine here, I've only gone for the special stuff and not the usual fishball noodles. I can never resist oysters and seeing them in a bowl on a counter, I ordered a portion with my red snapper fish slices - absolutely light & delish. The clear soup is served with vegetables, seaweed and preserved radish or choy poh to add flavour to the soup. Even though the soup is not super sweet, it still has traces of MSG (detected after a few hours). Nevertheless, you can counteract this with a dose of coffee or coca cola.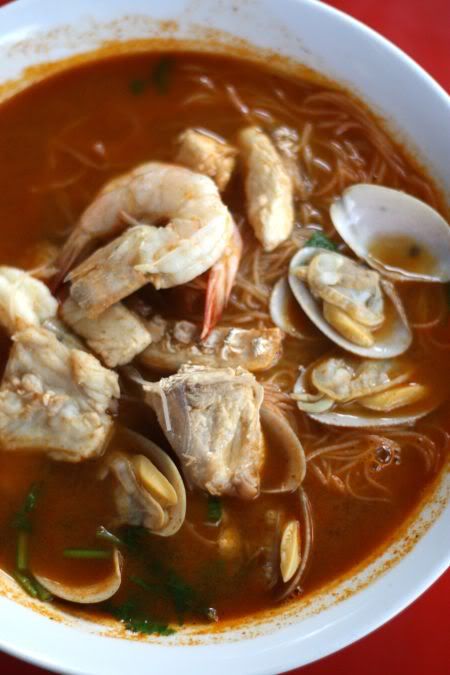 turn up the spice with the tomyam version (assorted seafood noodles for RM12)

For those who prefer a spicier alternative, they recently added tomyam soup to their repertoire. It may not knock your socks off but the soup is still tangy and delicious. For these noodles, I had the assorted seafood - a mix of lala, 3 white prawns (not very big but fresh) with fish pieces. Alternatively, order the clear soup version and eat it with the sambal belacan packed with chillies and loads of flavour from the dried shrimp paste. I'm addicted to it, even eating it on its own.

B & Best Restaurant
No.12, Jalan SS4C/5
Taman Rasa Sayang
Petaling Jaya

Tel: 012-295 8948

(Non halal. Place opens for breakfast and lunch. Closed every alternate Thursdays. Best part of dining here is the ease of getting parking. To get here from the LDP, if you're traveling from Sunway towards PJ, take the exit near Giant Kelana Jaya, where the Shell Station is on the left hand side. At the traffic light, take a right and the first right turn. Go straight and take a left hand turn at Jalan SS4C/5, you will pass by a petrol station on the left hand side, take a first left and the shophouse is at the corner.)

*Disclaimer: The opinions expressed here is entirely based on my personal tastebuds and may vary for others. This review is time sensitive; changes may occur to the place later on that can affect this opinion. The reviewer also declares that she has not received any monetary or non-monetary compensation from this place for writing the review.


Others who have also dined here: