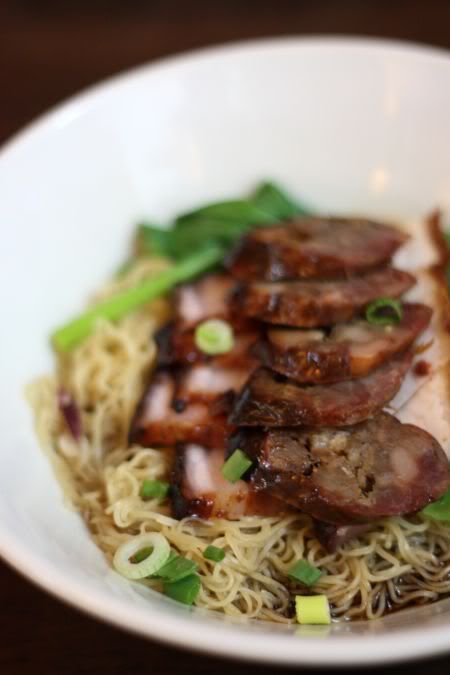 mixed pork noodles, perfect for those who want everything on their bowl - char siu, siew cheong and sui yoke (RM9.20 for a small portion)
I reckon people who live and work around Kuchai Entrepeneurs Park never starve. There's so many choices around that small square area known vaguely as a park (minus any trees!) - dim sum, Sarawak laksa, kolo mee, fish head noodles and the list carries on. While I was sorely tempted to venture into the newer outlets, I have been desperately craving for a dosage of bamboo noodles (jook sing meen in Cantonese) hence I stuck to my guns (or more likely my grumbling tummy).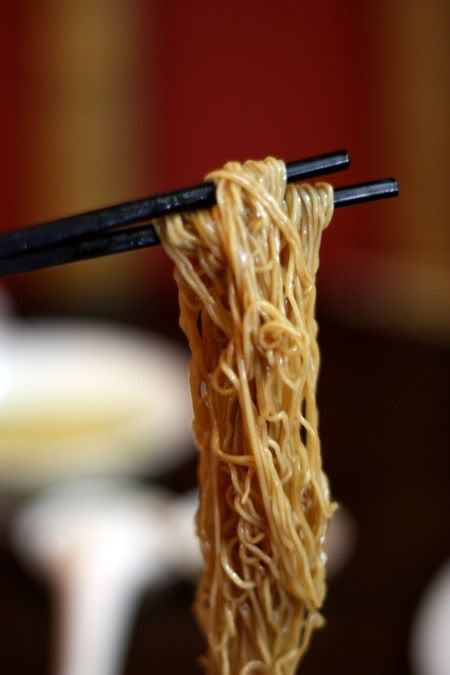 slurp me up...don't play with me!
We discovered Nippy Noodles some time back, when the whole of town was buzzing about this place that used a long bamboo rod to make their noodles. Run by a Chinese family, they decided to continue this age old tradition of making springy noodles by hand after learning the craft from an old worker of theirs. Wantan wrappers are also made using the bamboo rod. Back breaking or maybe more threatening to someone's ability to have father children in the future, noodle making is carried out at the restaurant every day. Not able to catch them in action for the blog, the nearest reference point I have is Anthony Bourdain's No Reservations Hong Kong clip, where he was taken by
Cha Xiu Bao,
one of the food bloggers to witness how they make the bamboo noodles. For that particular episode, see
this video reference.
what happened? The dissapointing the pan fried fish paste and prawn bamboo dumplings (RM5.50 for a small portion)

So what's so unique about this method vs the rolling out in machines? By setting the long bamboo rod on the table, and using the body weight to rock the rod, it creates an elasticity no machine can imitate. Hence, noodles here are supremely different - springy yet light and so tasty especially tossed in loads of lard. Feeling a little indecisive, I went for the mixed pork noodles (RM9.20) that offers a little bit of something - char siu, home made tender pork sausage (siu cheong) and roast pork. While the char siu and roast pork didn't knock my socks off, I loved the tender sausages. I also ordered a pan fried dumplings stuffed with prawns and fish paste (RM5.50), which was very dissapointing as they weren't crunchy anymore. What a letdown! Nevertheless, I was satisified with my bowl of noodles, slurping down every thin strand and enjoying it tremendously.

Nippy Noodles
No.25, Jalan Kuchai Maju 7
Off Jalan Kuchai Lama
Kuala Lumpur

(Non Halal. Finding a carpark space is a major issue here and locating road signs are also difficult as loan sharks have plastered all the signboards. Google map is per
this link.
)
*Disclaimer: The opinions expressed here is entirely based on my personal tastebuds and may vary for others. This review is time sensitive; changes may occur to the place later on that can affect this opinion. The reviewer also declares that she has not received any monetary or non-monetary compensation from this place for writing the review.
Others who have also eaten here: