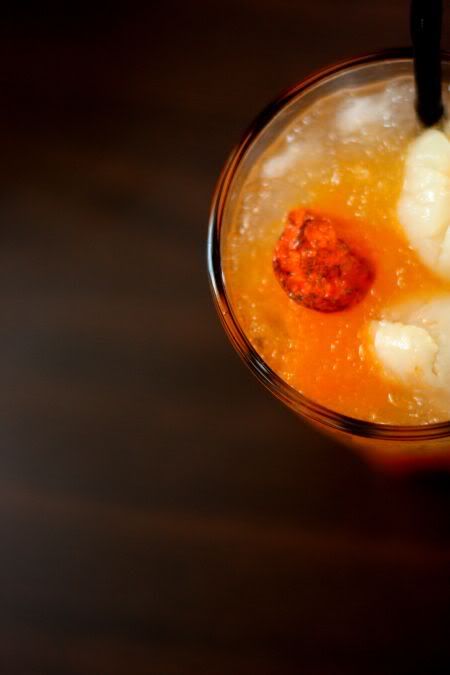 thirst quenching and unusual combo of lychee and assam boi (RM8)
Last weekend, we had to sort out a "kitten crisis" - a stray had wandered in to the neighbour's house hence we rescued it, sent it over to the kind people in Taman Tun Dr Ismail to treat its flu symptoms and hopefully get it adopted. An adorable ball of fluff - dark with slightly longish hair and a stripey tummy, we are crossing our fingers and toes someone will see how cute it is and give it a loving home. If anyone is interested, email me at
boo_liciouskl@yahoo.com
This one, I reckon will be a heartbreaker when he grows up.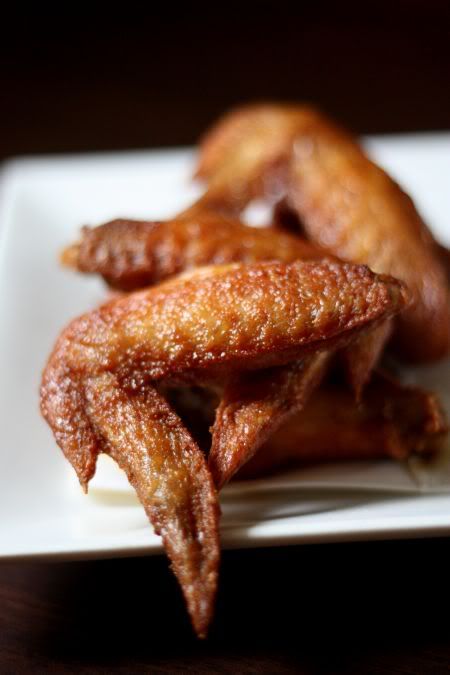 I was craving for chicken wings (3 pieces for RM7)

Sorting out little problems like these often make us miss our meals (breakfast and lunch) hence we were cracking our heads what to eat at such an odd hour. Not wanting to fight with the crowds of people in the malls, we settled on an old favourite - Decanter at Damansara Heights, a stone's throw away from the original one (that is next to the Bread Shop). Filled with people having late lunches, tea or just hanging out with friends, this is definitely a neighbourhood hang out as we spied some familiar faces. The original Decanter used to be my regular lunch hangout place for yummy fried noodles and pies run by 2 sisters. However, they sold their interest to Tun Ling Liong Sik's family. After taking over, they opened this outlet just round the corner from the Damansara Heights school and outlets in Section 17 and Desa Sri Hartamas.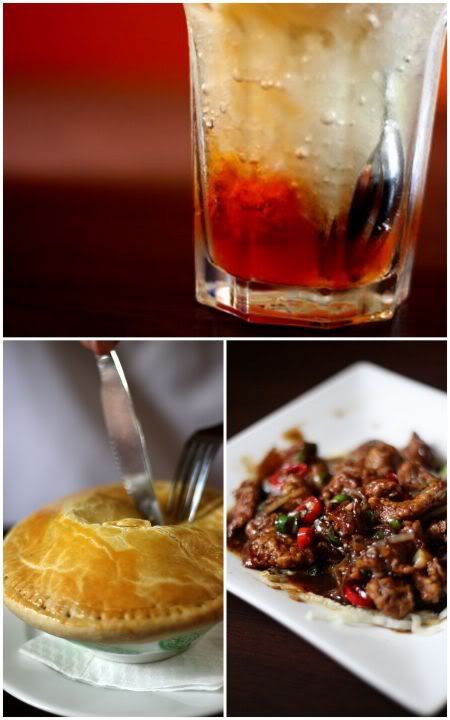 1. Love the bright orange colours of my drink, 2. fried lamb with loads of pepper, chillies and onions, 3. steak pie Decanter style with a Chinese noodle bowl

The place serves a mix of Western and local favourites but we usually zoom in on their noodles. While the noodles aren't as fantastic as the old days, it is still pretty decent tasting. Instead of my all-time favourite of fried beehoon, I opted for the Cantonese fried noodles (RM9), that tasted pretty decent although it did lack wok hei. Feeling a little greedy, I also ordered the yummy fried chicken wings (RM7 for 3 pieces) and fried lamb (RM12). I loved the piquant taste of the lamb pieces as it was peppery and fried with loads of chillies and onions. Too bad I didn't have a bowl of white rice, as that would have been fantastic with all that peppery sauce.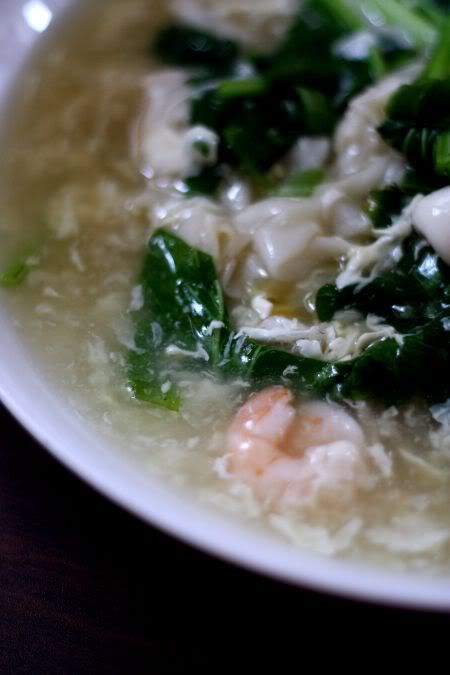 cantonese fried noodles (RM9)

Splashie Boy can never resist a good pie and Decanter's version is pretty decent with a layer of puff pastry baked in Chinese noodle bowls commonly found in coffeeshops. His steak pie (RM10) wasn't chock-filled with meat to fill a hungry man's tummy but decent enough for a small eater. Overall, a decent meal with no parking hassles and efficient service. I also discovered a super thirst-quencher - a mix of bright orange assam boi with lychee done in an ice-blended style. Not only did it taste fantastic, it was so pretty with the bright orange colours mixed with the snow white icy cold lychees - perfect for a hot hazy day. Bigger pictures can be found on the Flickr set.
Decanter
67M, Jalan Setiabakti
Bukit Damansara
Kuala Lumpur

Tel: 03-2095 3919

(Pork free. Place is at the same row as Secret Recipe. To get here from Sprint highway at Eastin Hotel, go straight pass Medan Damansara where Victoria Station is, keep left where the sign says to Bangsar. Turn left and go up the ramp, you will see an Esso on the left hand side, go straight and up the ramp, think the sign says Damansara Heights but it is the second lane. You will see Hock Lee's on your left hand side, go straight until you see the school on the left hand side, take the first left after the school and a row of shophouses will be there where Secret Recipe and Decanter is located.)
*Disclaimer: The opinions expressed here is entirely based on my personal tastebuds and may vary for others. This review is time sensitive; changes may occur to the place later on that can affect this opinion. The reviewer also declares that she has not received any monetary or non-monetary compensation from this place for writing the review.

Tagged with: Noodles + Damansara Heights