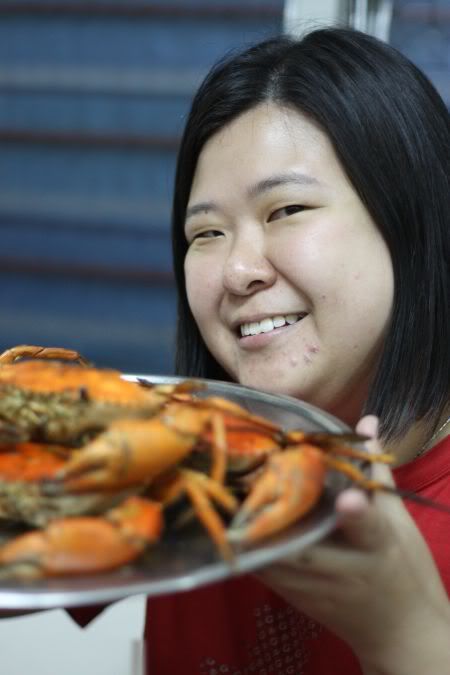 All hail the Queen of Crabs!

Sniff!!!! Today marks the day,
Precious Pea
will be flying Down Under to start a new life. While it is an exciting opportunity for her and the whole family, I know we will miss her tremendously. Even though Melbourne is accessible (especially with Air Asia's cheap fares), it feels so far away.



the expert showing how to open a whole crab*

I'll be losing my "makan kaki" who used to take me to faraway places for great dining experiences. My crab partner - she's the one I usually call whenever I am hit with a need for some crustaceans. We can sit together for a long time just slowly enjoying our crabs while chatting away (Poor Paul who has to wait for us!). Nicknamed, the Queen of Crabs, she's a bona fide expert on the crawly fellas having cooked them at home and enjoyed quite a few in numerous seafood restaurants.


doggy love - Kikko the pampered one

Then there's her love for furry four-legged poochies especially her two boys - Pea and Pumpkin. She can never resist a waggy tail especially the cutie Kikko, which belongs to Pure Glutton. The adorable ball of fluff was lavished so much attention and love, she fell asleep on Precious Pea's lap.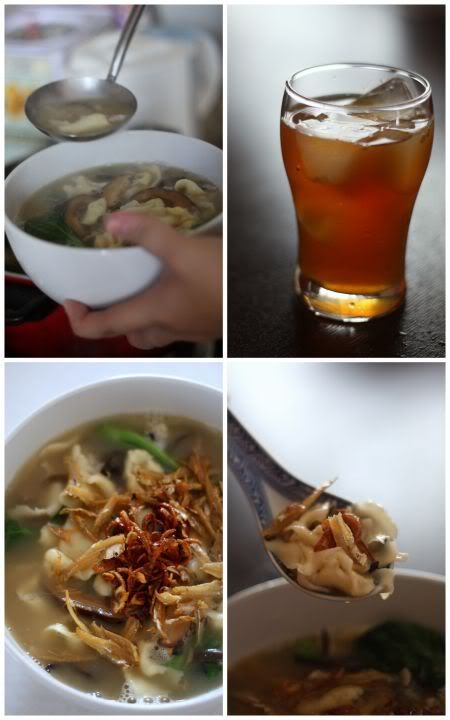 yummiest ever hand torn pan mee (mee hoon kueh) with homemade ice lemon tea

Last but not least, is her cooking skills - definitely the best ever. I didn't get to try her infamous roast pork but I was lucky and privileged one day to slurp down a bowl of hand torn pan mee made with her own hands. Yummy till the last drop! She even made me homemade ice lemon tea to quench my thirst. Thumbs up to everything!

Bon voyage Precious Pea. Big hugs and kisses! We look forward to reading about your adventures in Australia. Hopefully time will fly by quickly and we get to see you soon. Good luck with all your ventures! We are going to miss you lots.

*crabs were from a farewell dinner for Precious Pea at Hing Ket Grill House - another great find by Precious Pea. Click this link to read her review on it.