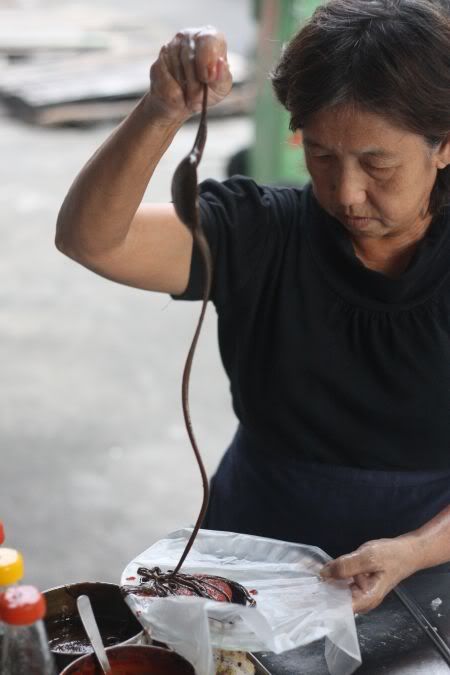 snake or just ultra thick prawn paste?

Visiting Penang is always very treacherous.....for the stomach of course! Often whirlwind trips, all you seem to do on the gem of an island is eat, eat, eat and eat more! Last weekend, we definitely did justice to that, as we basically ate our way around the island - Pulau Tikus, Macallister Lane, Carnarvon Street, Chulia Street, Tanjung Bungah and the list goes on. High on the must-eat list was the prawn paste chee cheong fun unique to this part of the world, by request of Lyrical Lemongrass who "hearts" this item.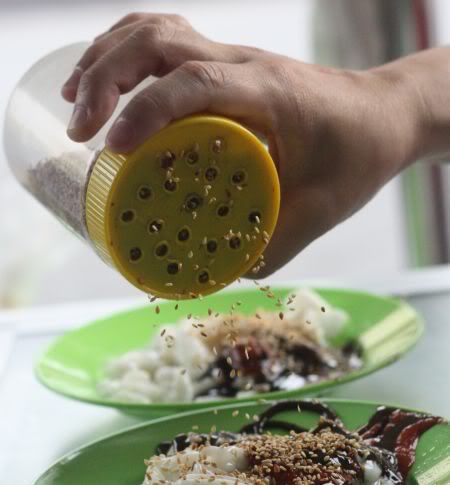 my one in the million shot - suspended sesame seeds in the air

Our pursuit for the best led us to Pulau Tikus - trying the night market (it was our first stop when we arrived in Penang island, even before we checked in our hotel!!) and the morning corner coffeeshops. Somehow these didn't hit the mark and luckily, we had a certain teeny weeny Penang birdie who led us to the infamous Macallister Lane pushcart.


the artistic and silky smooth chee cheong fun

Run by Lee Fook Loon since 1955, this place is a classic (other friends also referred me to this place saying it is a must-eat when they return to Penang their hometown). Their pushcart is located just in front of the stall, so just sit down at the shop, order your coffee and wait for your chee cheong fun. While waiting also get a plate of char kuih kark from the pushcart nearby - silky smooth carrot cakes fried to perfection.


1. delicate fingers unroll the paper thin rice flour rolls, 2. shake your booty, 3. chop chop chop, before they go into a small bowl, 4. the long rolls of bliss all kept in old oil cans

It is fascinating to watch how much work goes into one plate of chee cheong fun and how the family has gotten their processes down pat to counter the busy demand. Long rolls of chee cheong fun are placed in recycled oil cans resembling white snakes. The old uncle will sprinkle a little oil and slowly unroll these rice flour rolls to prevent them breaking on a stainless steel board. Once unrolled, he chops them into thick pieces and places them in a small stainless steel bowl. This is then transferred to the middle part of the cart where it is covered. I suspect that keeps it warm.


1. the ever busy push cart, 2. another picture of the gorgeous chee cheong fun, 3. savouring slowly

While uncle is preparing the rolls, his wife is whipping up her concoction of sauces - a dash of sweet sauce and a drizzle of the ultra thick prawn paste sauce. She works fast and like an artist, drizzling it from above rather than plonking it on the plate. It seems they make their own sauces while the chee cheong fun is supplied to them. Once that concoction is done, the cut up chee cheong fun is placed on top, given a generous sprinkle of sesame seeds and sent over.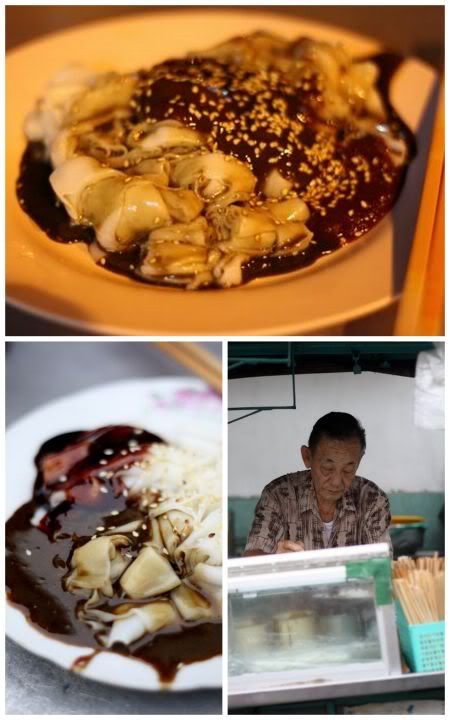 1. sepia tones bathe the pulau tikus night chee cheong fun, 2. uncle sells during daytime at Pulau Tikus, 3. more prawn paste chee cheong fun

What makes the difference here is the texture of the chee cheong fun - silky smooth and almost melt in the mouth. Moreover the sauce is tasty and a little sweet, making it addictive. Not the best thing to eat with a white shirt but who cares for a few brown splatters, especially if you're eating such sublime stuff that the lady has perfected for almost 50 years. For more pictures, see my
Flickr set.


Pushcart outside Seow Fong Lye Cafe
94C, Macallister Lane
Penang

(Non halal. Open from 7.30am-12.30pm. Contact Madam Lim Mei Fong at 012-4575238 or Chee How at 016-4525948. They seem to be also related to the other famous chee cheong fun stall at Jalan Kuala Kangsar, at Soon Yuen Cafe.)

*Disclaimer: The opinions expressed here is entirely based on my personal tastebuds and may vary for others. This review is time sensitive; changes may occur to the place later on that can affect this opinion. The reviewer also declares that she has not received any monetary or non-monetary compensation from this place for writing the review.

Tagged with:
Chee Cheong Fun
+
Penang