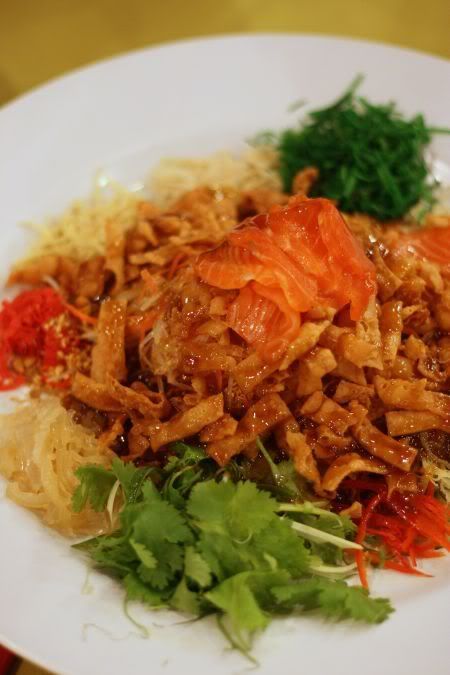 ready to roll...

Sorry this is a little late - was up witnessing a historic moment i.e. Barack Obama taking oath as President of the United States. I reckon today is the best day to post this, since we have a cause to celebrate the upcoming Chinese New Year and the dawn of a new era in America. All eyes are on Obama with the hope he can turn around the nation in its economic crisis. I'm hoping he can, since despite how much we deny it, we are inevitably linked to America.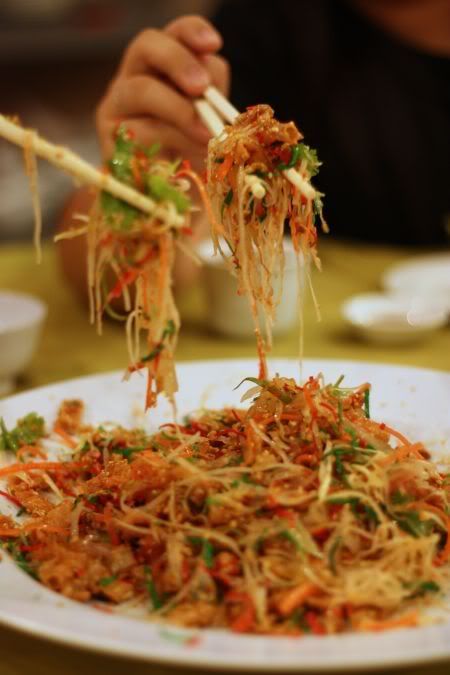 up up and away, hope I get my wish...

I am sure by now, you would have tossed yee sang with friends, colleagues and family. If you haven't, go do it now as it is a fantastic ritual originating from Malaysia and Singapore!! It is a wonderful feeling of anticipation, witnessing the wait staff preparing the dish - opening all the packets especially the crunchy pok chui. Believe me, the more of those crackers seem to elevate yee sang to greater heights.

Next will be the sticky plum sauce - essential to get everything to stick together and a little oil. We usually cut down the amount of oil used for healthy reasons. Then, it is time to get your chopsticks ready. Ready, get set....go! Chopsticks fly with green and red shreds falling everywhere. Higher and higher, as it seems the higher it is, prosperity is likely to come our way. Cast your wishes in the air...."wishing everyone good health and wealth, hope businesses get better, hope you get a better job and the list go on". Doesn't matter it is not in Chinese, heck it could also be in Malay but as long as you wish and take part...who knows what will happen. If you want more pixs, check my flickr set on yee sang.



unique peking duck version with crunchy and melt in the mouth textures all in one mouthful

I was lucky to share this salmon yee sang with good friends I have met through this blog aka.
Lyrical Lemongrass,
Paprika
and
Precious Pea.
Paprika had arranged for dinner at this corner restaurant tucked in the quiet side of Damansara. Don't be fooled by its innocent appearance outside as it was packed inside (seems if you don't book a table, there is no hope in doing a walk in here). Food was very good but took a snail's pace to reach the table. Dishes were pre-ordered and very unique - imagine a twist to the peking duck with a crunchy pancake filled with shredded spring onions, mushrooms, dried prawns and preserved radish (RM78). Sublime but very rich stuff, when paired with pieces of duck skin. Seems this is the restaurant's own concoction to give the traditional peking duck of pancake, hoisin sauce, raw spring onion and duck skin, a difference. Even the usual floury pancakes are replaced with a flat, fluffy and soft mantou.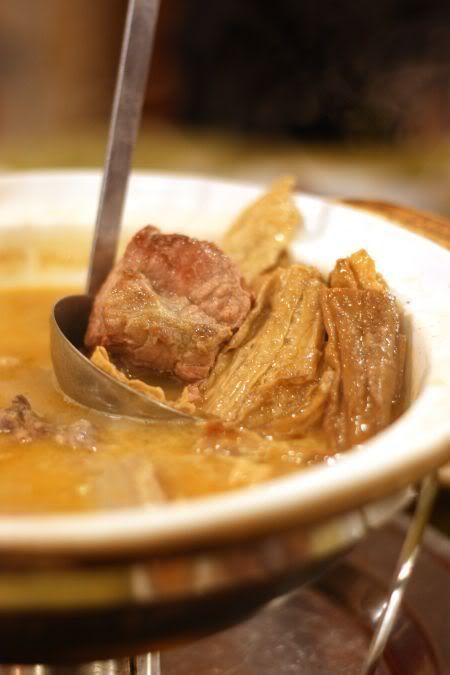 stewed pork ribs with a creamy soup

Then there was an innocent looking creamy stew with soft pork bones (RM30). At one glance, you attribute its milky look to soy milk or even cream but it seems the culprit is preserved beancurd aka nam yue. Usually pungent in smell and taste, you don't find any traces of it as it is paired with the fork tender pork ribs. I especially love how they mix in vegetables with this soup hence you get the sinfully good pork with healthy green vegetables. You are given a pungent creamy sauce with bits of chopped chillies with this soup, that seems to alleviate the rich taste of the soup just a little. According to the restaurant's captain, this soup is done in a large batch as they need to make more to get the right flavours. Again, this is a pre-order item.

I reckon I will definitely return here for their other dishes. Not sure when since booking a table here seems almost impossible with the festive season. And, by the way, don't you love their name - extra super tanker. Definitely stands out just like their unique dishes. Do share with me your CNY celebration meals, as I am dying to hear how where everyone is tossing their yee sang and celebrating the occasion at. Here's to lots of hope, wealth and health for the

New Year! Make all that moooooolah come my way, please.



Extra Super Tanker Restaurant
48 SS 20/10
Damansara Kim
Petaling Jaya

Tel: 03-77267768 / 03-77267769

(Non halal. For more on this place including the menu and its location map, see their website in
this link.)


*Disclaimer: The opinions expressed here is entirely based on my personal tastebuds and may vary for others. This review is time sensitive; changes may occur to the place later on that can affect this opinion. The reviewer also declares that she has not received any monetary or non-monetary compensation from this place for writing the review.

Tagged with:
Malaysian Food
+
Yee sang