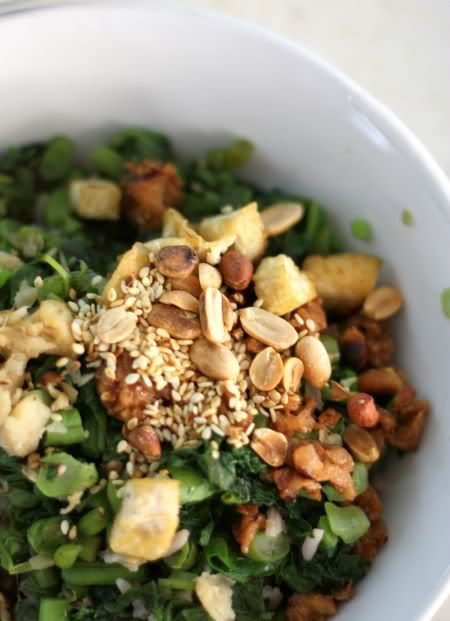 green comfort - nine types of vegetables, nuts and bean curd in one bowl

Let's kick start the week with something healthy.....a bowl of Hakka looi cha or thunder tea rice. I was around the Taman Megah vicinity last week for a very quick bout of shopping at the bake shops that pepper the area there. Since the
Mee Kolo/Sarawak Laksa stall
at Restoran Gembira was closed, it was the next best thing - the one bowl meal of mixed vegetables, fried beancurd, peanuts and sesame seeds; drizzled with a bright green soup made from pounded herbs.



add the green herb soup for a complete meal

There is something so comforting about eating your meal with just a spoon especially since I tend to drown my rice with all the "green soup". Even though this place lacks variety in terms of vegetables given, it is still a very satisfying bowl of 9 kinds of items. My favourite bits are the crunchy peanuts and sesame seeds, that add texture to the dish. Yummy till the last spoonful.
While I may have found heaven with my meal, it is literally hell trying to find parking around here. It has gotten horrendous especially since they closed up the old marketplace area to build a proper building. Now the stalls are housed under temporary shelters that line the road facing Bake with Yen, La Manila and Fatty Crab.
Looi Cha Stall
Restoran Gembira
39, Jln SS24/8
Taman Megah
Petaling Jaya

(Pork free and vegetarian. Stall is opened for breakfast and lunch, closed on Sundays.)

*Disclaimer: The opinions expressed here is entirely based on my personal tastebuds and may vary for others. This review is time sensitive; changes may occur to the place later on that can affect this opinion. The reviewer also declares that she has not received any monetary or non-monetary compensation from this place for writing the review.

Tagged with: Malaysian Food + Looi Cha

Other reviews: