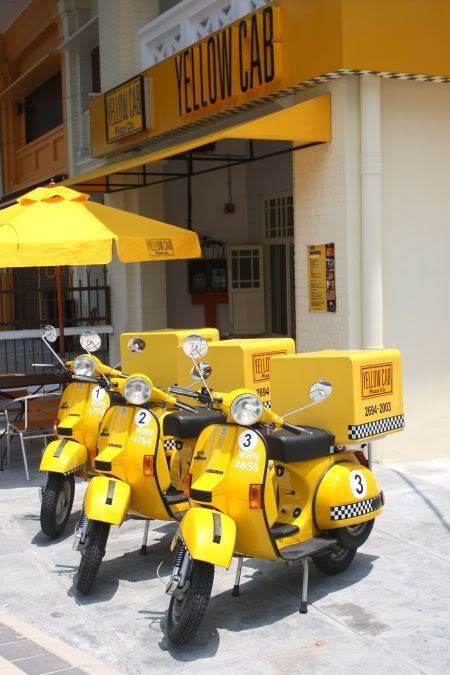 the frontage and yellow motorbikes that grabbed our attention and the tourists
There's a new bright yellow place in town!! For those who know Splashie Boy well, you will all remember he loves the colour bright yellow. Hence, yesterday when we were driving past Jalan Raja Abdullah, we spied this sunshine yellow frontage. It definitely grabbed his attention, that he even made an illegal u-turn (something he never does!) to check this out.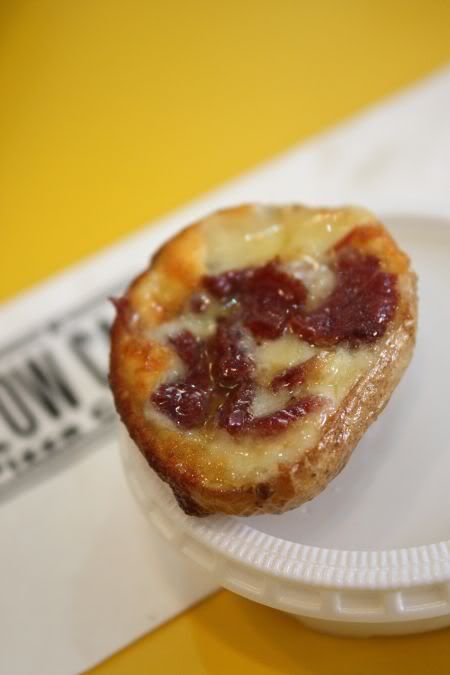 twice-baked potato halves (RM12.80) for 6 pieces with sour cream and chives


Previously a fishball stall used to occupy this corner shoplot but the owner decided to take the place back and renovate it. The place has been unoccupied for quite sometime, but now it houses this Phillipines franchise - Yellow Cab Pizza Co, where their tagline is "when you want great pizza, call a cab". In the Phillipines where they have 54 outlets, they use Vespas for their delivery bikes and a Chrysler PT Cruiser, all painted bright yellow. Wonder, if they'll get a Chrysler PT Cruiser here too? Seen only 1 or 2 around town so far, hence that will be cool.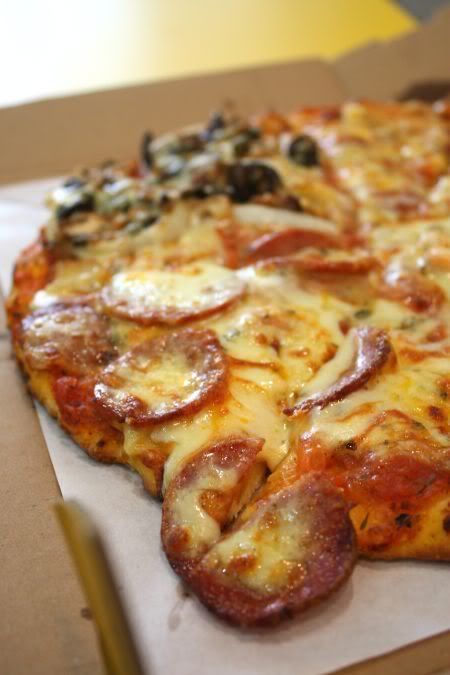 the NY classic side of the Four Seasons Pizza (RM28.60 for a 10 inch pizza)

For those who have been to New York, you will notice the references to the infamous yellow cabs. The delivery bikes have been given a sunshine yellow transformation, that they now look like those iconic yellow cabs or taxis, as we label them here. The frontage with the distinctive bikes parked in front got a lot of reactions especially from the tourists who walk past the road. We spied at least 2 groups of tourists who walked past and started snapping pictures.


the roasted garlic and shrimp side of the Four Seasons Pizza
While the old shophouse was given a new lick of paint, glass covered windows as it is now air-conditioned inside, a steel and glass extension that covers a staircase on the side, some of the old elements have been retained like the wooden windows. Inside, there are unpainted concrete walls, bright yellow accents all over, pictures of New York and names of famous places in New York that decorate the place. There's even a cute dustbin (in yellow of course) with metal shelves on top for pizza boxes. I reckon the outlet is recycle friendly, as I saw the worker stacking the boxes on the shelves. You will note the different lengths of the shelves correlate to the 3 sizes the pizzas come in. Thumbs up for this green initiative.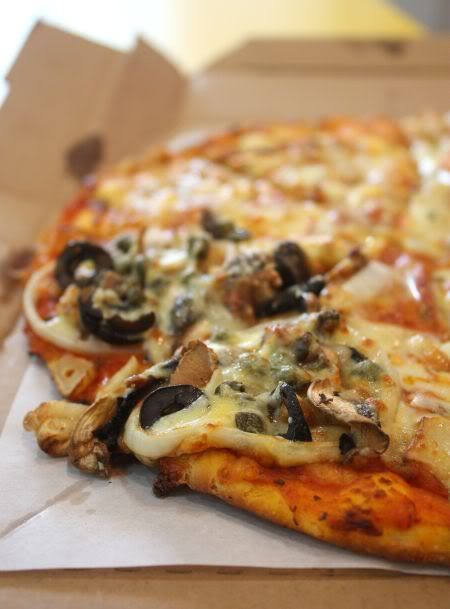 the anchovy lovers side of the 4 seasons pizza

Two types of pizza available - classic and specialty. Our menu is similar to the Phillipines one shown on their website with the exception of ice cream and chicken wings. The pizzas come in 3 sizes - 10, 14 and 18 inches. Since we wanted to sample the most from one visit, we ordered the 4 Seasons - with 4 types on one pizza i.e. NY Classic, #4 cheese, Anchovy Lovers and Roasted Garlic and Shrimp. Our absolute favourite out of the 4 types we tried - the NY Classic with beef pepperoni slices. A simple pizza but very tasty probably because they use tasty beef pepperoni.

Next favourite was the roasted garlic and shrimp with a subtle taste of garlic and prawns scattered on top. The #4 cheese with romano, mozzarella, cheddar and feta was not bad also but it had a slight sourish taste. For those who love capers and black olives, the anchovy lovers is a good choice. I found it a bit salty though.


the eye-catching Vespa lookalikes

We also ordered an extra - twice baked halved potatoes, which came with 6 halves. A bit oily at the bottom of the skins and I felt not much taste as they used beef bacon to top the mozzarella covered potato skins. Overall, we loved the pizzas and the texture of the pizza crust (not chewy) and thin. No soggy bits in the middle with these pizzas, hence we will definitely return for more pizza. For more pictures of the place, click on my
Flickr set
.

Yellow Cab Pizza Co
At the corner of Jalan Raja Abdullah
and Jalan Yap Ah Shak
Kuala Lumpur

Tel: 03- 2694 2003

(Halal. Minimum order is RM20 for pizzas, with RM2 delivery charge. The delivery area is quite limited. You can opt to dine in - downstairs and upstairs. Prices for the pizzas range from RM19 to RM28.60 for the 10 inch pizzas, RM30.50 to RM44.70 for 14 inch pizzas and RM47.80 to RM69.70 for the 18 inch pizzas. Extras cost from RM12.80 to RM16.80 that include pastas, calzone and potato halves.)

Disclaimer: The opinions expressed here is entirely based on my personal tastebuds and may vary for others. The reviewer also declares that she has not received any monetary or non-monetary compensation from the restaurant for writing this review.

NOTE: Revisited on 6 January, 2009: 4 seasons pizza had an uneven thickness crust; one side thin and the other side thick and slightly uncooked. Pizza is a little oily too.