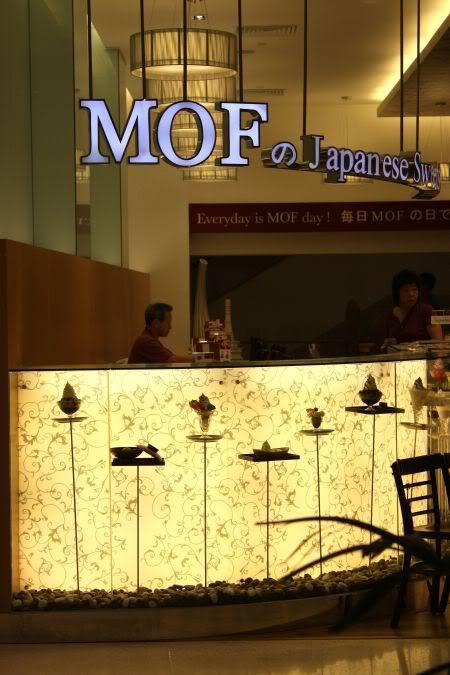 Everyday is MOF Day! Hmmm, how I wish it was.
MOF??????
Isn't that the acronym for the Ministry of Finance? Usually it is, but in this particular case, it stands for Ministry of Food and it is all about Japanese desserts and coffee. Apologies to those who are not fans of Nippon stuff, as I just realised this is my 3rd post on Japanese food in the row.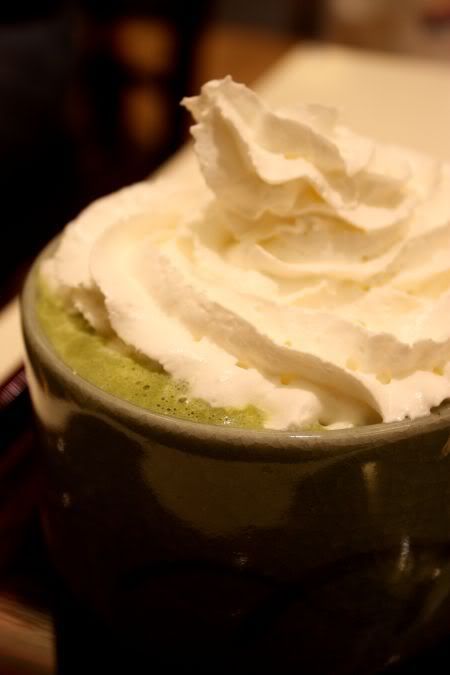 matcha latte (RM9), topped with sinfully good whipped cream
Latest place to open at Pavilion Kuala Lumpur - MOF or Ministry of Food, which comes from Singapore. Down south, they're known as Izakayas, serving affordable Japanese food and desserts. Here in Kuala Lumpur, they seem to have changed the concept a bit as they only serve desserts and coffee. Could be due to the stiff competition from other places (Kampachi, Sakae Sushi, Yo Sushi and Ichiban Boshi) that they decided to focus on a niche market instead.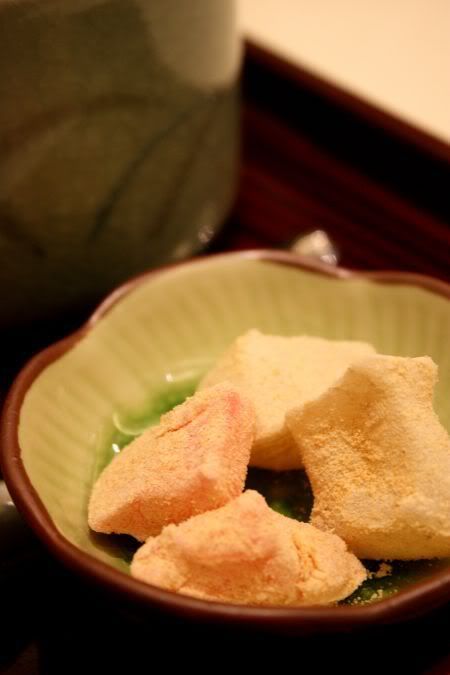 gyuuhi - the Turkish delight lookalike served with matcha latte
There's loads to choose from the new outlet, right in front of Mercato Supermarket. The place is pretty tucked inside hence if you weren't looking for it, I'm sure you will miss it, since most people usually walk around the middle section.


matcha mix imo (RM11) - sweet potato and yam with soft serve ice cream
We went on a major blitz to test out their desserts. For drinks, I tried the hot Matcha Latte since we mainly tried their cold stuff. Served in a huge clay cup with no handles (hence it can be difficult to drink this when it is super hot), the latte was generously topped with sweetened whipped cream and served with an interesting tidbit called gyuuhi. The latte is pretty creamy and not sweetened. Not sure if you are supposed to add the sugar yourself but I thought the taste was kinda flat, after I ate the whipped cream. The gyuuhi, kinda reminded me of a not very sweet Turkish delight. Made from rice flour, it tasted gummy and was dusted with kinako - grinded roasted soybean.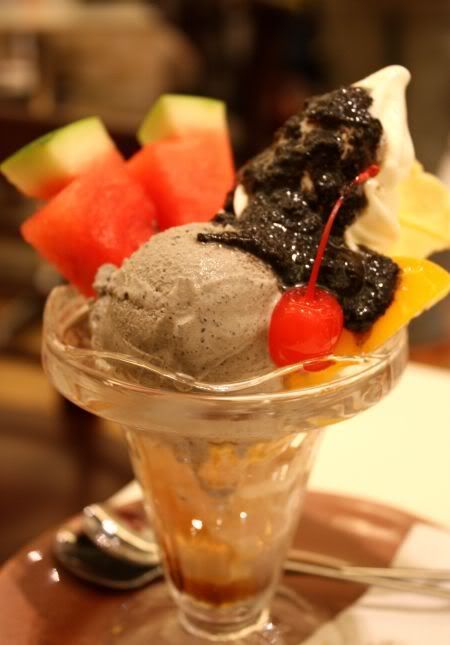 sesame sundae (RM15) - Splashie Boy's favourite

The star of the show was the Matcha Imo - their most famous dessert here. Imo refers to the Japanese sweet potato, which was served with soft serve ice cream in this version. Drizzled with green tea sauce and served with red beans, it's seriously yummy stuff (you are supposed to eat all elements together for a sublime taste). We ordered the mix variety (with a yam also) that also tasted good. I love the soft serve ice cream here - very dense, rich and creamy as it is made from Hokkaido milk. Even the red beans are from Hokkaido and it is not overly sweet like some places.
abekawa (RM11) - oven baked mochi with red bean paste
Since everything was cold, we went for a hot item - the oven baked mochi known as abekawa. The rice cake is baked until it has a slightly crisp layer outside and a gooey center. The mochi is then sprinkled with kinako. You eat it with red bean paste or if you're feeling decadent, with a scoop of soft serve ice cream.
With the matcha flavours covered, we decided to try out the black sesame flavour - the Sesame Sundae, which had kanten jelly cubes, fruits, cornflakes, a waffle, sesame ice cream and soft serve ice cream topped with black sesame sauce. Thumbs up again for this. I love the creamy texture of the sesame ice cream. The black sesame taste is not overly strong here and went well together with all the other items.
There's loads more stuff on their menu - reckon it will take a few visits to cover them all. Milkshakes look interesting as they are topped with soft serve ice cream and come in various flavours. Coffee, we didn't try any as Splashie Boy hates coffee but I did spy they have affogato with soft serve ice cream. They also have red bean paste served with matcha ice cream and rice dumplings, shaved ice desserts, various types of sundaes, buns filled with red bean paste and etc. If you don't want to sit down, you can always order ice cream from the counter as they serve it with a cone or a cup. Do give it a try and who knows, everyday may end up being MOF day!
MOF @ Japanese sweets & Coffee
(Pork free. Open from 11am to 10pm. Right in front of Mercato Supermarket and next to JCo Donuts and the Pasta Mania.)
*Disclaimer: The opinions expressed here is entirely based on my personal tastebuds and may vary for others. The reviewer also declares that she has not received any monetary or non-monetary compensation from the restaurant for writing this review.