wait a minute....that's not beer??

Section 17 is THE place for good food - just throw a stone anywhere and you'll definitely hit a stall that serves more than decent food. Moreover, food tends to be cheaper here since their clientele are the university students and senior citizens, who live here. Last week, when I had to attend the funeral, I needed a nice pick-me-up, hence I opted for this place, which I remembered reading from Cumi & Ciki (those two "monkeys" that love food).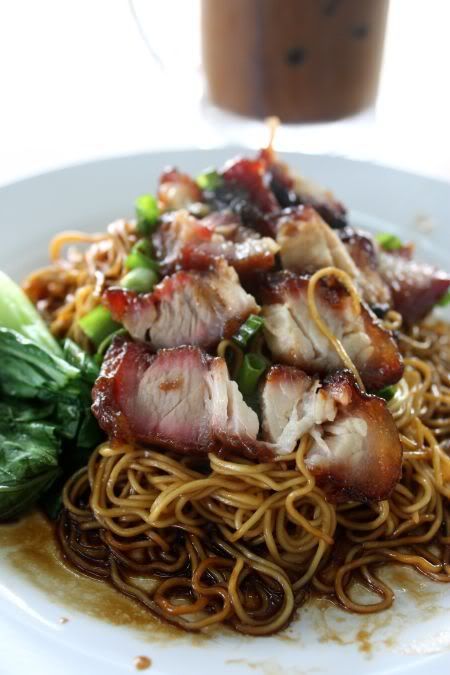 melt in the mouth char siu with wantan noodles

It was quite late by the time, I headed here for lunch, hence I got the remnants of char siu, which had a nice melt in the mouth texture. The next time, I visited for breakfast, I was luckier as I got fresh from the oven char siu that was so tender, it breaks while you try eating a thick piece (see all those broken pieces when I transferred them from the side of the plate to the middle!).



wantans packed to the brim

While the texture of the noodles aren't as great compared to K. Intan's wantan mee, (the stall owner admits they don't make the noodles themselves) this is a serious contender for one of the better wantan mee in Petaling Jaya since they score high on great char siu and pretty good wantans. Unlike the limp looking wantans from other places, these babies are packed to the brim with filling and the aromatic dry sole fish (chor hau yee) powder.

sui kows, with one whole prawn in them
I even tried their highly recommended dumplings - bursting with filling including 1 whole prawn. While it was not crunchy, it was still a very decent sui kow, that I would not mind ordering again.
For those who know Section 17 well, this corner shop used to sell Teochew porridge and at night, there was a fried noodles stall using charcoal fire (they shifted to the other corner at the end of Weng Kee, and opposite the carpark). This place also used to have an exotic meats and soup stall, which became big and successful to expand into Friendship Herbal Shop. The owner took back the shop this year and decided to sell Ipoh White Coffee and open the noodles stall. They also own the yong tau foo and porridge stall. I love the white coffee here too - the foam stays even after I have finished my meal.
Restoran Mel's Corner
Jalan 17/38
Section 17
Petaling Jaya

(Non halal. Closed alternate Mondays. Restaurant also sells roast meats, fried rice, ipoh hor fun and at night, fried noodles and rice. Char siu wantan mee is RM4 and dumplings are RM1 each. Iced white coffee is RM1.70.)
Disclaimer: The opinions expressed here is entirely based on my personal tastebuds and may vary for others. The reviewer also declares that she has not received any monetary or non-monetary compensation from the restaurant for writing this review.

Tagged with: Malaysian Food + Wantan Mee