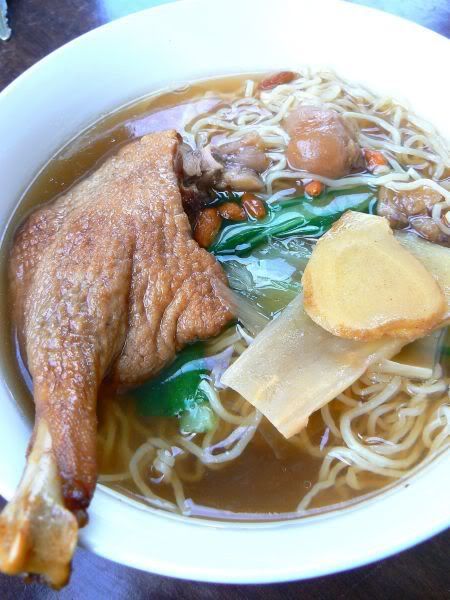 Now there's no need to drive up to Bidor for duck noodles - Pun Chun has opened an outlet at Kota Kemuning. Still a little far but definitely better than all the way to Bidor.

Opened in May 2008, the place is a nice airy corner shop. Sadly you don't get the ever famous Wu Kok (Yam Puffs) but there's the signature dish - steamed duck soup with noodles, a concoction of roast duck leg steamed with ginger, Chinese herbs and longan. You have an option to have it dry or wet, as the steamed duck soup is cooked seperate. Also popular are the wantan noodles - I didn't get to try any as getting here especially early in the morning is quite difficult for me. However, quite a lot of patrons were eating it and it looked really good. If the texture is the same as the noodles which were served with my duck noodles, they have to be nice and chewy.

They also have toast bread with kaya, half boiled eggs, nasi lemak. Those who love their chicken biscuits and sat kei mah, will be happy to find out they have it at this shop.

By the way, nothing related to Pun Chun but I just found out that Fukuya One Bangsar closed in mid-June and my favourite, Spicy Padang shop at Damansara Perdana also closed down. So sad, as those places served great food - lunch kaiseki sets at super duper prices and spicy padang dishes. Sigh! Don't worry though as Fukuya at Jalan Damai is still open, seems they had some dispute with the Bangsar owner, hence that outlet closed.

Pun Chun Noodle House
10, Jalan Anggerik Vanilla AC 31/AC,
Kota Kemuning
Shah Alam

Tel: 016-3807812 / 019-3206773

(Non Halal. Open from 6am to 4pm, daily. More information from their
blog.
To get here, take the highway to Kota Kemuning, turn in and at the roundabout, take a 3 o clock turn. Go straight, you will pass by shophouses on your right hand side. Only turn right when you see the Gamuda Land office. Take the first left and Pun Chun will be on your right hand side. )

*Disclaimer: The opinions expressed here is entirely based on my personal tastebuds and may vary for others. The reviewer also declares that she has not received any monetary or non-monetary compensation from the restaurant for writing this review.

Tagged with:
Malaysian Food
+
Duck Noodles


Other reviews: