Thanks to Splashie Boy for this great pix - sadly, the waffle didn't impress (RM14.90)


Remember how I blogged about this
up and coming place
in 1 Utama, Theobroma. Well, it has finally opened its doors to public, hence we did a detour there recently. Incidentally, does anyone know what happened to Bakerzin???? The outlet in 1 Utama has been renamed Oriels. It looks like they serve the similar food. Did they have a dispute with the owner in Singapore hence the Msian franchise holder parted ways? Heard the
Bangsar Village outlet
has also been renamed. Do have a look at the detailed analysis
Cyberdurian
offers on why the franchise deal went pear-shaped.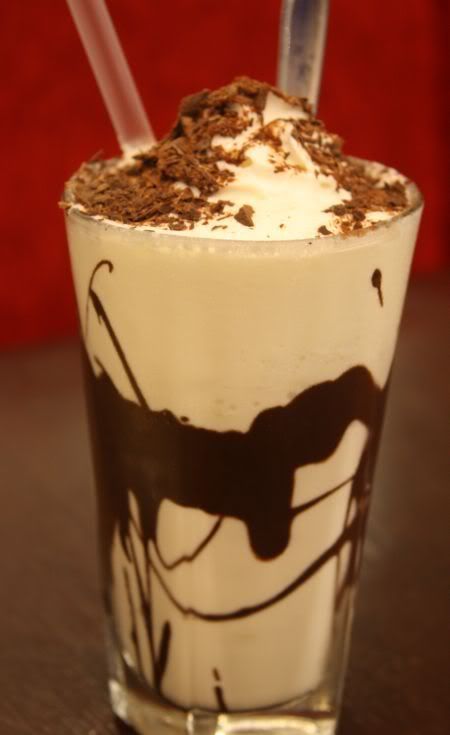 Snow White Frappe - yummy way to enjoy a cool drink when you're hot and bothered (RM12.90)
Anyway, back to chocolate, a great way to perk up your week especially when you have been faced with the computer screen the whole week. Maybe, I put a bit too high expectations on this place as it didn't "wow" me as much.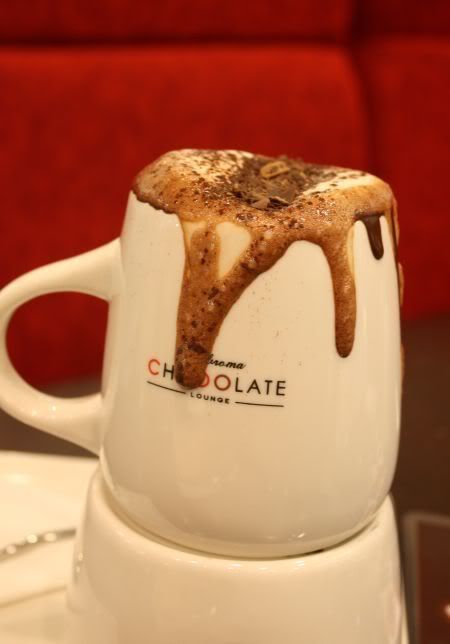 My Ms. Coco served in a mug and warmer (RM12.90)
While the tagline is, "you can taste the difference", I reckon this is true in terms of their chocolate drinks. Not too sure about the desserts, as I felt they were kinda mediocre. Maybe I should try more items on their menu.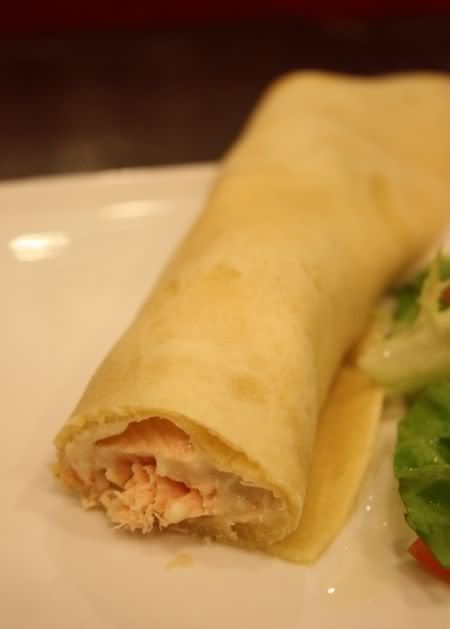 Nice crepe stuffed with salmon (RM14.90)
Let's start with the savoury stuff - not an extensive selection BUT then, it is a chocolate lounge and not a restaurant. There's savoury crepes, quiches, pies and salads on offer. Splashie Boy had the shepherd's pie, which was made with minced lamb (a surprise as most places offer minced beef versus the lamb and genuine version). While the filling was very tasty, I felt they weren't generous with the meat as it had too much onions instead. Maybe that is the reason why the filling was so darn tasty. It was a bit too salty for my liking too.



Shepherd's pie (RM9.90)
My Scandinavian Salmon crepe was pretty good, filled with chunks of salmon, canned button mushroooms in a creamy sauce. Both items were served with a nice crunchy and fresh side salad. One big gripe about this place though are the super small platters they serve their food on. My longish crepe, was creeping out of its plate....not a very pleasant sight, hence I cut it all off before I snapped the picture.
Loads of drinks available - iced blended, iced chocolate and warm chocolate drinks. There's also coffee and specialty teas served here. We went for one iced blended chocolate drink - the Snow White Frappe. Made with white chocolate and topped with a generous chocolate shavings, we both enjoyed it. Another gripe about it, while the decor on the glass was pretty, it wasn't edible as the chocolate had hardened on the glass, making it next to impossible to eat it.

I had a hot drink - the Ms Coco, a dark chocolate concoction. You get a choice to have it in a mug or in a mug with a warmer for an extra RM3 (it's for the tealight, I guess?). Very yummy stuff, and I liked how my drink was kept nice and warm so the chocolate could melt and not stick to the bottom like other chocolate drinks.
It took us a while to decide on desserts as the choices were limited to the chocolate fondue for 2 persons (about RM25, which is the second most expensive item on the menu), chocolate strudel, chocolate croissant, chocolate dipped strawberries and etc. We finally settled on the Belgian waffle, which was served with strawberries and drizzled with milk chocolate. Guess too much hype about this, as it didn't taste extraordinary. While it may have beaten A&W in the waffle taste stakes, this one failed miserably for both of us, as it lacked the extra oomph. Must be the okay tasting milk chocolate and slightly sour strawberries (I suspect they used tiny Cameron Highlands strawberries. A tip for them, sprinkle some sugar to draw out the sweetness as those local berries are more tangy vs sweet) that didn't impress us at all.
I reckon I'll return for the drinks but maybe not the dessert unless I have a few people to share the chocolate fondue with. They also sell chocolates - a variety of them in different shapes, flavours and colours. Oh, and for those who love the chili and chocolate flavour combination, they also have that in a drink. There are also plain chocolate bars, and some with nuts in them. Prices are nett, and you have to place your orders and pay first, at the counters. A privilege card is also available for RM10, where you get to accumulate points for special privileges like free gifts, special offers and etc.

Theobroma Chocolate Lounge
Lot FK3, First Floor
Highstreet
1 Utama Shopping Centre
(Pork free. Another outlet will be opening end of this month at Level 4 Pavilion Kuala Lumpur.)
Disclaimer: The opinions expressed here is entirely based on my personal tastebuds and may vary for others. The reviewer also declares that she has not received any monetary or non-monetary compensation from the restaurant for writing this review.