On Saturday, I managed to catch this amazing movie called
The Waitress.
Perfect for foodies, it has Jenna, the waitress making these delicious pies, which she names based on her situations and moods. They have weird combinations, but tastes utterly great, based on all the ooh and aahs from her fans in the diner she works at. A Sundance Festival 2007 pick, this movie became a hit in the USA. It is also a bit poignant as the screenwriter and director, Adrienne Shelley was murdered just before the movie's release.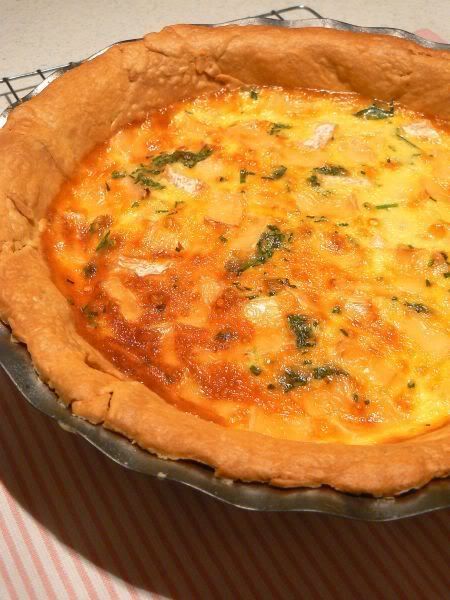 I can't believe the election results pie

I got into a pie mood, and decided to try a recipe I found that was inspired by the movie. It's actually known as, "I don't want Earl's baby pie", but since we had such an interesting weekend with the election results, I have renamed it, "I can't believe the election results pie".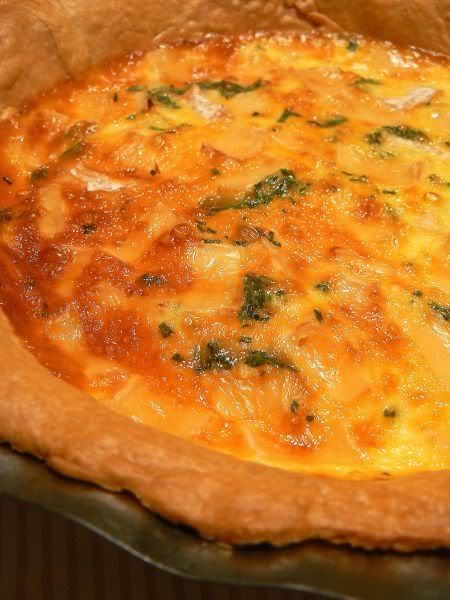 Close up of pie

It is a huge pie full of goodness - brie, chicken ham, eggs, cream (I used light thickened cream to ease the fat content a bit) with herbs.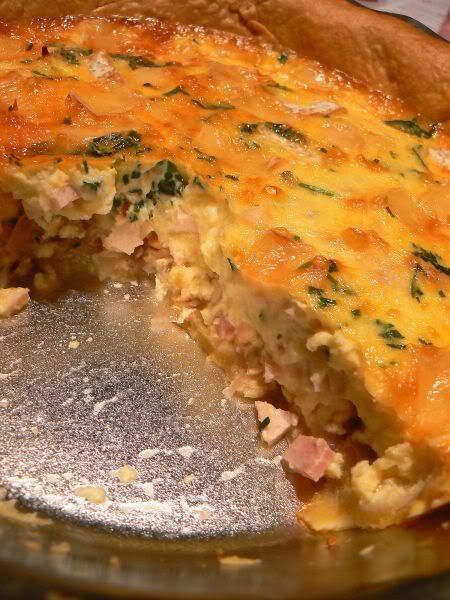 The inside of the scrumptious pie

The pie was downright delicious - Splashie Boy and I loved it, so much it was dinner on Sunday night and probably his Monday lunch treat. I did cheat a bit as I wanted to do this quickly, since I only started getting inspired on Sunday afternoon - I used readymade shortcrust pastry. Not a good choice as I found it a bit hard. Kinda prefer my buttery and lighter pastry.

Do give it a try, and maybe you can start inventing your own pies. I know I have loads to try as I picked up a copy of Page One's 500 Pies and Tarts from the Popular bookshop fair at Ikano, on Sunday afternoon.

I Can't Believe the Election Results Pie
(adapted from the Delicious magazine)

50g butter
3 large onions, sliced thinly
400ml double or thickened cream (I used Bulla's light version)
1 large garlic clove, crushed
25.5cm shortcrust pastry case (I blind baked my ready made pastry)
175g smoked ham, chopped (you can adjust this to ham, chicken ham or turkey ham)
2 tablespoon each chives and parsley, chopped

Make the shortcrust pastry case first. I blind baked mine in the oven for 15 minutes, at 200c. Cool for a while before adding ingredients.

Heat a frying pan, add butter and olive oil. Fry sliced onions over a slow heat, about 30 minutes, till soft, brown and caramelised. Drain excess oil and remove from pan. Set aside to cool for a while. Mix eggs with cream, till well beaten. Stir in garlic and season to taste.

Preheat oven to 160C. Spoon cooked onions into cooked pastry shell and cover evenly. Top with chopped ham and herbs. Pour over egg mixture and add chopped Brie, all over the pie. Bake for 45 minutes, until golden brown and set. Remove from oven, cool slightly. Eat while warm.