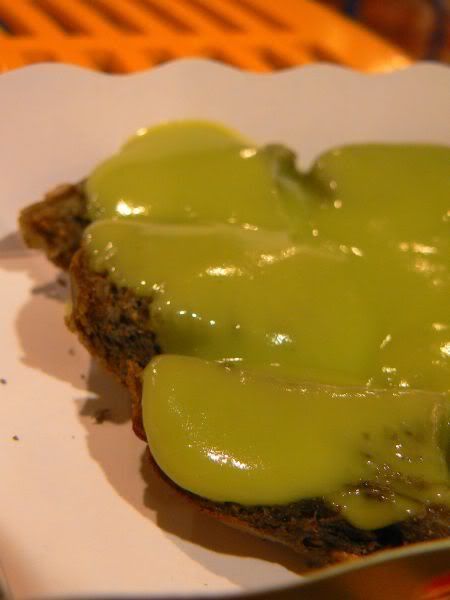 Kaya with Bamboo Charcoal Toast

Last weekend, it was retail therapy at the mall - kinda didn't help that the stores are all on sale. Anyway, I reckon I'm doing my part in boosting the economy. Who knows but I probably had a hand in the record breaking growth rate, they recently announced. I stumbled on this place, when we did a walkaround the lower ground level of The Gardens. Lots of new places now opened - Nyonya Colours, Yo! Sushi, Big Apple Donuts & Coffee, Shihlin Taiwan Snacks, I Love Yoo!, Jonker Street Desserts, Rak Thai and etc.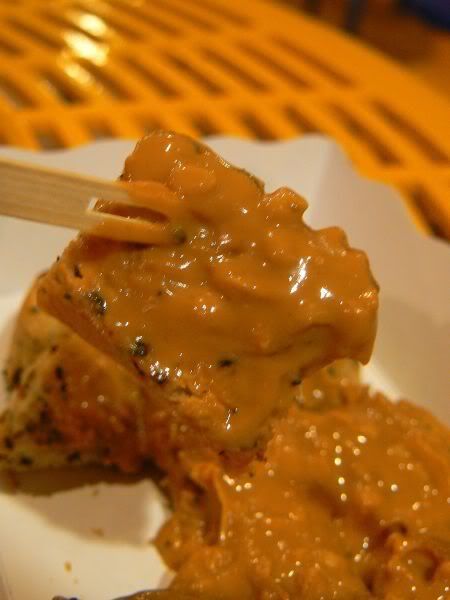 Peanut butter sesame toast
We were fascinated with the breads - a bamboo charcoal version that was grey black. I've eaten charcoal noodles before but first time, I came across, bread made from this type of charcoal. You often see this type of charcoal in organic shops (nope, it is not your ordinary charcoal or arang, you get from the sundry shop) and it's blardy expensive. The bamboo charcoal is popular in Japan, and is nicknamed the Black Diamond. Usually used as a detergent or to absorb nasty odours, research has shown it is also a good food additive - to help digestion and absorb unhealthy elements in your intestines. You can either get a loaf of bread (RM9) or just a slice, with various toppings.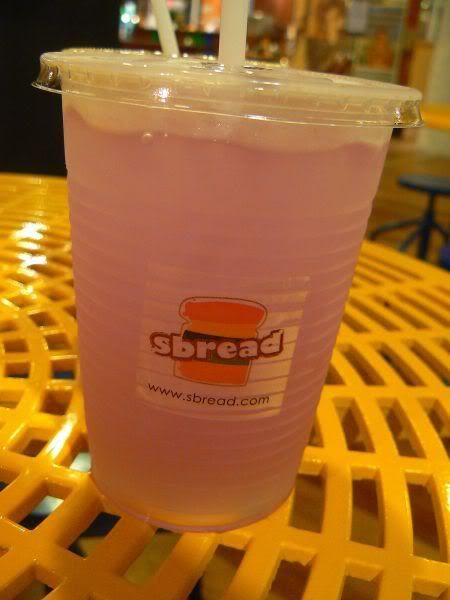 Barley drink
This place is from Thailand. They use 3 types of bread - plain white, sesame studded and the grey bamboo charcoal version. Samples are laid out with various toppings for you to test out the breads. There is a special type of kaya - very runny and multi-coloured (green for normal kaya, yellow for vanilla flavoured and purple for taro flavoured). Really tasty, these go well with the kinda tasteless bamboo charcoal bread. You also have milo powder (with condensed milk of course), chicken floss and peanut butter.
We sampled one kaya bamboo charcoal toast (RM3.90) - not bad and I love the kaya. Very runny but delish. Didn't quite like the peanut butter with sesame toast (RM4.20) though - tasted very ordinary. Aside from toast bread, they have drinks - a pastel coloured barley drink (RM4.80) and Thai ice tea (RM6.80), with a strong aroma. Can't really describe the taste of it but it tasted quite artificial and can be quite overpowering after a while.
We both liked the kaya version with the charcoal bread. Not much aroma to the bread. Guess I'll know more about it, as I plan to eat it for breakfast, since I bought a loaf. Didn't think the peanut butter version was great and preferred the Toastbox version instead. Prices are a bit steep. Worth a try once but not sure this will be a thing to keep eating all the time. Maybe that is why, this place was super empty even it was a weekend.
The Gardens
Mid Valley City
*Disclaimer: The opinions expressed here is entirely based on my personal tastebuds and may vary for others. The reviewer also declares that she has not received any monetary or non-monetary compensation from the restaurant for writing this review.
P/s I just noticed yesterday that Shanghai 10 at Bangsar is no more. Anyone knows what happened to them? Closed down permanently or just that outlet has relocated?

P P/s, for those who want to stock up their bookshelves, Times at Bangsar Shopping Centre (BSC) is having a relocation sale (20% off) from Thursday onwards. Think it is for the whole weekend. Don't worry, they're just relocating to where Esquire Kitchen was i.e next to Alexis. I reckon, this must be part of BSC's renovation plans, as I also read that House is shifting within the shopping centre.