One of my favourite places to dine at the moment, at the Gardens, is this little place next to Isetan, serving good food and yummy desserts. I love the clean look of this place - especially the green sofas (currently my fav colour) and the repainting of kopitiam chairs and tables to a soothing green and pastel blue.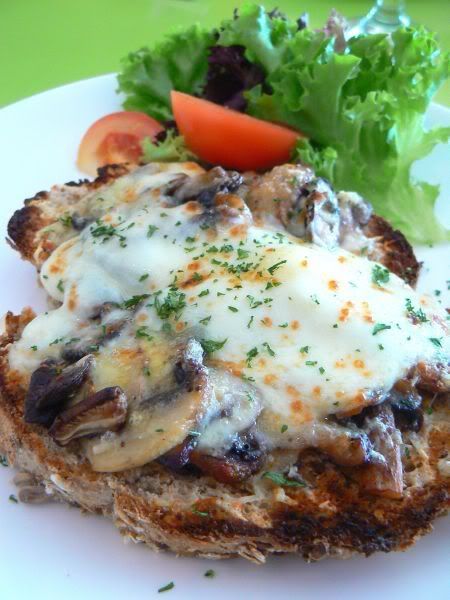 Mushroom and 3 Cheese Melt on Toasted Multigrain (RM18)
Food served here is fresh with an emphasis on natural and organic ingredients. I especially love their desserts as, they use real butter and unbleached organic flour. Makes a difference in taste.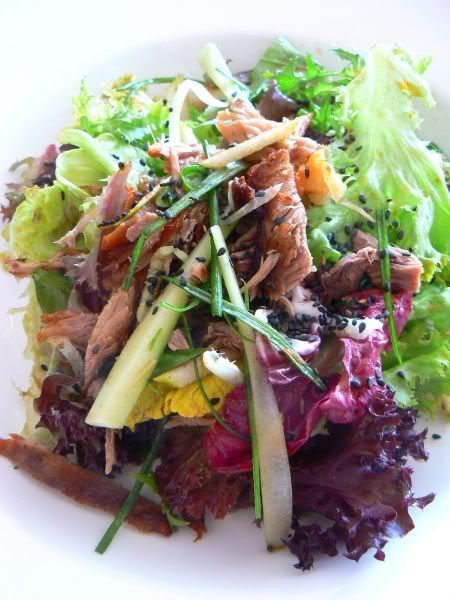 Crispy Duck Salad with Pear and Toasted Black Sesame (RM20)
So far, we have dined here twice - lunch and dinner and have been blown away by the food. Lunch was just a simple sandwich and salad, that we shared together. We had it with, fresh juices mixed and concocted by the restaurant. Not cheap at RM12 per glass but pretty good. One word of warning, don't try their home made lemonade as it does not taste much of lemons. Not sure if my glass was too diluted since I had it for dinnertime.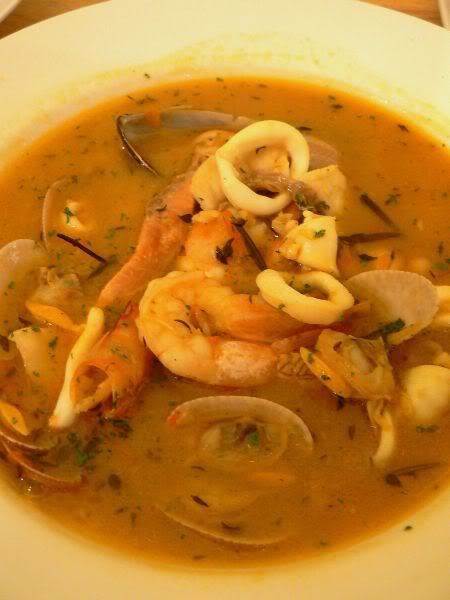 Mediterranean Zarzuela (RM38)

The sandwich, we ordered was yummy but I felt a bit dry. I loved the bread - granary with bits and pieces to chew, giving you lots of fibre. Topped with mushrooms and cheese, it was good but just a bit on the dry side, since no butter was spread on the toasted bread. We also shared a salad - topped with crispy duck that reminded me of the Peking duck you get in London. Very nice especially with the julienned pear and crunchy toasted sesame seeds. They don't add too much salad dressing to the salad also, hence the leaves are not soggy, leaving it nice and crunchy.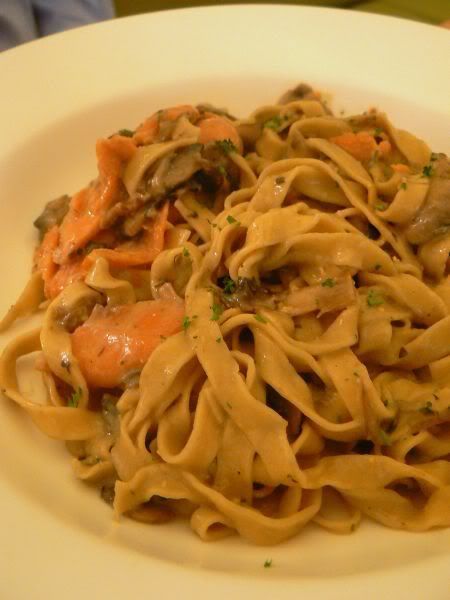 Tagliatelle Carbonara with Smoked Salmon (RM24)
For dinner, we tried their home made pasta (made from Italian flour and organic eggs). Splashie Boy had the Tagliatelle Carbonara - with mushrooms and smoked salmon. Thumbs up to this! Here, they don't drown it with cream, like other carbonara versions as it is made with egg only. You can request for cream, if you want but believe me it tastes just as good without. I had a hard time, resisting eating his plate of pasta. Next time, I'll order this instead. I had the Mediterranean Zarzuela, a kind of seafood soup, since I wanted something light. The soup is quite thin, but full of flavour from the fresh seafood (mussels, lalas, salmon, sotong, white fish) and herbs (rosemary and thyme).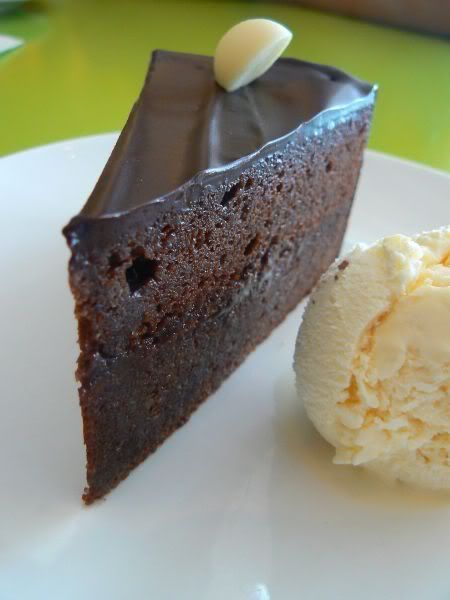 Flourless Chocolate Cake (RM10)
Desserts are a must here - loads of sweets to tempt you from the counter and their daily specials. We had the flourless chocolate cake - very moist and full of almonds, used as a substitute for flour. However, my favourite has to be their apple pie. Since they use real butter, the pastry is so soft and flaky. Soooooo good, especially when warmed up and eaten with vanilla ice cream. I reckon, I need to return to try their pies and quiche, since they probably use the same pastry.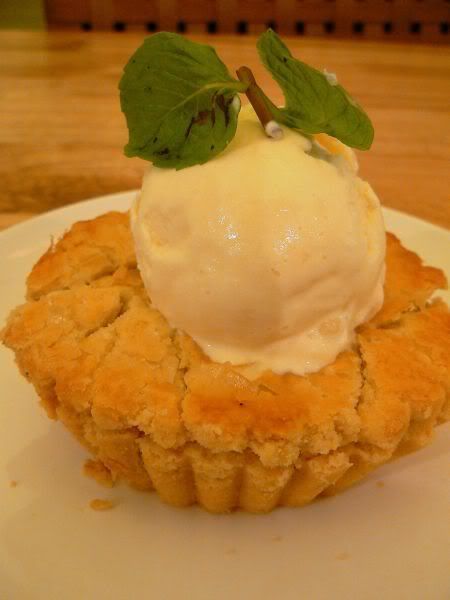 Apple Pie (RM12)
Aside from the menu items, they also have daily specials. They have also introduced a set dinner menu with 3 courses, for RM49++ per pax. Do give this place a try. That night when I was dining there, I saw a girl snapping a pix of her food too. Wonder which blogger is that?
Yogitree
Lot F-237B,
1st Floor, (Isetan Side)
The Gardens
Mid Valley City
Kuala Lumpur

Tel No: 03- 2282 6163
(Pork free. They also sell yoga clothes and equipment on the side.)
*Disclaimer: The opinions expressed here is entirely based on my personal tastebuds and may vary for others. The reviewer also declares that she has not received any monetary or non-monetary compensation from the restaurant for writing this review.

Tagged with: Yogitree + The Gardens

Other reviews: