golden perfection

Ah, the last month of the year is finally here...welcome December!! I'm sure everyone has been waiting for it since it signifies parties, parties and more parties to celebrate the year end.
salad and fluffy potatoes
I was fortunate enough to get a head start on the partying as good friends, M & G hosted dinner at their place recently. The star of the show was a hefty 3kg
Berkshire pork
roasted to golden perfection. Flown in specially by their friend Mitch from Toronto, this was definitely the ultimate feast for porky fans.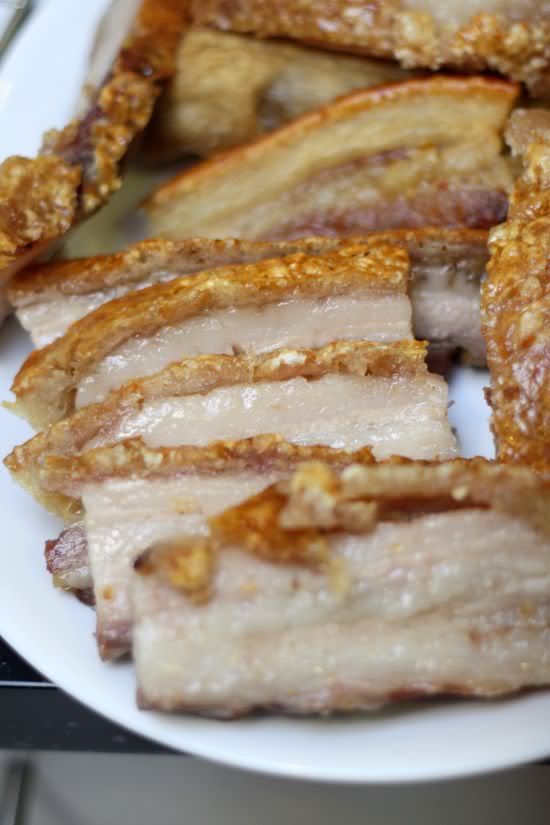 large slabs of roast pork
Roasted perfectly by the host, the organic pork melts in your mouth with a sweet taste. Leave the best for the last as the crackling is crunchy and to-die-for. Gorgeous just eaten on its own or drizzled with apple sauce, I reckon they have set the bar for the best ever roast pork I've tasted.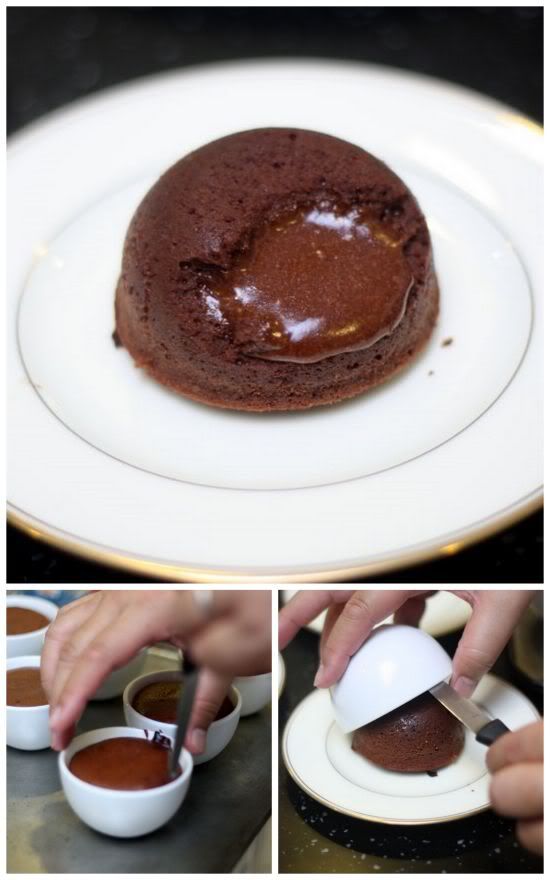 divine Valrhona chocolate volcanoes
Don't worry, we did manage to eat other things too, fluffy potatoes for a little carbo and of course, salad leaves to alleviate the oil. Prior to the grand dish arriving, we tucked in to wonderful aromatic thick mushroom soup made with dried porcini, dried trumpets, button and portobello mushrooms.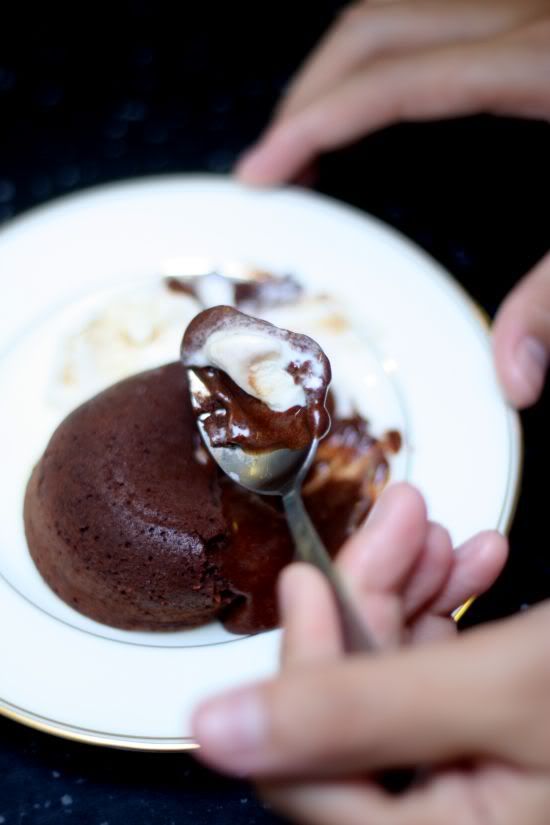 decadent chocolatey heaven
Dinner parties always must end with a dazzling showpiece and the hosts outdid themselves with their superb Valrhona chocolate volcanoes. Made purely from Valrhona Manjari 64% chocolate, it was chocolate heaven when we dug into to oozing chocolate sauce with Haagen Daz vanilla ice cream.
Thanks to hosts M & G, it was a wonderful dinner. Am honoured you asked me to share with you a little of that precious Berkshire pork. So nice to meet Mitch and hopefully he's going to start making quarterly trips to Malaysia together with precious cargo like this. More pictures can be found in
the Flickr set.
So what's your party plans for the festive season? Homecooked meals to celebrate the occasion or drinking marathons at every club in town? Or are some of you taking that customary holiday break and flying off to somewhere wonderful to celebrate the end of 2010? Do share your stories as we kick off one whole month of celebrations and recover in January 2011 before another party starts in February with Chinese New Year.