I'm so behind in my blog posts that it is so unbelievable. Motto of the moment - to clear the backlog before the year ends. Hope that holds true though, we'll see how things go.
Millesime has been in the horizon for some time since Max Chin is a chef we have grown to love ever since we first dined at his small start-up place in Tengkat Tung Shin. Subsequently he moved to a larger space at Ihaus. Now, he has moved on to this place. One thing I've noticed about Max is the open kitchen is a big thing with him. Unlike the more closed kitchen structure of Ihaus, this place gives me tingles that remind me a little of the old Tengkat Tung Shin place since it boasts an open kitchen albeit a larger version.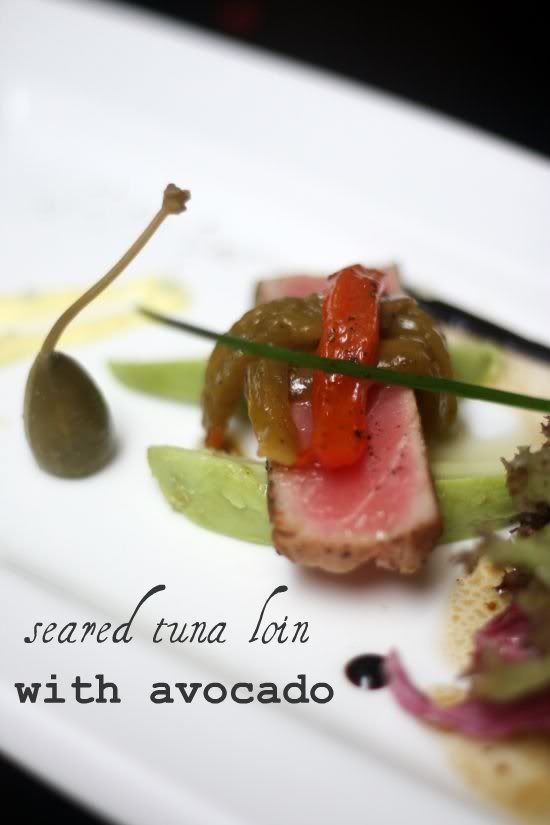 It's a nice comfy space - industrial chic cement look paired with red lit wine racks and the sizzle from the open kitchen to entertain you. We had dined here a few times - two full meals and the third one was just dessert, when we joined friends who were celebrating a birthday. After about a month plus, I reckon the kitchen is working well as even without Max, they were holding the fort down quite well.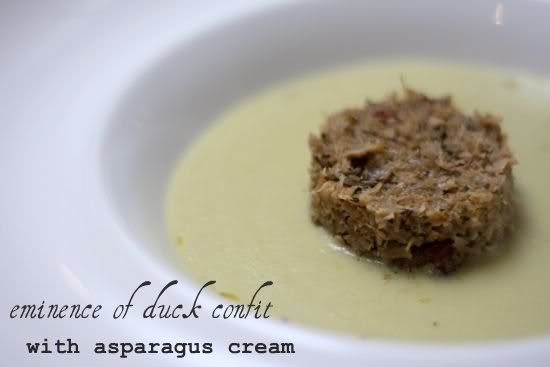 Rave reviews about the truffle menu have been peppering the blogosphere. Bolstered by friends who also had a fantastic meal there, we both decided to return specially on one of those rare occasions we are free to dine here.The white truffle menu is a choice of five appetizers for RM120++ whereby each dish has about 2 grams of freshly grated white truffle and a glass of GH Mumm champagne. There's a choice of the classic truffle pairing with soft poached duck egg with white asparagus, duck breast, blow torched sea scallops, parmesan cheese penne pasta with goose liver terrine, carpaccio of American Kobe beef tenderloin and duck fat poached Canadian lobster tail.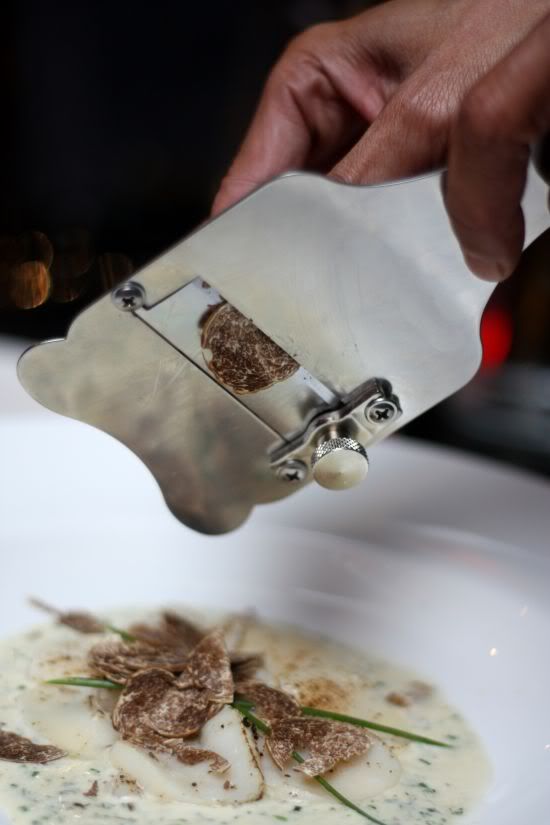 Degustation menu consists of 5 courses including a choice between two items for the main course. Changed on a daily basis, Max decides what's goes into the menu. It is very produce driven and dependent on what Max has managed to score in the market or import in from afar.
We kick off with an amuse bouche, smoked marlin roll ups that seem to be fast becoming another of Max's favourite ingredients. Regular diners will be able to recognise Max's signature style - the familiar tuna loin that appears in my appetizer, beautifully seared and paired with the soft avocado. There's also an octopus carpaccio with artichokes and a drizzle of Max's infamous reduced balsamic vinegar.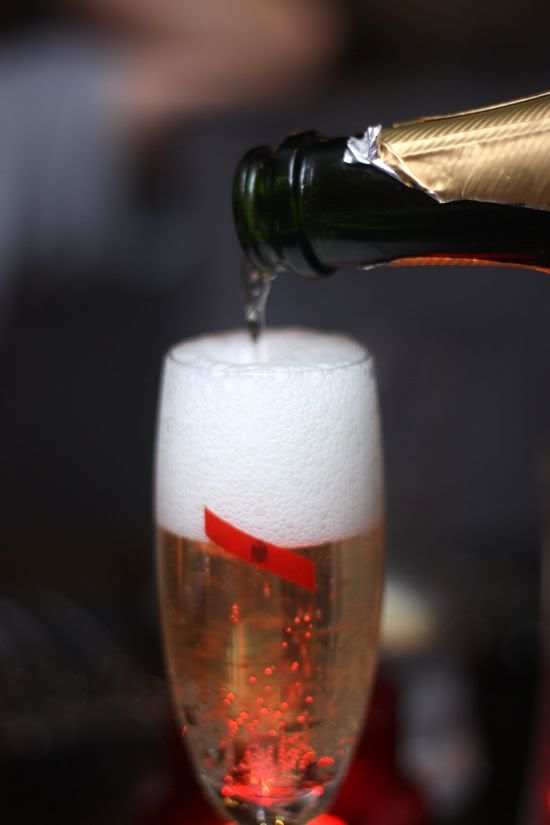 My favourite item for that night's dinner was the simple soup - an ethereal pairing of smooth and piping hot asparagus cream poured at the table that you mix with the shredded duck confit (one of the only ways to tackle our tougher local duck since we can't import in foreign fowl!). Spoon licking stuff that was crying out for a quick swipe of bread to wipe up the lovely creamy soup.
Next came more decadence as our appetizers arrived from the truffle menu. We had opted to switch one of our appetizers from the degustation menu with the truffle appetizers. I opted for the scallops and Splashie Boy obviously went for the Kobe beef.
No words to describe those scallops but they are decadent, sublime, wonderfully sweet and perfectly cooked. Even without the truffles, it tasted heavenly with the creamy dill sauce but the truffles pushes it up the scale to even higher greatness. Equally fantastic was the kobe beef carpaccio with slivers of the fresh truffles.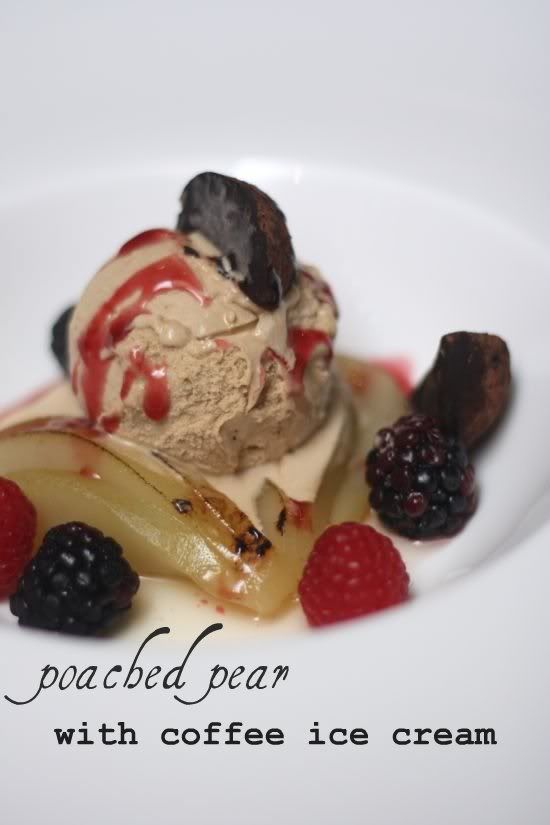 We had overestimated our tummy capacities as it there was our mains - a choice of the beef cheek or cod fish. While the braised beef cheek was divinely melt in the mouth, the cod did leave me a little dissapointed. It's strange but somehow I've had two issues with the cod fish here - just a tinge not as fresh as I like it to me. I did enjoy my strange dual coloured ravioli and the yabby that was hugging onto the potato for his dear life. Dessert ended with a pretty ordinary poached pear with coffee ice cream. What made that simple sweet end was it was topped with these soft chocolate truffles.
Generally we were rather happy with the food even though not everything was perfect like the seafood dish. The soup, scallops, beef cheek and Kobe beef carpaccio scored high points with both of us. It'll be nice to see how things unfurl at Millesime since their feet is now wet and ready to go. Hopefully we see more variety and unusual items coming up here as Max has always dazzled us with his culinary genuis.
Solaris Dutamas
Kuala Lumpur
(Pork Free. Closed on Sundays. Place is open for lunch and dinner. Truffle menu is said to be available for November/December but best to call ahead to double check availability. Degustation menu is RM150++ per person and 3 course lunch is RM55++ per person. Located at the side of Solaris Dutamas, in a seperate standalone building. The restaurant is tucked at one corner facing the Jalan Duta mosque. More pictures are in the Flickr set including my previous visit here.)
*Disclaimer: The opinions expressed here is entirely based on my personal tastebuds and may vary for others. This review is time sensitive; changes may occur to the place later on that can affect this opinion. The reviewer also declares that she has not received any monetary or non-monetary compensation from this place for writing the review.