meet hairy...from Shanghai's Tai Lake

It is really weird but I've not blogged about this wonderful place till now....took me long enough as I realised my first visit to this place was around December 2008 (almost 2 years ago!). I call it the triple S - subconscious selfishness syndrome.
decadent creamy roe - just what the doctor ordered
The food at Elegant Inn always impresses me and judging from other rave reviews, I'm not the only one. It's not just all about the taste but the passion behind it all. Throughout the years, Jeannette from Elegant Inn has become a good friend and the person I often reach out to demystify the mind boggling nuances of Chinese cuisine. She's very much involved in the restaurant with a passion and zest that most restauranteurs don't seem to possess even an ounce. That passion drives her to emphasise on the best ingredients - fragrant Bentong ginger and tofu puffs - handpicked dried seafood from Hong Kong - artisan soy sauce from Hong Kong and the list continues. She's also not afraid to experiment especially since her palate has led her to many great restaurants, hence in one dish, there could be sous vide methods and even balsamic vinegar!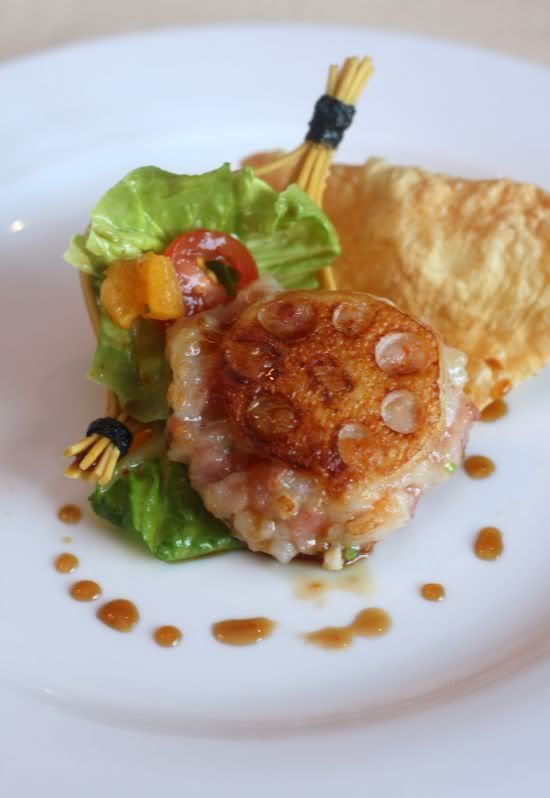 twin delight platter with smoky prawn cake and crunchy nachos
Back to the food and let us focus on their seasonal offerings that is available for these few weeks aka the Shanghainese Hairy Crabs - crustaceans that will give a hairy gorilla a run for their money. I'm a huge crab fan hence a yearly pilgrimage to the crab shrine to pay tribute to these sweet crustaceans with their luscious golden roe is a must. Simply decadent and artery clogging but luckily it was just what the doctor ordered since he was also partaking in the same delicacy as I was. Less of the guilt factor I reckon since it came medically approved!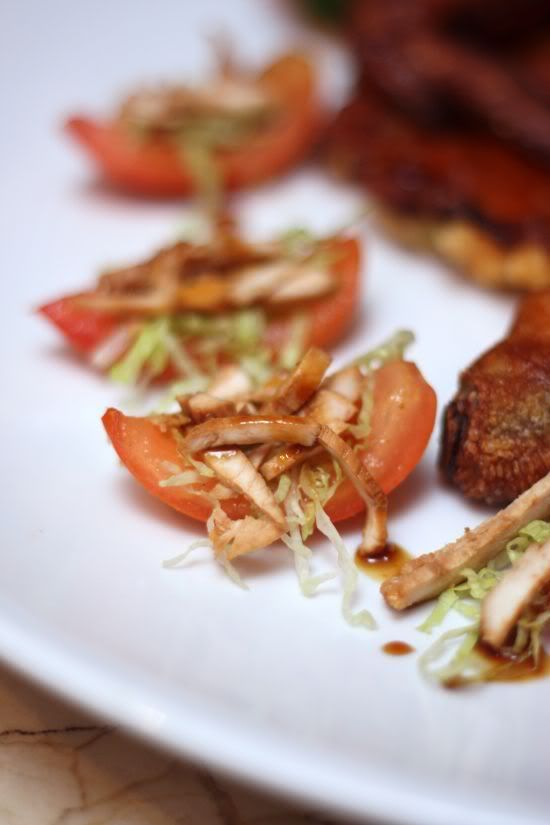 tomato chicken drizzled with balsamic vinegar
This year, Elegant Inn is promoting their six-course Hairy Crab set at RM118++ per person available in the next two weeks before the season ends. There is loads to line the tummy prior to the star of the show arriving. Nibble on the twin delight platter, artfully presented with a noodle basket that nestles the smoky prawn and lotus root cake. Don't miss out the crunchy and really addictive nachos on the side. Next is the hearty shark's cartilage chicken soup with shark's fin and bamboo pith.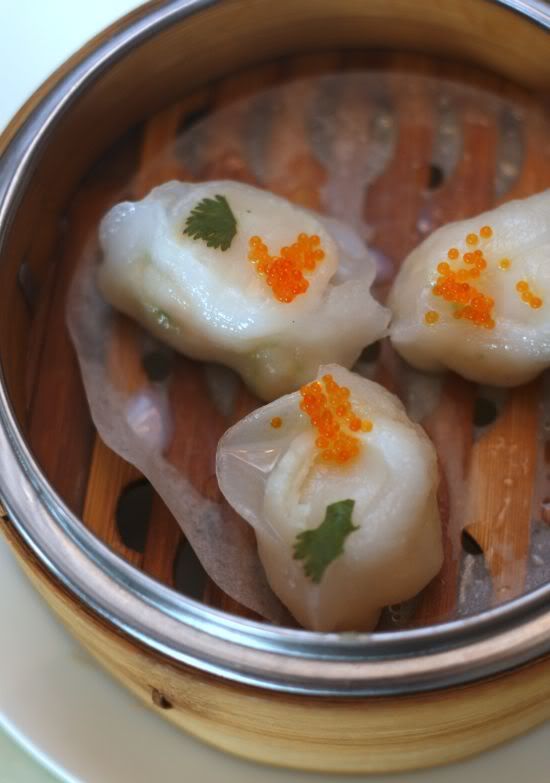 crunchy steamed scallop dumpling
Then (drumroll please) comes the man of the moment aka the hairy crab which should be slowly savoured piece by piece one. Once you gulp down the ginger tea to alleviate your heatiness, you can move onto some healthy greens with a dash of Japanese oyster sauce. Next is the carbs in the form of a braised rice with fish and pearl clam in abalone sauce dishes beautifully presented in an abalone shell. Round up your meal with dessert - crunchy nutty sesame ball with boiled ginger soup with white fungus and red dates. There's even fruits on the side to make the whole set way healthier than it sounds.
Dim sum selection: prawn toast, Shanghainese dumpling, steamed custard cake
You don't get bored eating here since there's wonderful dim sum to touch your heart for lunch time. They boast about 44 varieties - steamed, baked, deep fried, snacks, special items and desserts. My favourite is the innovative crispy vegetarian rice roll - their version of the Hong Kong char leong. Instead of the fried dough cruller wrapped in the rice roll, the version uses a crunchy deep fried Vietnamese netting that hugs together shredded vegetables. There's a long list of other must-haves from fluffy char siu buns, homemade taste fish balls, fluffy egg tartlets, steamed scallop dumplings and etc. Those with a penchant for sweets will also love the pillow soft steamed custard cake, the refreshingly icy longan sea coconut, black sesame and glutinous rice ball in boiling hot ginger soup (a personal fav).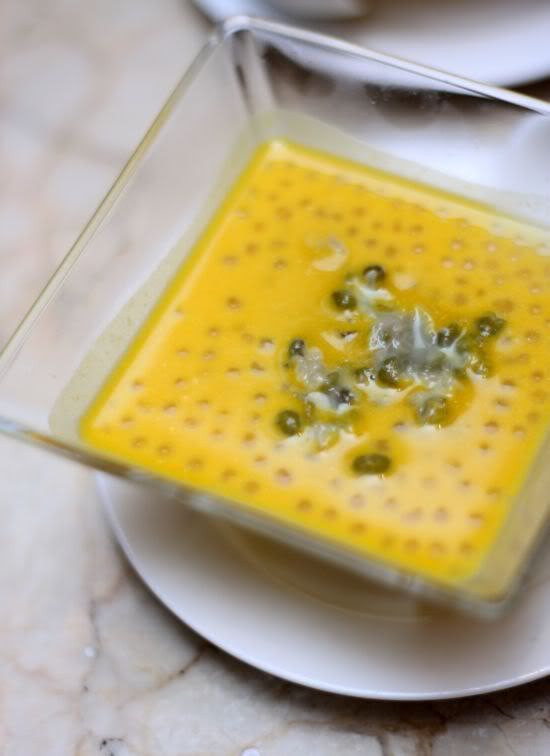 Japanese pumpkin dessert with green beans
On another occasion, we order the chicken with prawn paste - an old school dish given a new fangled twist. Similar to one eaten in Sek Yuen (theirs is fish paste), this is the deluxe version with bouncy prawns handchopped into a paste that is adhered to crispy roast chicken skin. I especially love the side bits - tomatoes topped with the shredded chicken drizzled with reduced balsamic vinegar. Another new dessert we sample is the Japanese pumpkin tong sui with green beans - refreshing and not cloyingly sweet to end another supremely satisfying meal here. Next meal here I reckon must be their must-have aka the seasonal lap mei fan (waxed meats rice) that is probably the best rendition of the Chinese New Year dish in town.
Elegant Inn Hong Kong Cuisine
2.01, 2nd Floor
Podium Block
Menara Hap Seng
Jalan P Ramlee
Kuala Lumpur
Tel: 03-2070 9399
(Non Halal. The original shop is located at No. 16, Jln Waras 1, Tmn Connaught, Cheras, Tel: 03-9130 2626. Hairy crab set is on until next week or until supplies run out. Call to avoid dissapointment. For more pictures collected from the two years, see
my Elegant Inn collection
on Flickr.)
*Note: Part of the meals were paid by me while others were by invitation from Elegant Inn.