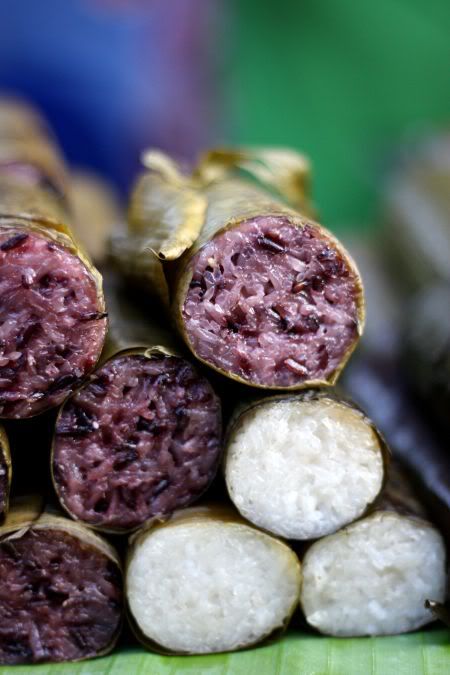 the unusual lemang pulut hitam made from black glutinous rice

Thanks to Adly from
Fried Chillies,
we discovered this great Ramadan Bazaar. A little off the beaten track from the city versions, this is definitely worth the short drive on the highway to get here. One testament on how good a bazaar is for me, is when I return from the place laden with plastic bags full of stuff. With this place, it was not hard to hit that target, as we wanted to get everything we saw.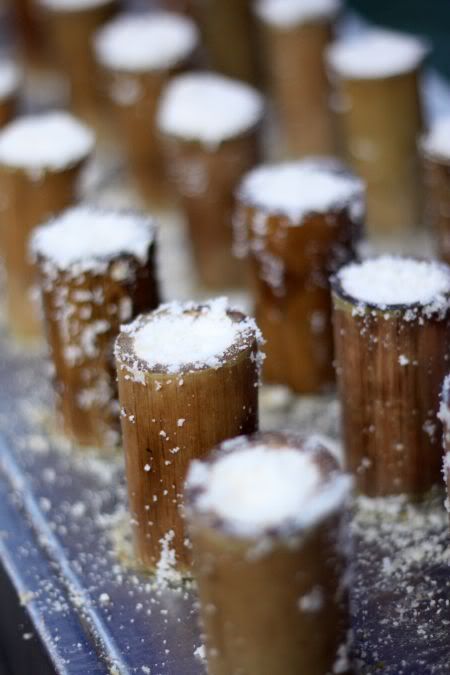 putu bambu in bamboo tubes being steamed
There seems to be abundance of Kelantanese food stalls here - loads of them selling nasi kerabu, blue tinged rice sprinkled with dried fish flakes and chopped herbs. One lady even called hers nasi kerabu hitam (nope, it wasn't black but blue!).


gorgeous mini apam balik with rambutan and pineapple jam
Since Kelantanese food was the flavour of this bazaar, you got a great variety of ayam percik, solok lada in all kinds of colours - light green to red! and etc.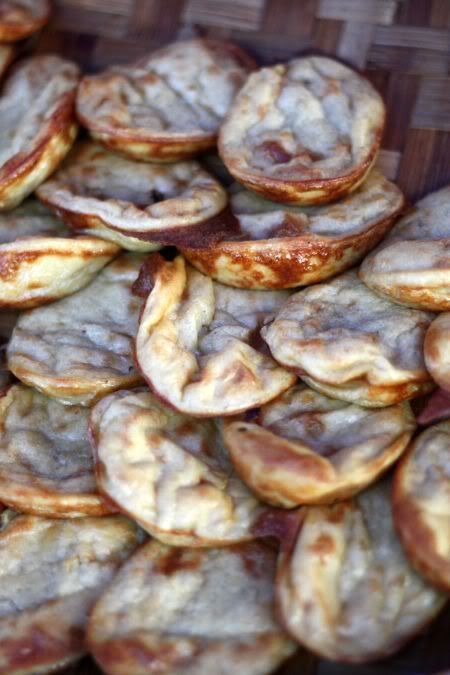 eggy and rich with coconut milk akok - one of the best tasted ever
My favourites were the sweet stuff. We discovered this mini apam balik stall - small cute crunchy pancakes that had unusual jams inside them like pineapple and rambutan jam. Really delicious stuff that seem to melt in the mouth. If you visit this place, do get those. It's 4 small ones for RM1.


1. lemongrass grilled chicken, 2. the crowd & smoke, 3. fruit flavoured tau fu fah
Remember I mentioned an abundance of Kelantanese food, it carries on to the sweet stuff and you find loads of stalls selling akok here. We stumbled on this stall we reckon must be good, since her akok was almost sold out even though it was early. Well, we struck gold as the akok was definitely one of the best I have tasted. Soft and decadent with a rich duck egg and coconut milk taste. Gorgeous stuff that I could eat with loads of bitter black coffee to counterbalance the decadent taste. If you ever drop by this bazaar, look for Akok Pak Ali Serdang. Damn good stuff, I definitely won't mind taking a drive to get a taste of.


We also discovered this stall selling lemang including the very unusual pulut hitam (black glutinous rice) version. Couldn't resist trying that and it was good, not as chewy compared to the white version and a little softer but still very delicious.


great soup and most unusual bits and bobs of the cow to go with it
The most unusual stall was the beef soup one. He was selling the soup with all bits and bobs of the cow - including the rarely seen intestines! The soup is gorgeous - kinda warms your toes and most importantly it tasted like beef soup. Some places seem to skimp on the beef bones they add, hence they taste more like dishwater! The intestines are kinda fatty though so one suggests, you ask for the mixed parts instead.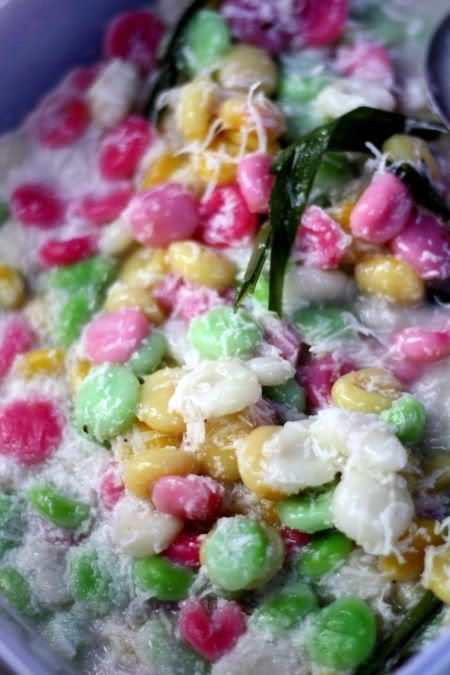 We also found an unusual mushroom soup place that also served fried oyster mushrooms, which we bought a packet of. A little chewy, the mushrooms were coated with spices and tasted pretty good even when it was cold.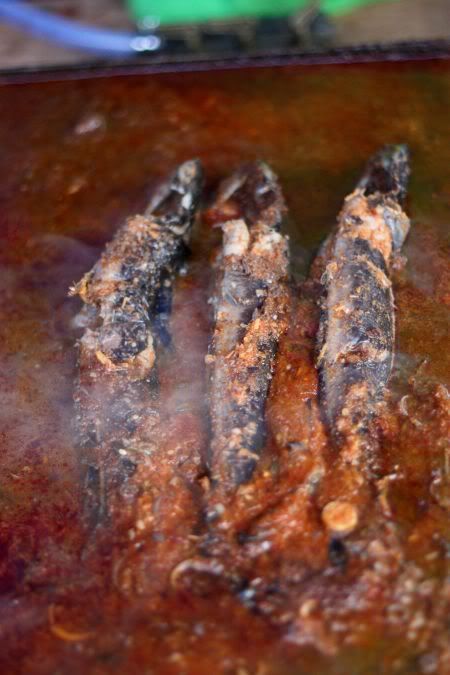 Organic items seem to have found their way into bazaars. Yesterday it was organic sugar cane juice and today, it is organic ikan keli (catfish) being sold here. They were cooking the fish in a sauce, that didn't look appealing though.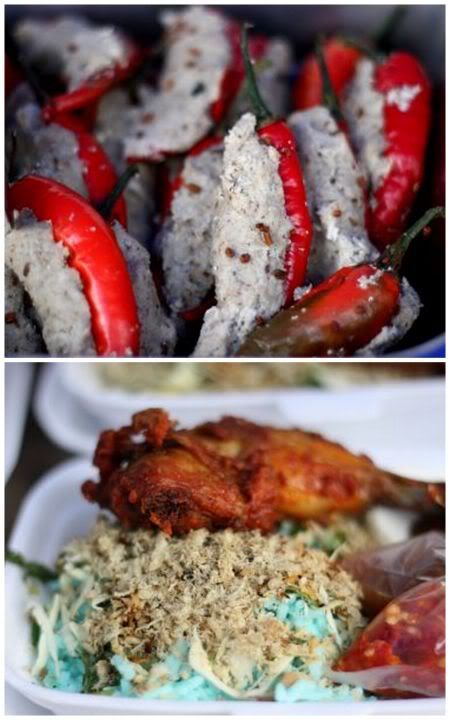 1. red solok lada, 2. blue tinged nasi kerabu everywhere here
There were loads of stalls selling chicken being roasted in contraptions they had made themselves. One particular stall had their roasting area placed on top of a drain! That particular stall was quite enterprising and favoured by many, as they chopped the chicken in various parts to be sold. Great way to get just the chicken pieces you like. I tried the chicken wings (RM1.50 each) and they were delicious. Not too dry and juicy.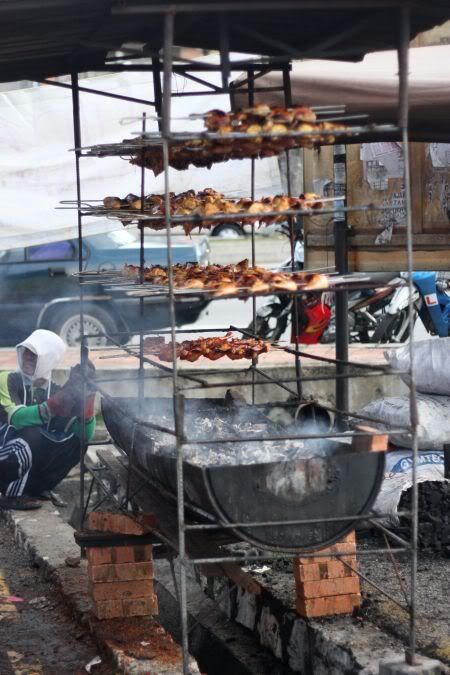 unusual way of roasting chickens, over the drain
The bazaar is under MPSJ, that seem to run the bazaars pretty well. They had one officer monitoring the situation and I liked how they had organised the smoky ayam percik and ayam golek fellas to one side, to prevent smoke getting into everyone's eyes when they walked past.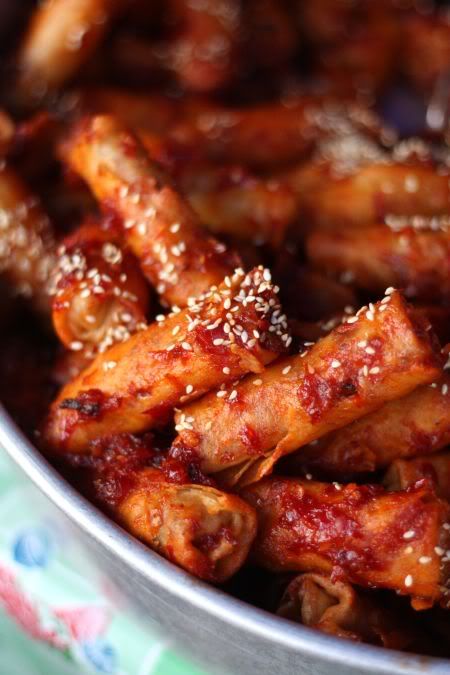 Most of the patrons of this bazaar are from the nearby university (UPM) and we did see quite a few foreigners gawking at the stalls and trying to figure out what to eat.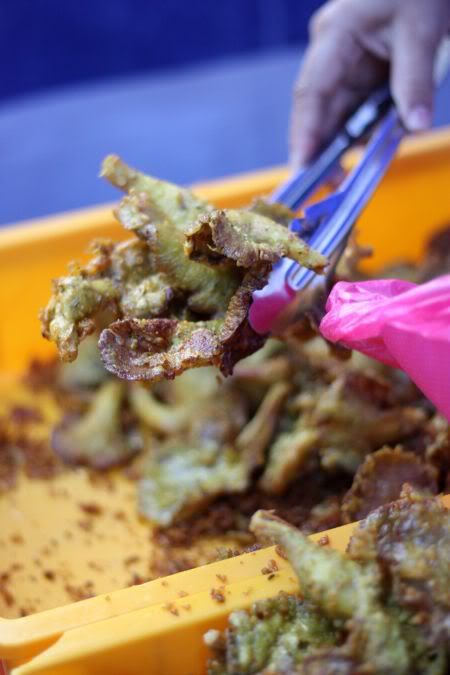 For me, the bazaar seems to have more home made items and it was not so commercial. Could see, most of the savoury food items were prepared at home and packed in plastic containers here.


my favourite kuih - the sweet kuih ayu
This place definitely gets my vote for best bazaar, that I have visited so far. Do make a trip down this weekend and check it out (since it is another long weekend especially for those who work in Selangor). You won't regret it. See my
Flickr set
for more pictures.
Ramadan Bazaar Sri Serdang
Starts around 4pm until buka puasa time about 7.30pm
(To get here, take the KL-Seremban highway, go towards Seremban and take the turning out when it says UPM/Serdang/Seri Kembangan. Drive towards UPM, pass the university and take a left at the second traffic light (after the Petronas station). Drive straight and take a right at the first traffic light. You will see Taman Sri Serdang's police station on your right hand side and a school on the left. The bazaar will be just after the police station on your right hand side.)