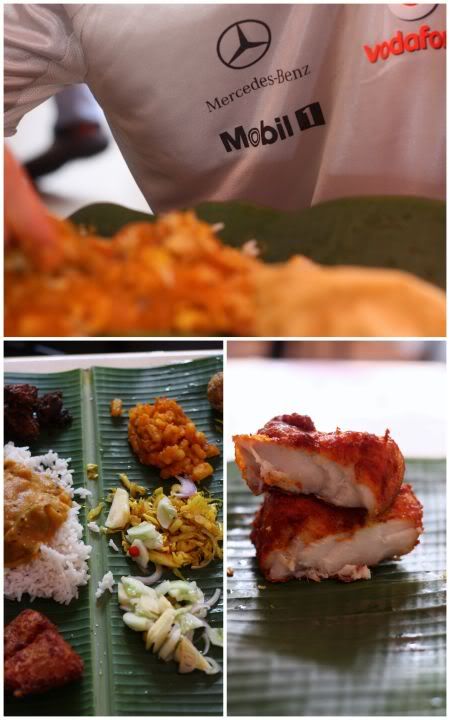 Banana leaf rice fueled Lewis Hamilton's win in Singapore GP - oops, wrong headline, it's just Splashie Boy enjoying Moorthy's banana leaf rice in Mayflower
Brickfields may be well known for its Indian food, located at every street corner in a form of humble stalls covered with zinc roofs or flashy looking restaurants with familiar names like Gopala or even Gandhi. Spend some time here, dig a little deeper and you will find that Brickfields is way beyond that.



Peter's pork noodles is one helluva popular stall here; be prepared to wait
The place seems to be a hive of religious activities with the large Buddhist temple facing the river and a Chinese temple right smack in the busy shops boasting red lanterns on one side and carved roofs on the other side. Everything is a contrast here; a stately looking church next to a ramshackle Indian temple where people are celebrating a wedding. One glaring contrast are the brothels disguised as discreet looking wooden covered shops manned by either a pimp or a female mama-san. One guesses, there are all kinds of believers who seek different kinds of penance here.



Prepping up Peter's pork noodles is akin to a military march; organised and precise

Not being very religious nor in the need for that kind of solace, both of us wandered the streets here to seek a little consolation for our tummies. Mayflower's coffeeshop is a charming contrast. On the first look, it is just a normal coffeeshop with people sitting down slurping down noodles but observe a little longer and you will find banana leaves intermingling with bowls of pork noodles on long tables.


After the fiery onslaught of banana leaf rice, cool down with a colourful shaved ice treat
Originally located at the Peking Hotel, Moorthys or Mathais' banana leaf rice is one of our favourite places for banana leaf rice. Introduced to us by a very good Indian friend, he called this his ultimate banana leaf rice, without any of those frills you get at the more commercial shops. Zoom in on his mutton curry (the dry one with loads of spices) and his famous thick fried fish. I also liked his fish cutlet, shaped like a large fishball packed with fish, potatoes and chillies.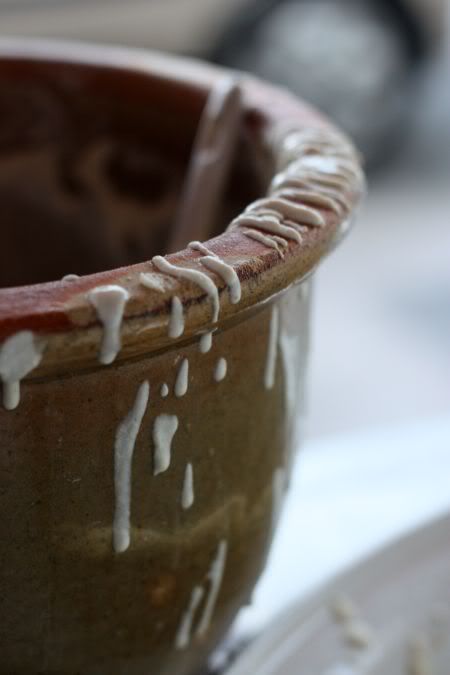 batter heaven
If you have loads of space within the tummy (I didn't though!), there's also the famous Peter's pork noodles. While I didn't get to taste his heavenly soup, I did manage to snap loads of pictures of the stall. There's a certain military precision on how the stall is organised - kinda like a factory production line. Make your order, take a number and they'll clip that on the bowl you order. One fella doles out the noodles you order into bowls, adds the topping or poached egg, while the master of the stall mans the large metal pots bubbling away.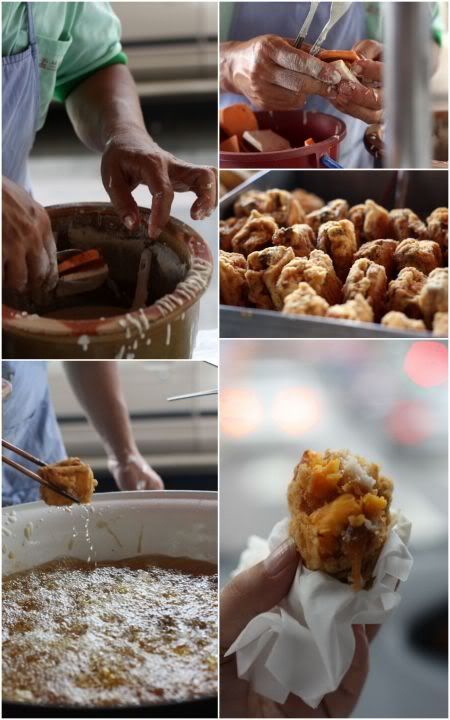 the making of the oh so humble! yet divine kuih bakul
A pre-prepared porcine broth (with a huge ham bone) is ladled in the large metal pot to be boiled. Once bubbles start to emerge, in goes the pork slices, liver slices and minced pork to cook. Time is of the essence here, hence once the pork broth is ready, it is quickly ladled into the ready bowls.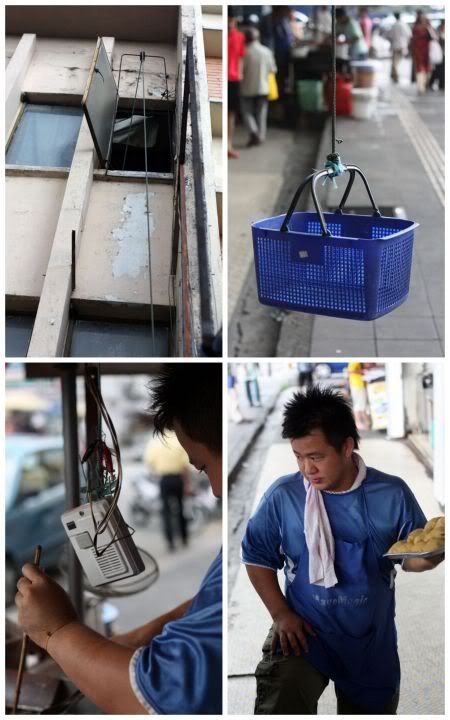 basket delivery

After a bout of fiery spices, the best way to cool down is with a little ais kacang next to the 7-11. Also popular for their coconut water, they do a unique ais kacang here topped with fresh coconut flesh. Sadly, the coconuts were too young this time round, hence we just had the normal version. Tables and chairs are not many (2 to be precise) and when the rain starts, you find a few of us huddled under the umbrella for shelter.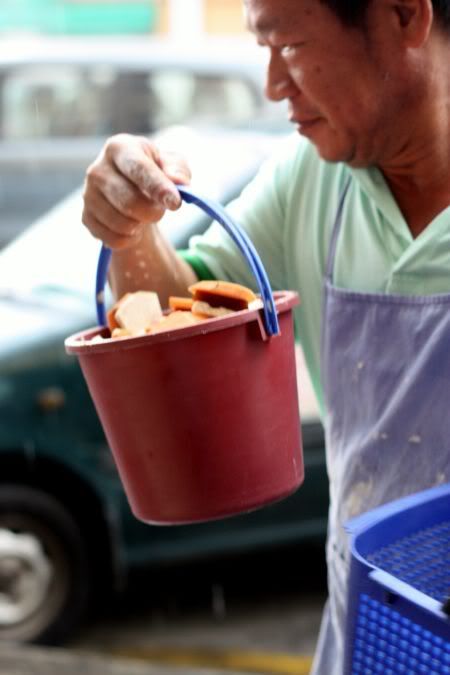 quick, quick...customers waiting!

After the cool respite, it was time to join the queue across the road for a little snack of kuih bakul, goreng pisang (banana fritters) and curry puffs. The 27-year old stall has many fans, hence be prepared to wait for your order. While waiting, observe the unusual way, they have organised their way of working. Since space is a constraint on the sidewalk, they prep the food items at a nearby shophouse (above the newsagent). An intercom connected with crude wires at the stall, passes the message up about the additional orders and they use a basket to bring down the goods from the first floor. It is a sight to behold especially when they break into a run carting curry puffs or prepped up slices of yam, sweet potato and nien koh to make kuih bakul.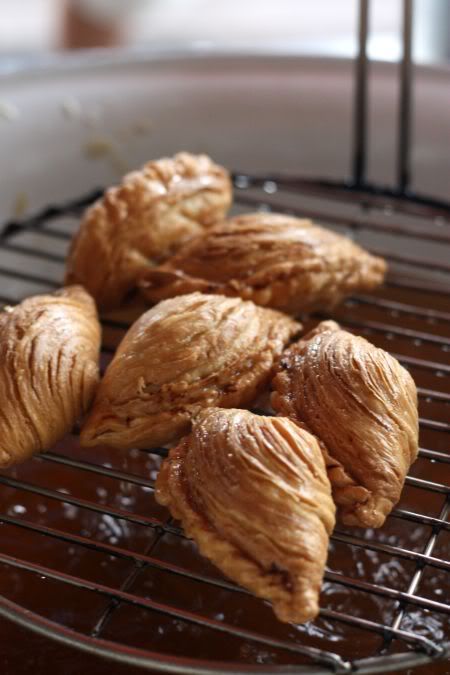 curry puffs fresh & crisp from their hot oil bath
Mr. Chiam who runs the stall with his son seems to follow a routinue, dipping the bananas, kuih bakul slices into a deep clay bowl filled with runny batter. Once coated, it quickly enters the hot bubbling oil. He seems to know when it is ready, checking the golden brownness and picking it from the hot oil to the wire rack to cool down. His son, follows a strict rule - he does not give you the piping hot fritters from the oil. It needs to be cooled down for some time on the wire rack, before it can be packed in plastic bags lined with white paper. That's probably why these fritters don't taste too oily and soften as fast as the other places.


waiting is needed here as they take pride in getting their products right
There's even a method on how he fries his curry puffs - placing it on a round rack and submerging it in the hot oil. When he brings it out from the hot oil, the golden brown and fat curry puffs with layers and layers are a sight to behold. Tastewise, you ask? Simply divine and gorgeous that one had to eat it piping hot in the car risking crumbs all over the black interior. Best of all, I had some leftover at night and they still tasted great. So next time, if you're visiting Kuala Lumpur, drop by here and do a mini food crawl around this area to discover tummy satisfying goodies. For more pictures, see my Flickr set.
Moorthy's Banana Leaf Rice & Peter's Pork Noodles
May Flower Seafood Restaurant & Food Court
144A, Jalan Vivekananda
Off Jln Brickfields

Banana leaf rice is pork free but not the noodles. To get here, look for B'Sentral behind the main road, the shop is located next to it and the carpark. The food court is below and accessible from the carpark. Banana leaf rice stall is at the end with Peter's pork noodles next to it.
Ah Keong's Ais Kacang/Coconut Water Stall
Jalan Padang Belia
Opposite 7-11 & YMCA
Brickfields

Pork free. Also sells coconut water, cendol. Open from 10am to 7pm. Previous blog post is
here.

Mr. Chiam's Pisang Goreng Stall
Corner coffeeshop opposite entrance to YMCA
Brickfields

Pork free. Open from 12.30 to 6.30. Call the number in the picture, if you want to order extra.
*Disclaimer: The opinions expressed here is entirely based on my personal tastebuds and may vary for others. This review is time sensitive; changes may occur to the place later on that can affect this opinion. The reviewer also declares that she has not received any monetary or non-monetary compensation from this place for writing the review.

Tagged with: Brickfields + Banana leaf rice