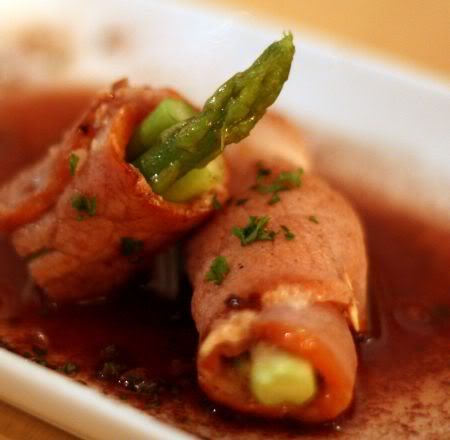 Devils on horseback aka bacon wrapped asparagus served with a red wine reduction

Cristang seems to be hogging the limelight at the moment (pun completely intended) - at least once a week, either a friend, a blogger or even someone I've only met once or twice, will bring up the restaurant's name. Hence, one night after a very bad day at work struggling with strange requests from our superiors that had us questioning their sanity and ours, a group of us gathered here to seek solace for our souls (and tummy).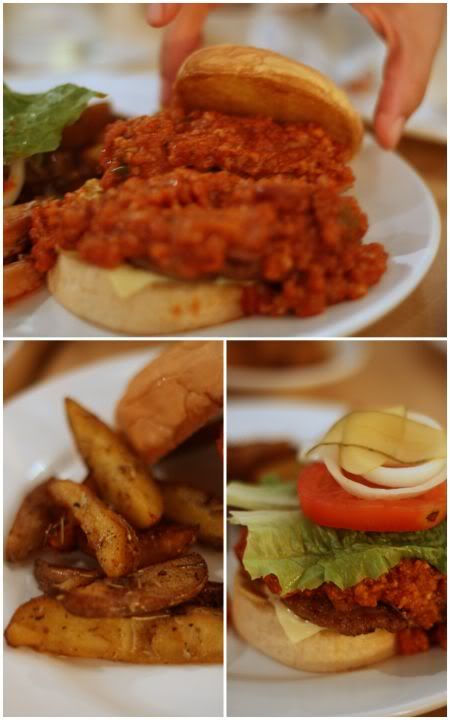 the porky burgers are excellent here, eat it all just like a sloppy Joe

Delving into Cristang's menu, you will find all kinds of bacon and pork dishes that will make any porcine lover's heart beat faster. Even the simple fried rice is given a double porky dose - fried bacon and lap cheong.

There's also Western styled dishes like pastas in the menu.




we love you, Mr. Ham Bone Ambila and want to take you home anytime
A lot has been raved and blogged about their pork burgers - juicy handmade patties served with homemade chili con carne. Each one of them come with uncomplicated labels ranging from P1 to P7, with a variety of toppings and fillings. A little bird known as
Eat Drink KL
updated me last Friday, that the range has just been expanded to P8 and P9 based on the Korean bulgogi. When our P7 burger came, it resembled more like a Sloppy Joe with a generous topping of chili con carne. We had gone for the petai (stinkbean) version and expected it within the chili con carne topping but was pleasantly surprised to find it nestled within the juicy patty. Incredibly satisfying, the burger was given the thumbs up by all of us. The sides of fries and the cajun prawn was average tasting, being overshadowed by the awesome burger.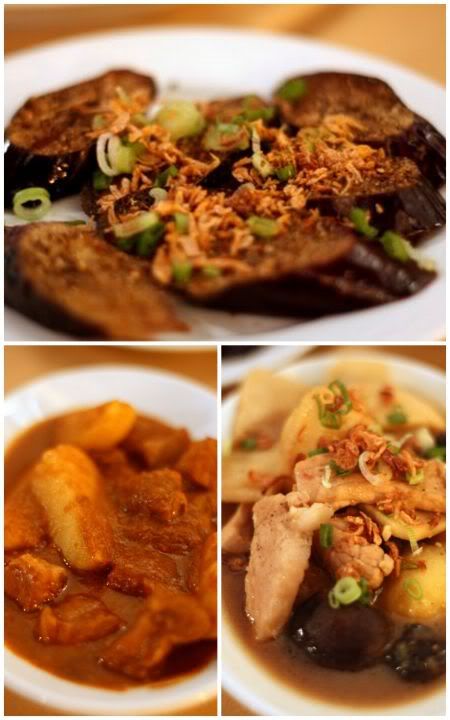 1. eggplant topped with tiny shrimp, 2. babi pongteh, 3. pork vindaloo
Of course, when it comes to Portuguese food, one must order their curries inspired by their colonial ancestors. Instead of going for the famous Devil or Debal curry, we aimed high with the ham bone ambila, babi pongteh and a pork vindaloo. Eaten with loads of hot white rice, the winner of the night was the smoky taste and I-can't-get-enough-of ham bone ambila. It was so incredibly good, very more-ish and extremely tummy satisfying, my friend S had to order two more portions for her family and a friend. Another winner for us that gave a slow burn to the tongue was the pork vindaloo, a more-ish dish we ate with a relish. However not everything won us over, as the babi pongteh fell very short of our expectations with the thin sauce and lack of taste. The eggplant served with crispy teeny weeny prawns was a nice contrast of textures but tasted mediocre only.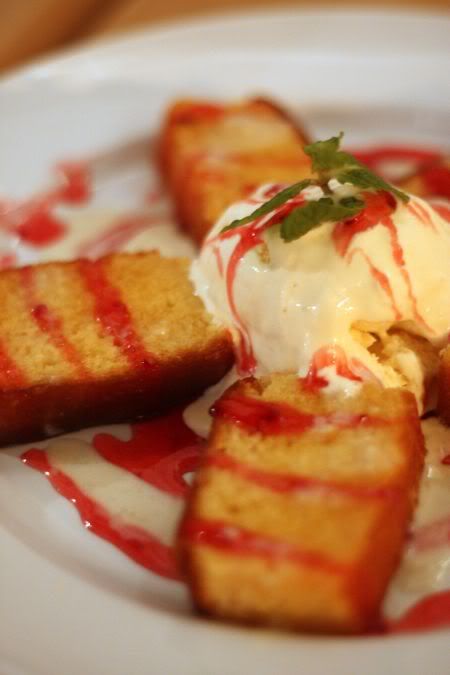 ordinary yet comforting butter cake anglaise
For desserts, feeling very lost we asked the owner to recommend his specialty, which he told us was the butter cake anglaise. Supposedly pan fried, the butter cake didn't yield much of a crust but nevertheless it was still very nice and soft. Drizzled with strawberry sauce and served with vanilla ice cream, the dessert may not win you over for originality but was very comforting to eat. We also tried the banana chocolate crepe, quite a nice and simple dessert. After that extremely porky meal, we all felt so much better. I guess it is true - anything porcine does heal your soul and make life a little better. Wonder if they'll convert that into a miracle pill?
(Non Halal. Place is open for lunch and dinner. Do check with them as they have special discounts for certain days. To get here, from PJ Hilton from the highway, turn right at the first traffic light after Syed Restaurant. Go straight until end of the road, past the shops and take a right turn, go straight and make the first right turn into a commercial building known as 8 Avenue. Drive down and you will see Cristang on your right hand side.)

*Disclaimer: The opinions expressed here is entirely based on my personal tastebuds and may vary for others. This review is time sensitive; changes may occur to the place later on that can affect this opinion. The reviewer also declares that she has not received any monetary or non-monetary compensation from this place for writing the review.