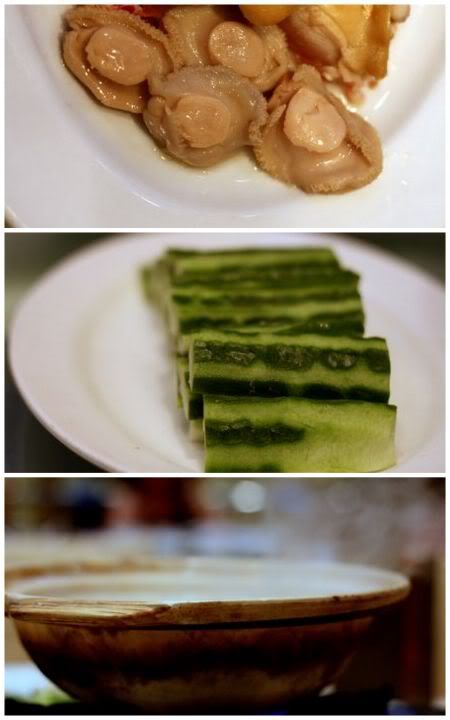 1. abalone (not very big but still satisfying), 2. greens never look so good, 3. the claypot of goodness
Regular readers to the blog will know I rarely eat steamboat. A weird fact I know but I've never fancied the spread you get in the restaurant - fishballs coupled with a soup stock that always used to give me an MSG induced migraine. Hence when a friend of mine asked me to try some steamboat this week, I was a little hesistant. However, since it was at Gu Yue Tian, a place that seemed to have eluded me for quite some time, I decided to just throw in the towel (or shouldn't it be ladle in this case?)


the decor with the private rooms at the side

Strangely enough, I have heard numerous stories about the food at Gu Yue Tian but never tried it. One story that fascinated me so much was a family friend's situation - the children heard rave reviews about the place in Singapore, came to KL, searched high and low for the place and when they reached there, they were dissapointed to discover there were no lifts (the mother is in a wheelchair). Not wanting to turn back, the son in law carried her up the stairs and they enjoyed the meal tremendously, which was well worth the effort.


1. prawn tail, 2. the crunchy coral clam, 3. beautiful eel all cooked, 4. the seafood platter, 5. add prawn heads for extra flavour to the porridge

I reckon I don't dine at new places because my family are creatures of habit - whenever we eat out, it's just the regular comfort spots like Overseas on Jalan Imbi, Pik Wah at MABA, Fong Lye at Desa Sri Hartamas and etc.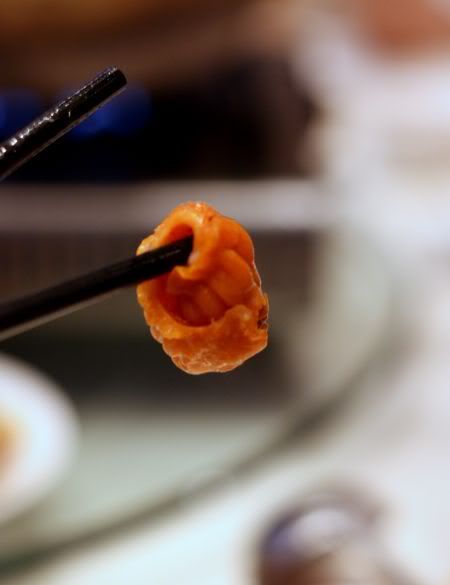 I love you...oh, crunchy coral clam

Back to the steamboat served here - a special only for the month of August (so one better go eat quickly or be sorely dissapointed!) Costing RM57++ per pax (a minimum order of 4 people is required), you get a wonderful spread with nary a processed fishball or MSG in sight. Instead, they serve you, a watery chicken porridge broth with the subtle aroma of
dong kuai
and a spread of unique steamboat items (don't worry, the broth thickens up at the end to become porridge). You can also order these items in the a la carte menu but then it will definitely take a bigger hit to your wallet.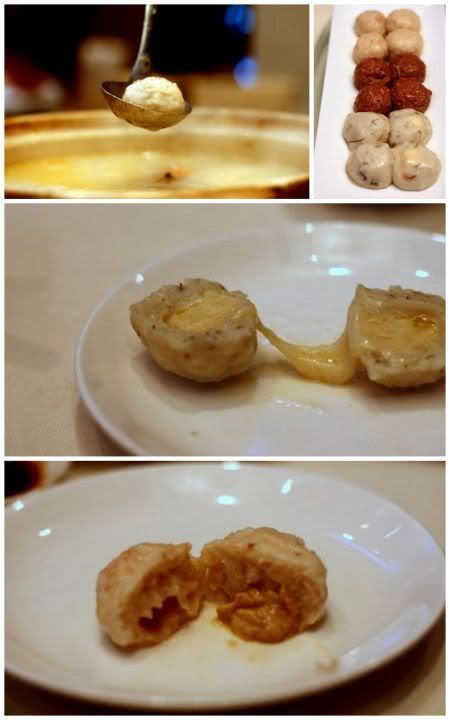 1. cooking the balls, 2. the assortment, 3. stringy emmenthal cheese is delish with cuttlefish ball, 4. the decadent foie gras stuffed prawn ball

We kicked off with the kampung chicken, those tough scrawny chooks that taste so much better vs the soft flesh of the battery raised chickens. To give flavour to the watery porridge, abalone is added and quickly ladled out (we had a little search and find operation for them).



the communal cooking pot

Then things started to heat up with the seafood, which you gently cooked very quickly to avoid making it tough and inedible. I love the texture of the Taiwanese fresh water eel (RM20 per 100gm) - not too tough but with a slight yield to the mouth. Definitely on a world of its own vs the other eels I have tasted. Utterly no sliminess but just the fresh taste. Then, it was the prawns, first the head looking a little ominous floating in the porridge and the sweet tasting tail. Quickly ladled up, the prawn is sweet and cooked to perfection. Leaving the best for the last, it was the coral clams (RM30 per 100gm) just dipped and savoured straight away. I love the crunchy texture of the clams in my mouth that one wished they had more

than a few pieces from the set. Tasted a little like akagai but so much better.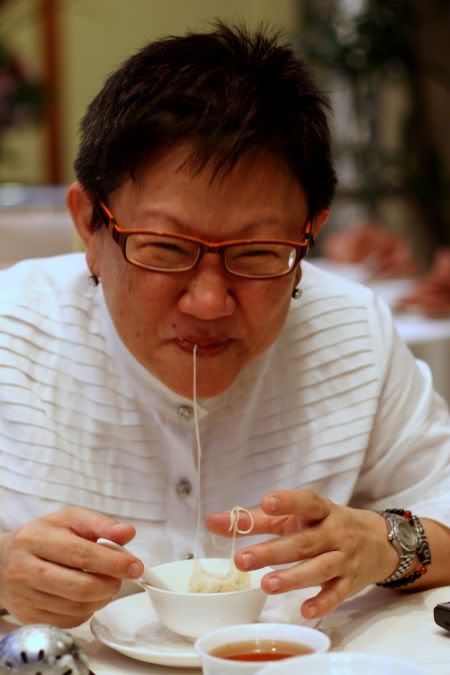 getting all tangled up with the cheesy ball

Next, it was Gu Yue Tian's version of the usual steamboat fare you usually get - high fangled balls made at their own kitchen, like cuttlefish with cheese, venison with black pepper and the ultimate luxe - prawn ball with foie gras. That was the first item to go into the claypot and it was awfully good with the creamy foie gras. Sheer decadence! The venison with black pepper took a little while to cook since it was so huge, that we had to chuck it in a few more times to cook.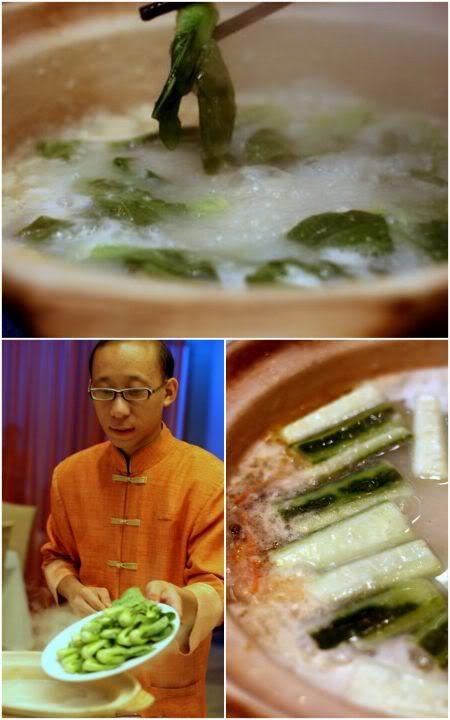 1. vegetables never tasted so yummy, 2. nice angled loofah, 3. our funny and asbestos hands waiter

For the cuttlefish ball with cheese, we were given the cheddar stuffed version first that tasted a tinge too salty. Seems they usually do a version with emmenthal cheese, which we were given a try and that was just perfect as the cooking, melted the insides into a creamy and stringy cheese. Yummy stuff that you get all tangled up with.



piping hot noodles???

Even the vegetables tasted awfully good - the sengkuang or angled loofah was soft and not fibrous like the ones I usually get in other Chinese restaurants. Eating something as simple as vegetables were so delicious as the porridge broth was reduced and packed with flavour from everything we cooked in. Last but not least, we chucked the arrowroot noodles (mai seen), that resemble laksa noodles but with less bite. Such an incredibly tummy satisfying meal. Best of all, for those who hate the hassles of preparation and washing up, you get a certain satisfaction with cooking your own food here. Moreover, this is definitely one steamboat where you don't need to use your dip to add flavour, since it is already brimming with its own natural flavours.



the gorgeous sweet ending....the unusual bittergourd pudding (RM8)



For desserts, I was recommended the unusual bittergourd pudding (RM8), a cold dessert specialty of theirs here. A little weird sounding but damn, it was incredibly stuff - slightly bitter tasting jelly made from bittergourd juice paired with a sweet honeydew cream that was whipped into a foam. Tasted so light with just a hint of bitterness and a overlayering sweet taste from the honeydew. Gorgeous stuff! Now I'm keen to return to try other items like dim sum and their a la carte menu but first, let me break my family's habits or else it is another round of Overseas this weekend.



Restoran Gu Yue Tien
Lot B5-A, Chulan Square
92, Jln Raja Chulan
Kuala Lumpur

Tel: 03-2148 0808

(Non Halal. Park behind and get a parking voucher from there to pay a flat rate of RM3. For more pictures of the steamboat, see
the flickr set.
)

Other reviews: