the old style & simple decor

I'm a keen fan of
Malaysian Insider's food column,
making it a regular weekly read for food recommendations around the Klang Valley and afar. Hence, when I chanced upon the mention of "nasi tumpang" at this newly opened outlet called Warung, I was mighty curious.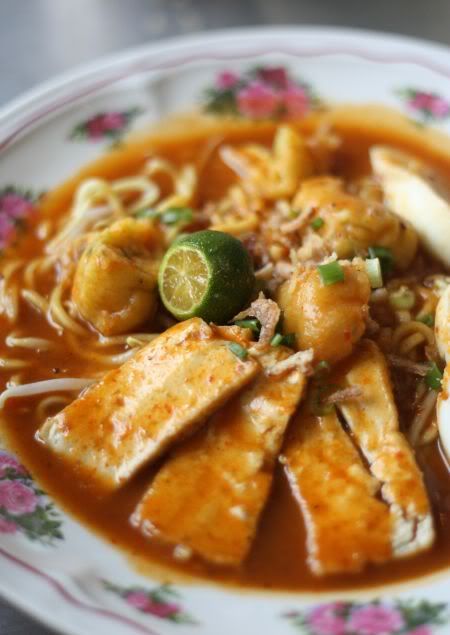 the bright orange mee rebus
Nasi tumpang, the Kelantanese special has always held a special memory in my tummy. I still remember my first time trying the green banana leaf wrapped rice in Kota Bahru. Found at the infamous White House, where you get perfectly soft half boiled eggs with toast, I fell in love with the slightly sticky and soft rice shaped like a thin pyramid with serunding and curry.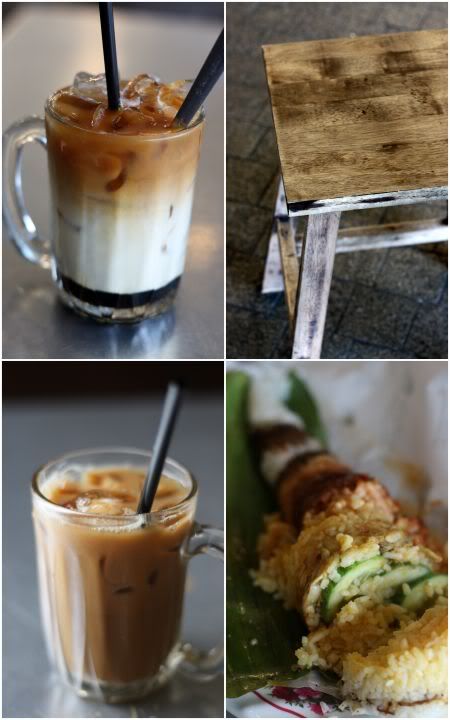 three layer tea, the inside of my nasi tumpang and the rustic stool

Even though I craved that first bite, I never did encounter nasi tumpang in Klang Valley until recently when I read about it in Malaysian Insider. Earlier on, Belanga at the Gardens got me a little excited as they claimed to be selling it but it came up to empty promises (I've not checked recently though, so maybe they have added it into their menu).


nasi tumpang, looking nice and tall served with crackers and achar

Whatever it is, I'm satisified with my nasi tumpang here that comes chockfull of goodies - a layer of serunding, chicken curry, cucumbers and sambal. The ones here is definitely bigger than the nasi tumpang from Kelantan, as I remember eating a very simple one just sprinkled with a little serunding. How did these funny shaped rice parcels come to existent I often wonder? I remember asking a Kelantan person on its origins and they said, this was packed for journeys, making it an easier bite (since the rice is a little more sticky and compact) to eat compared to the looser nasi lemak packets.

Back to the premises, located just next to the walkway to Northpoint and the KTM Komuter extrance. I love the decor here to, very old style with zinc-aluminium topped tables (remind me of my school canteen days) and long wooden benches and stools. I've also tried the mee rebus here, which didn't blow me away compared to
Rosli Mee Rebus
(the ultimate one but a different version). Nevertheless this version is pretty good but not the best ever. Next time, I reckon it will be the nasi lemak for me and their seri muka, which I heard is to die for.
(Halal. Open from 8.30am onwards. Next to Rotiboy and near the KTM Komuter entrance.)
*Disclaimer: The opinions expressed here is entirely based on my personal tastebuds and may vary for others. This review is time sensitive; changes may occur to the place later on that can affect this opinion. The reviewer also declares that she has not received any monetary or non-monetary compensation from this place for writing the review.

Tagged with:
Malaysian Food
+
Nasi Tumpang