1. the amazing facade and windows here, 2. smile, you're on the camera, 3. old style barber

It's been a while, since we did some small town exploring and since we had to drop by Ulu Yam to pick up some documents, we swung by Kuala Kubu Bahru for a quick bite. As usual the journey vide Rawang is harrowing with the crazy traffic jams. The town seems to be booming, expanding way beyond the one road that you find loads of new shophouses around. A certain someone did get a little impatience with the slow driving of the locals, hence he overtook the car and unfortunately got caught for that. Turns out the police are always catching people at the Serendah corner and since we're no locals, we fell for that trap and Splashie Boy got a summons.


Hainanese chicken chop, simple stuff

Luckily the drive towards Kuala Kubu Bahru was uneventful after that. Been ages since I've dropped by the town. One remembers climbing the Chiling waterfalls and doing a number of river crossings here, a very long time ago. Most of you will know the town for its white water rafting now and also the town right before going up to the hill resort, Frasers Hill.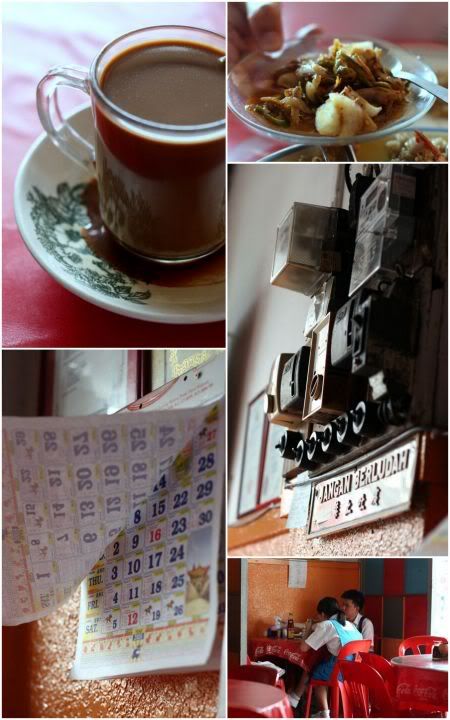 1. Coffee, 2. piquant pickles, 3. don't spit here, 4. dating couple, 5. watching the days flip by

The whole town is well preserved, with old buildings dating back to 1930s mixed with some modern renovations and new shoplots. For lunch, we ended up at the old style Hailam restaurant, Sun Sun Seng Nam on Jalan Mat Kilau. This place is quite famous with loads of Chinese newspapers cuttings on the walls. When we got there, lunch was just ending for the locals, who were still sitting around chatting. There was even a couple of school going kids dating at one corner.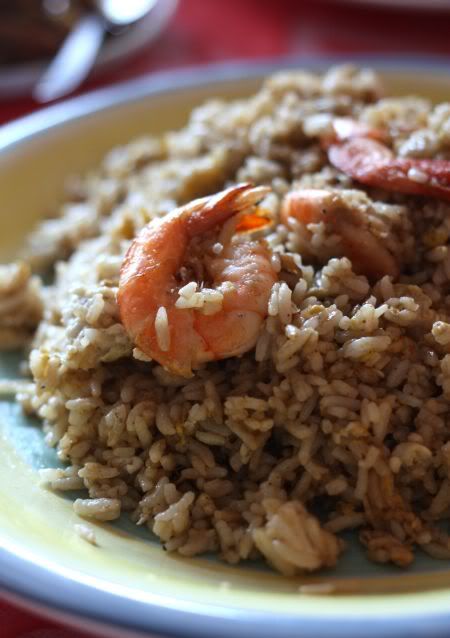 fluffy and simple Hainan fried rice

The place is obviously a great fan of Coca Cola, as the tables all have red plastic cloths with the word emblazoned on it. I liked the old wooden dividers that give a little privacy to people from peeping toms, for one side of the table. The owner is obviously an upright citizen of the town - there's a number of approval letters and accolades from the police, firemen and etc plastered all over the walls.


the bar with the approval, tiny bottles of Guinness from yesteryear

The menu is simple with the choices made clear cut for us - chicken chop or hailam mee or hailam fried rice. We decided to go for fried rice and the chicken chop. Thumbs up to the food! Fried rice was fluffy and fragrant with prawns and egg. They gave a sourish pickle made from green chillies, ikan bilis and onions on the side, that added kick to the rice, but it tasted fine on its own also. I liked my chicken chop, simple and plain with a brown sauce, onions and peas. The coffee was also good but not fantastic.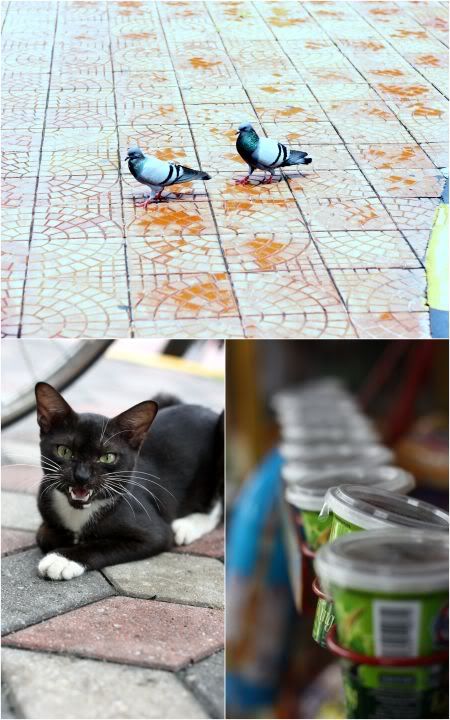 1. Be my friend, please!!!, 2. disorder in the kaya bottles, 3. snarl! go away
Best of all, we walked around the place and found so many great shots - an old bar with the sign saying it is approved by Her Majesty's Forces and tiny Guinness bottles from yesteryear. If you look closely, you will see each bottle has a different animal on the label. There's also an old Indian barber at one side of the road, mixed with modern shops selling Hello Kitty balloons and loads of sundry shops. Suprisingly there's quite a lot of youngsters hanging out at this town, probably because it is near a few government school hostels. Even spotted a cafe selling waffle cones! Nevertheless, the place is nice, relaxed and very well kept. Good place to drop by after or before a brisk walk up the waterfalls. For more pictures of the place, see
my Flickr set.

Sun Sun Seng Nam
8, Jalan Mat Kilau
Kuala Kubu Bahru

Tel: 03-6064 1168

(Pork free. Open from 7am to 4pm. Closed on Sundays.)
*Disclaimer: The opinions expressed here is entirely based on my personal tastebuds and may vary for others. This review is time sensitive; changes may occur to the place later on that can affect this opinion. The reviewer also declares that she has not received any monetary or non-monetary compensation from this place for writing the review.