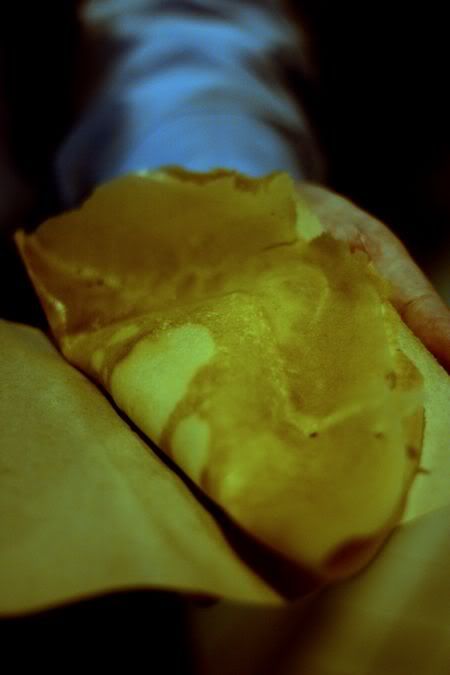 luscious durian sweet apom
Thanks to Riz's tweet, a few days ago, we discovered a wonderful snack last night - light as air apom that comes with an assortment of toppings. The small stall is located on the side of the ever popular and super busy Devi's Corner in Taman Tun Dr Ismail.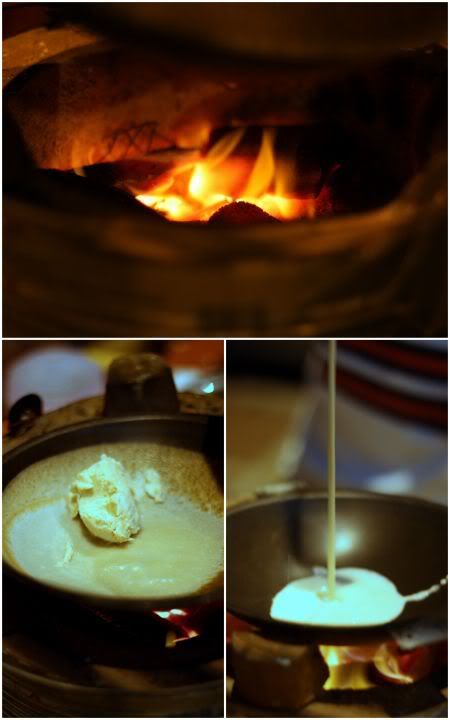 1. charcoal fire makes the difference, 2. pouring the batter, 3. adding the creamy durian

The place reminds me a little of the sweet apom fella at Restoran Swee Kong, Pulau Tikus, as he uses charcoal fire to make his apom. However, unlike the Penang version, this one is not as eggy or soft but with crispier edges just like the ones you get in the KL/PJ night markets.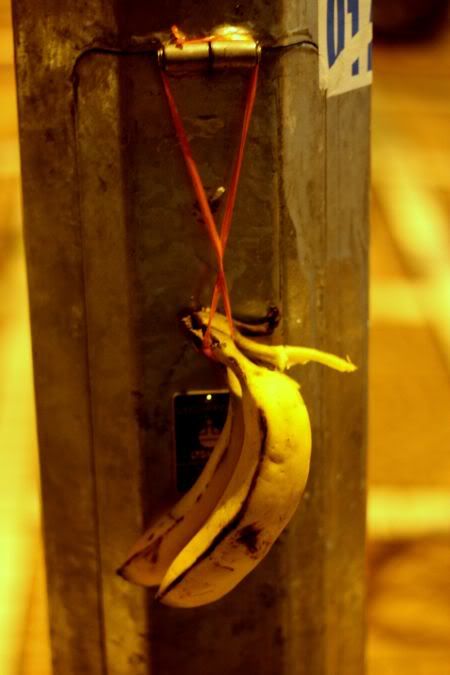 lamp posts are so useful, here you have a banana holder



What is unusual are the toppings, he offers here that seem to add a certain "ommph" to the humble snack. The durian version (RM4.80) is so incredibly good, as he adds a dollop of durian (supposedly made from the best) when cooking the apom in the pot. We also had the banana with nutella (RM3.50) - the eternal and oh-so-fab combination of ripe bananas with the chocolate hazelnut spread.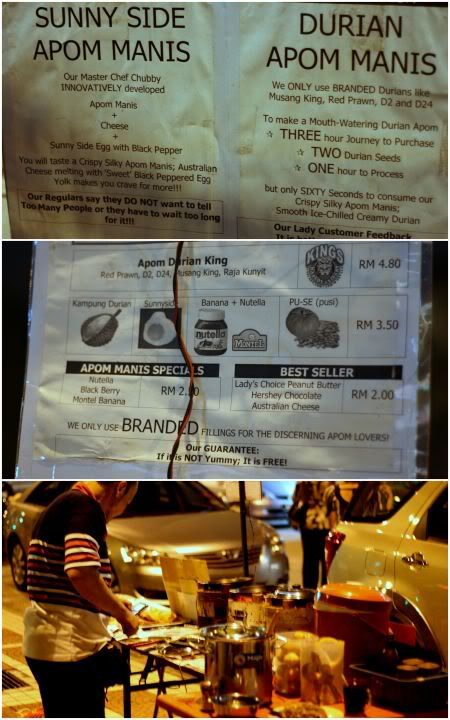 1 and 2. Read the signs, 3. the simple stall across the road from Devi's
The enterprising stall owner also takes orders on the phone (we heard some people placing their orders when we were there) and he can even do catering for private parties for a sum of RM280. He's also looking to expand his business and will consider franchising. When we went there about 10pm, it wasn't too crowded hence we didn't have to wait long but after that, we saw a steady trickle of people coming over to buy back apom. If you're dining at Devi's Corner, you can also order the apom, as he delivers them to your table. Incidentally the stall owner has a great sense of humour, must admit I love the play of words for his "Pu-se" apom (a combo of pumpkin seed and red bean paste) and his notices all around his stall.
Apom Stall at the side of Devi's Corner
Persiaran Zaaba
Taman Tun Dr Ismail
Kuala Lumpur

(Pork free. Open from 9pm to 2am daily. To book your apom ahead, call Chubby Law at 019-2800698. For the google map, see this
link.
)
*Disclaimer: The opinions expressed here is entirely based on my personal tastebuds and may vary for others. This review is time sensitive; changes may occur to the place later on that can affect this opinion. The reviewer also declares that she has not received any monetary or non-monetary compensation from this place for writing the review.

Tagged with:
Apom
+
Taman Tun Dr Ismail