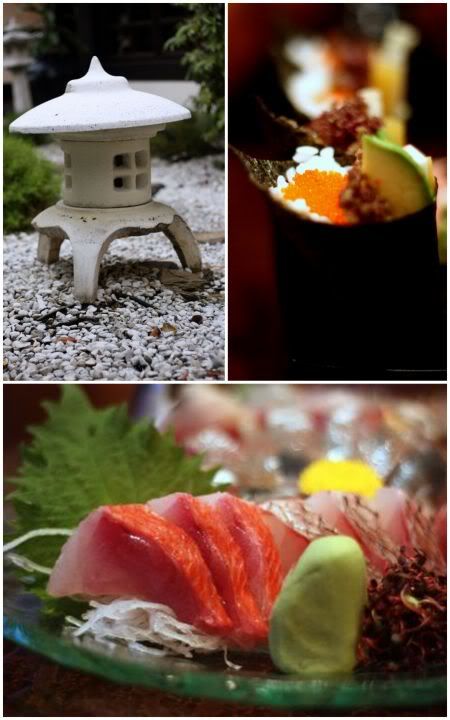 1. the tranquil garden setting, 2. california temaki rolls in row filled with ebiko, 3. fresh airflown sashimi
Kogetsu has always struck me as one of most serene Japanese restaurants in town, with its unique house on the lakeside setting. Sandwiched between the hotel and the golf club, I've always liked the place for its privacy, easy parking and the tranquil lake view seen from the wooden windows.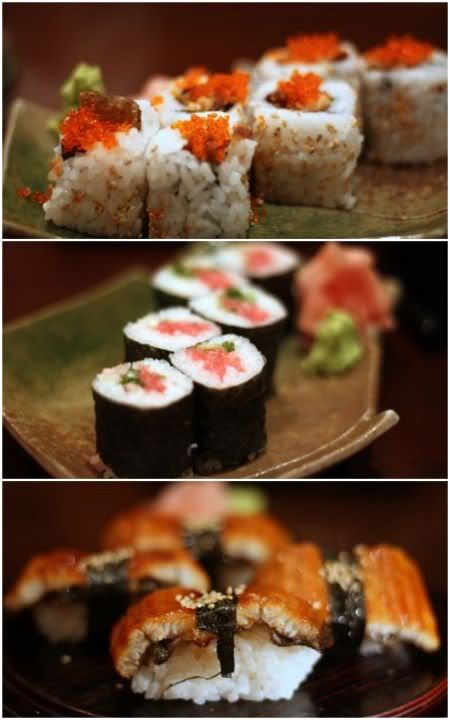 going crazy for makis: 1. salmon skin maki, 2. negitoro maki, 3. unagi maki
The restaurant is also from the older generation of Japanese restaurants similar to Kampachi at Equatorial Hotel and Genji at PJ Hilton, where they serve more traditional Japanese fare. Like all Japanese restaurants, they get their fresh fish air-flown in twice of week, hence you get a good seasonal selection on Wednesdays and Fridays here. You can ask for a mixed sashimi platter, where they'll pick what is seasonal. When we ate here, we sampled the varieties - tai, tuna, kinmei and aji. Everything is very fresh and presented beautifully. It's interesting to note that this place serves their sashimi platter with something unusual - grated fresh ginger vs the usual pickled ginger or gari.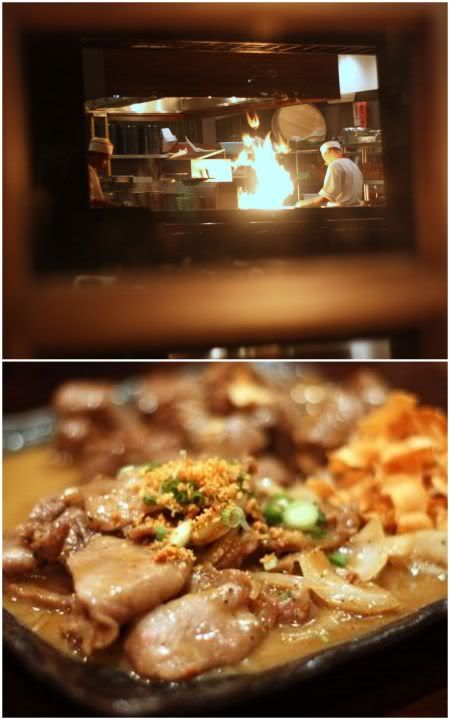 1. another one in the million shot - don't you think the fire looks like a dragon?, 2. teppanyaki beef tongue
The menu also features a variety of makis, ranging from the California hand roll, negitoro maki stuffed with minced tuna belly, salmon skin maki and unagi maki. If I had to pick a favourite, it'll be a toss up between the crispy and crunchy salmon skin maki topped with ebiko and the fat luscious unagi makis.


1. crustaceans? 2. kick ass hiyashi udon noodles, 3. the peaceful lake view
The restaurant also operates an open kitchen, hence if you're a little observant, you can even catch some "fire action" happening at the window reflection. Teppanyaki is also another favourite here. I'm always partial to oysters done this style, hence it is always an order for me. I love the beef tongue (not too chewy) and the juicy beef tenderloin. Unlike other places in town, the restaurant tends to slather their teppan items with a brown sauce to give it flavour just before serving. While the sauce is delicious especially with a bowl of white rice, purists, who prefer just the grilled flavour are forewarned to ask for your items to be served with the sauce seperate.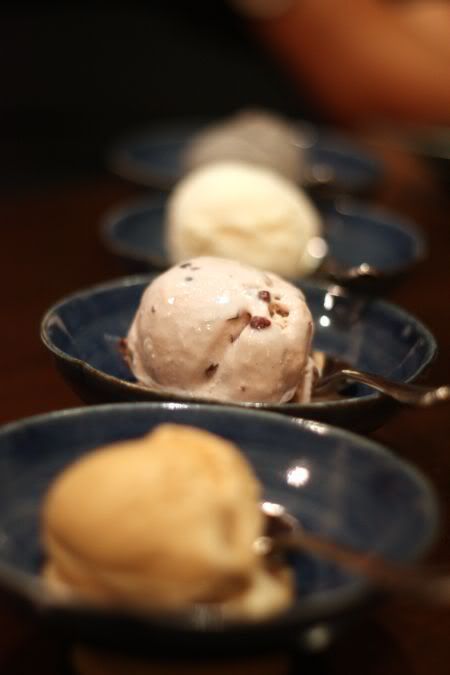 scream for ice-cream; peach, red bean, brown sugar and black sesame
Aside from the usual Japanese menu items, another favourite of mine is the unusual cold hiyashi udon noodles, served with a spicy cod roe. Very much an acquired taste - I love the slippery cold noodles, liberally mixed with the kick ass cod roe and chopped bird's eye chillies. Yums, as it kinda reminds me of mentaiko spaghetti but with a lot more spice. Last but not least, leave room for Kogestu's selection of ice-creams. Some are made inhouse (like the brown sugar and black sesame) while others are brought in from Japan, like the delicate peach flavour, that I can't get enough of. For more pictures and details, see my
Flickr set.
Jalan Lapangan Terbang SAAS

Tel : 03-7840 5888
(Pork free. Open for lunch and dinner. On Sundays, they usually serve a Japanese buffet lunch for RM80++ per pax. However, this will be temporarily stopped for Ramadan.)